Since my tiny apartment was photographed and published at one of the biggest polish online news portals, I´ve decided to share it in my portfolio as well, as It was actually so far my most complicated project related to design. 
My 28m2 studio apartment has been described at onet.pl by journalist Monika Zieleniewska as genious arrangement with unique design, especially taking into account that it is extremely small and it is located in the post communist apartments block building, very common in Eastern Europe. So nothing fancy, nothing historically and architecturally appealing outside, but inside I managed to do a cozy, modern yet a bit rustic, a bit vintage and a bit eclectic interior with very low budget!
It can be an interior design inspiration for these young people who do not owe yet a three-bedroom apartment or a 2 floors house by the ocean, but same as me they are lucky enough to have a tiny studio as their first home :)
Lots of recycled, low budget or even rubbish dump brought items!
Nevertheless, I´m proud of  this makeover (before it was my grandma flat very old, but not antique in any way :D just old and not very pretty. I changed it completely including destroying one of the walls, wall up some doors, make an open space generally and changing all the wall colors, all the tiles and wooden floor, it was a complete makeover however I kept some furniture after grandma)!
First comes the tiny living room area, with styled for 50s/60s velour grey blue sofa, the wall painted in deep green in the back, on the floor there is belgium bio shenille cotton rug from louis de poortere and rustic blueish green coffee table from indonesian tamarind.  On the wall I hung the poster I bought in Vitra Design Museum and thei impressive chair collection of last century.  One of the veluour pillows at the sofa I patchworked from the jacket bought in thrift store and the vintage thonet chair next to sofa is from 60s and serves as a plant holder.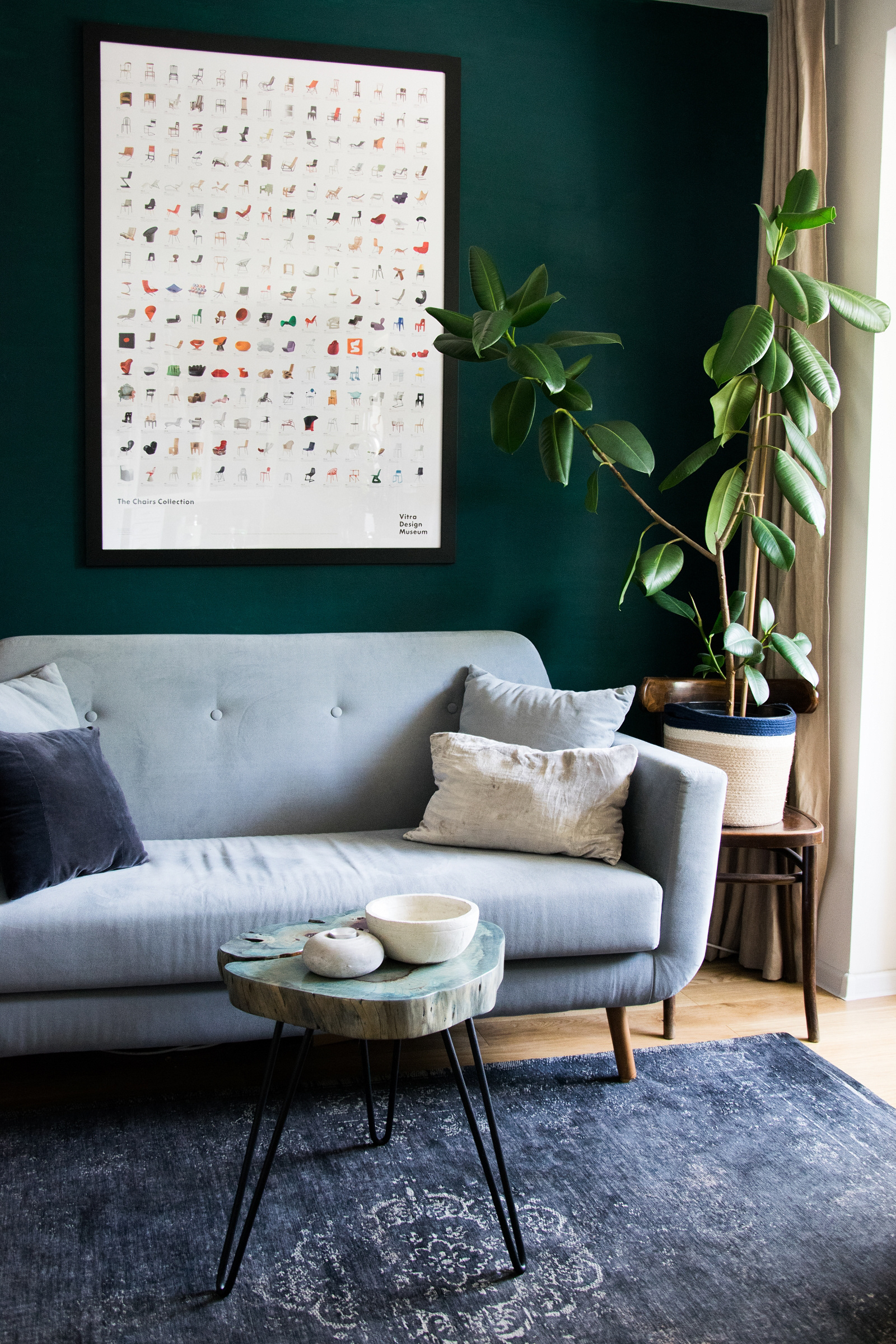 Next to the sofa is my boyfriend´s working/ gaming area with the vintage table (also inherited from grandma), which wood is super detroyed but for me it gives just an essence of vintage vibe. The chair is from Duka - wooden simple ¨director chair¨, the concrete like lamp from zara home, and sansevieria plant which also gives vintage vibes (it was super trendy in 60s-70s and its time comes again since everyone is now #urbanjungle)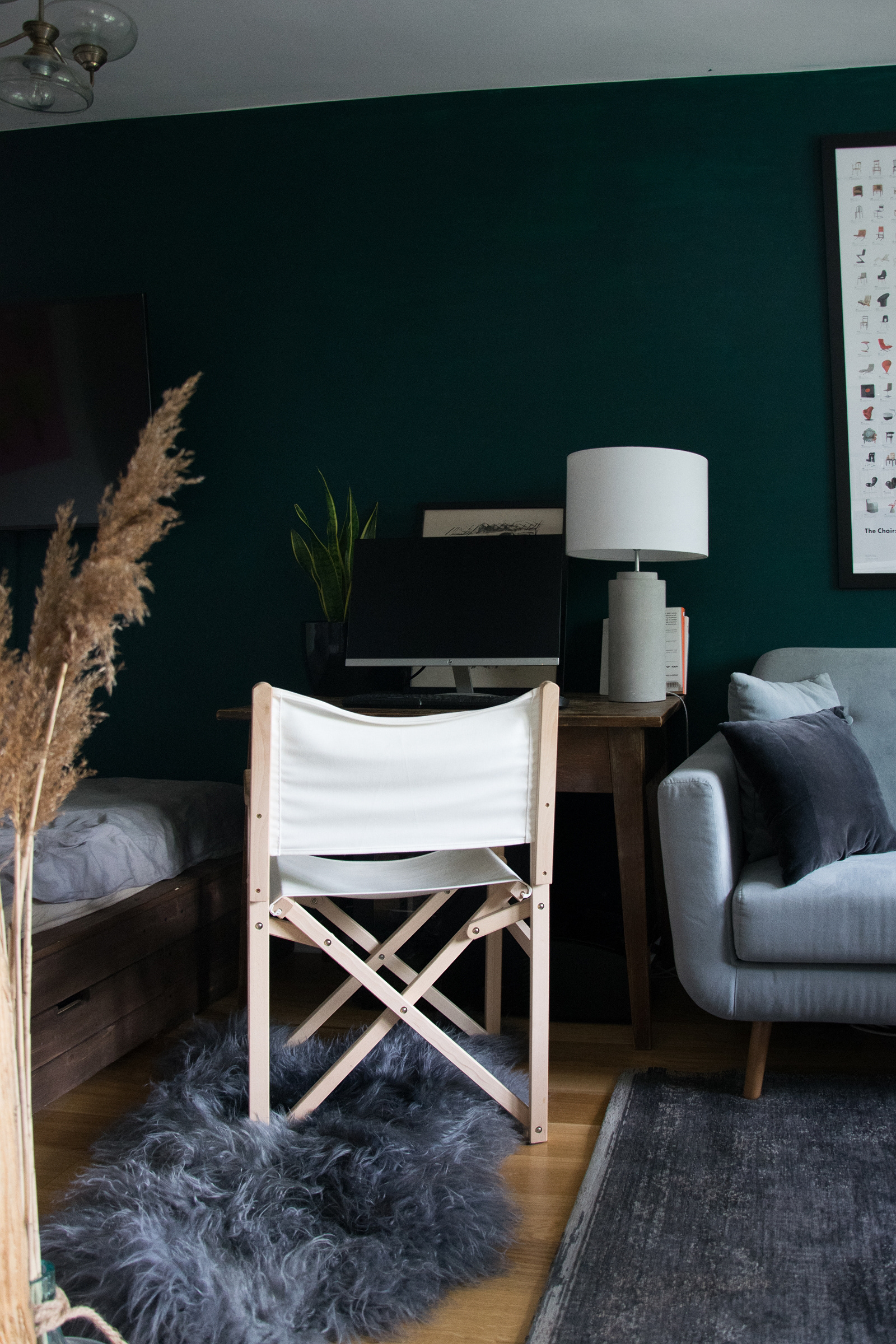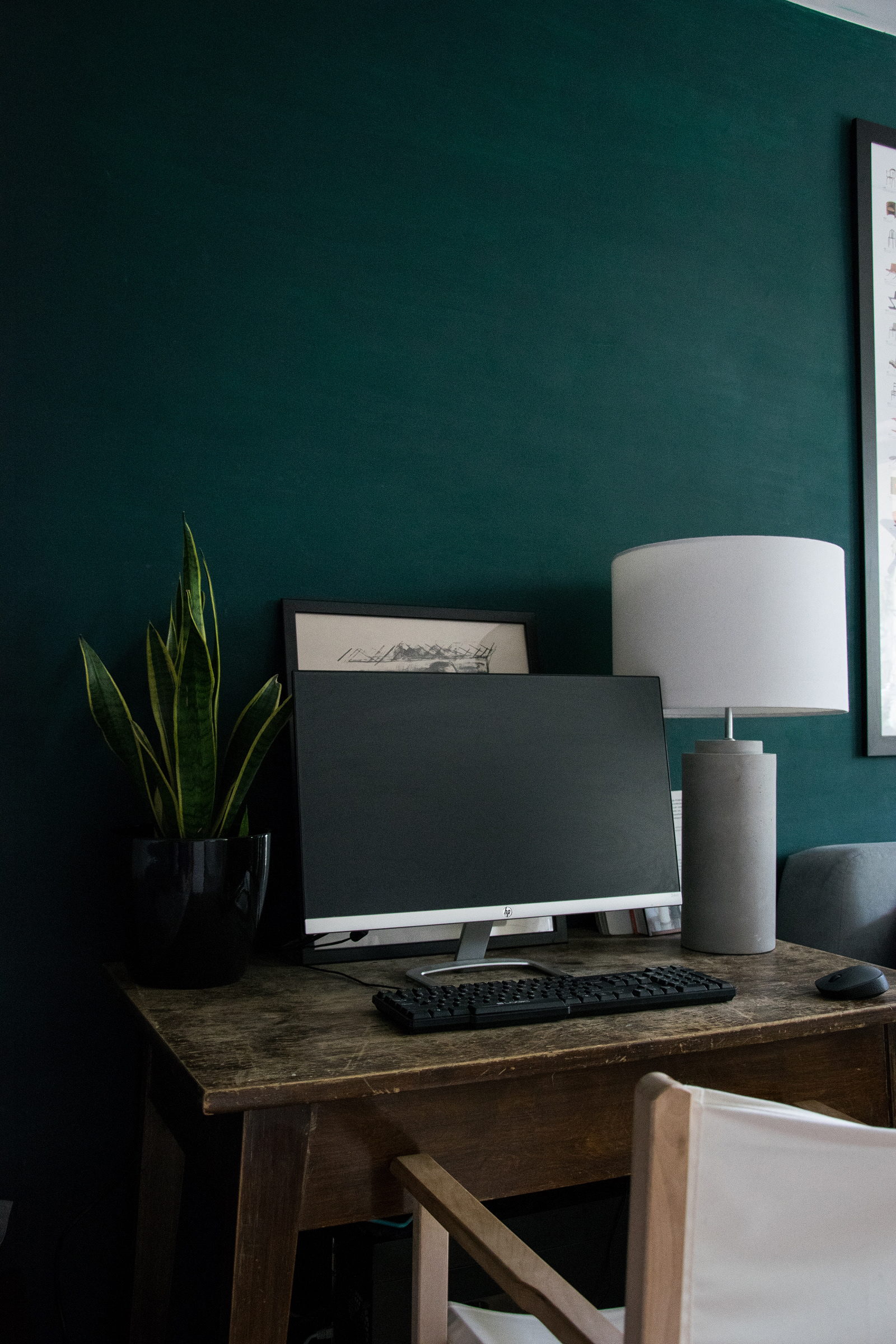 Well, the flat is seriously small cuz just a step left there is already my bedroom :D and made to measure wooden bed platform with shelves underneath. Over the bed I hung acrylic paintings from contemporary polish artists Marcin Kowalik and Pawel Zakrzewski and opposite side is the TV of course for all netflixing days. Above that original art deco lamp from 30s, cuz somebody here loves mixing stuff. Of course since I love cozy material, I also have sheepskins in the flat (on the floor, chairs and balcony:))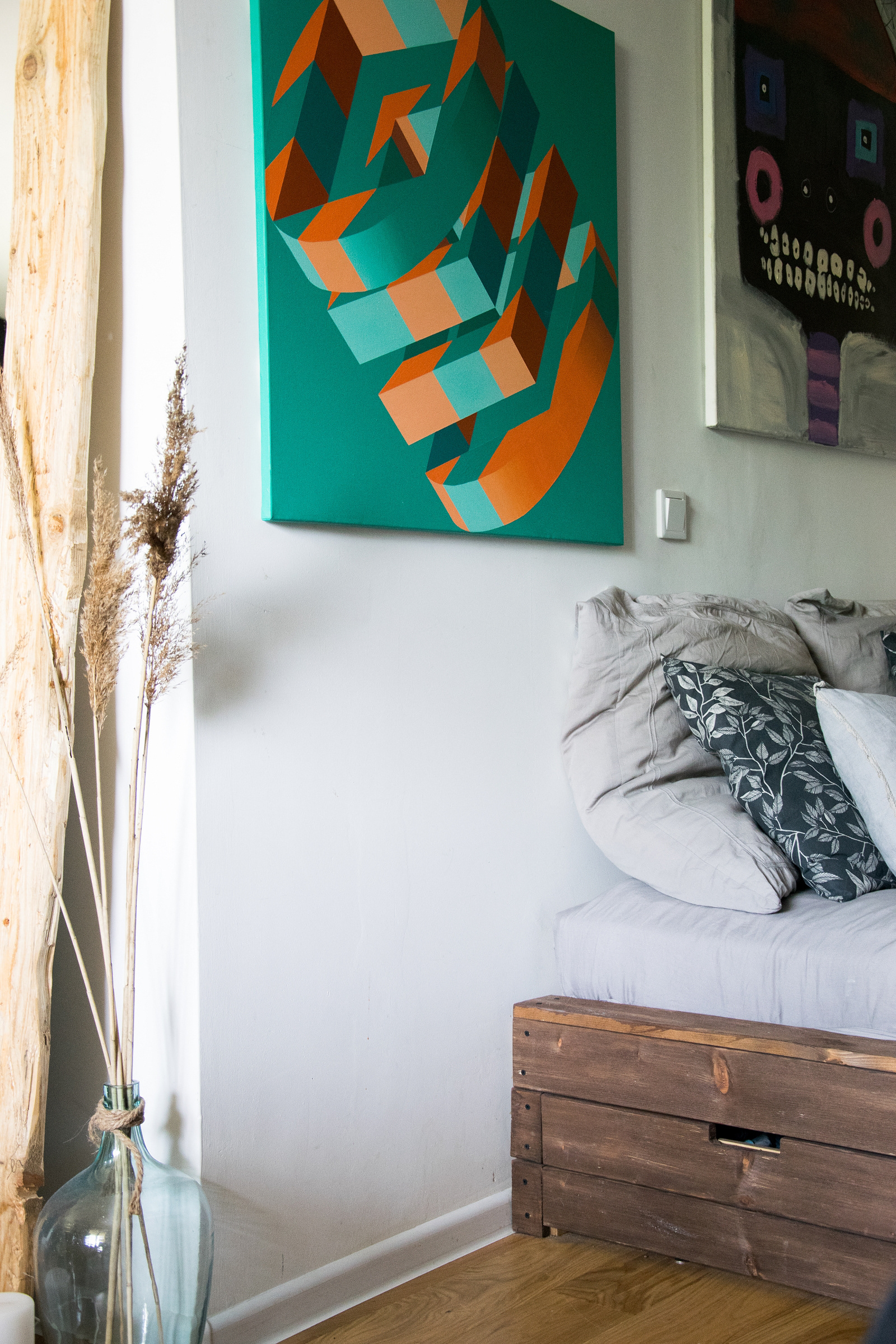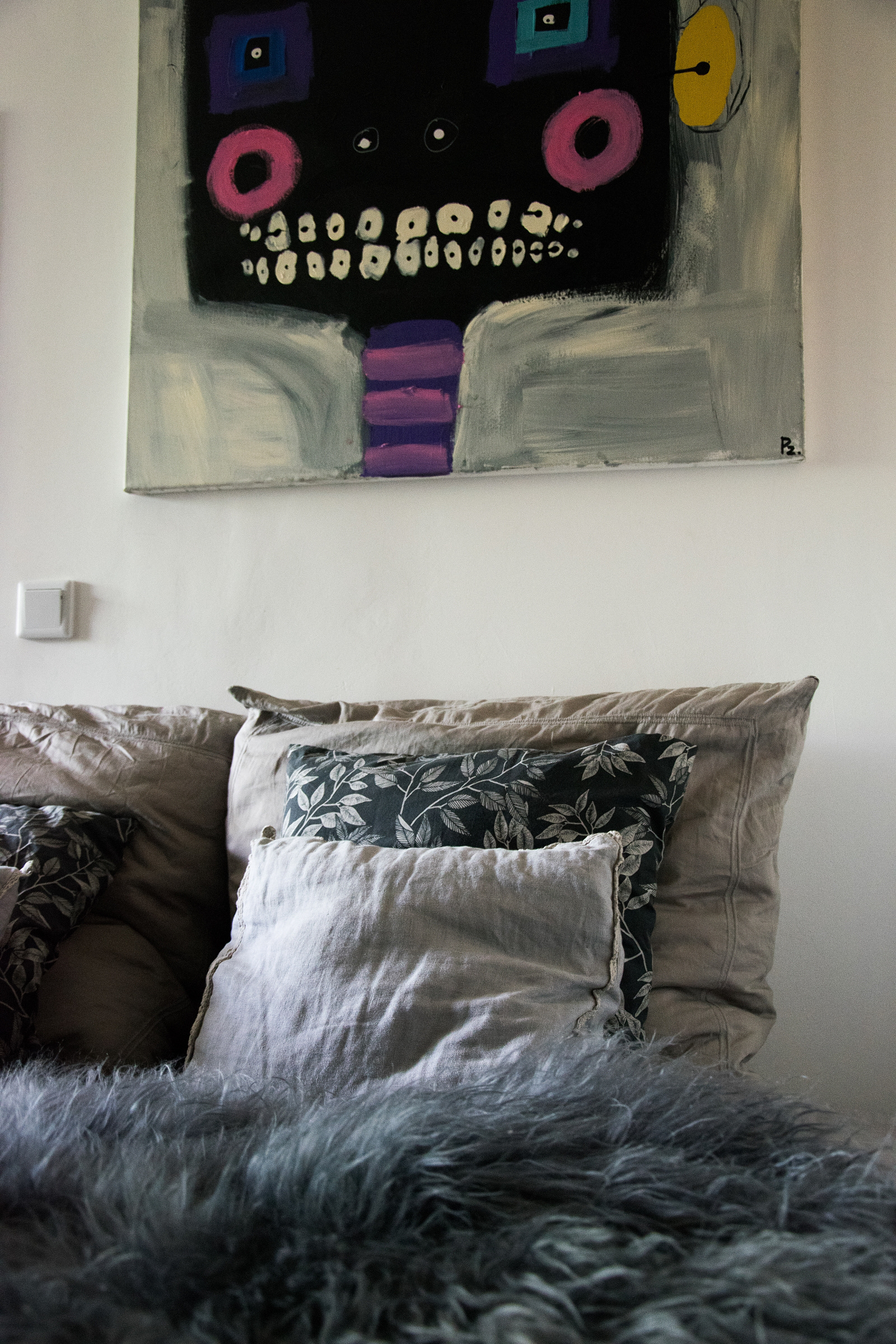 And from the bedroom area we see half of the flat.
Now there is gonna be about the dining area and kitchen. Well the table was made from recycled wood with chrome legs. Chairs are all vintage polish production thonet from 60s. The blue lamp over the table is also vintage from 70s, and it is a replica of Poul Henningsen lamp PH5 for danish lightning company Louis Poulsen. The white cupboard  in the centre of kitchenette is also vintage 60s furniture styled as art deco (30s) which I ordered to renovate because it was my grandma´s piece used for literally 50 years. All the floors and walls I changed from ugly grey linoleum to classic black and white checkered tiles, and the walls got new white brick tiles from polish company Tubadzin. Over the cupboard and fridge there are wooden boxes after wines, serving as books and pottery shelves.  Besides, all kitchen equipment is outside because I like having everyhting close at hand, since I love cooking and I do it often! Then the Ikea lamp that I want to change but the budget was already tight :D
PS. the lamp by the window is painted  into black and grey ombre shades from Zara home basic wooden lamp.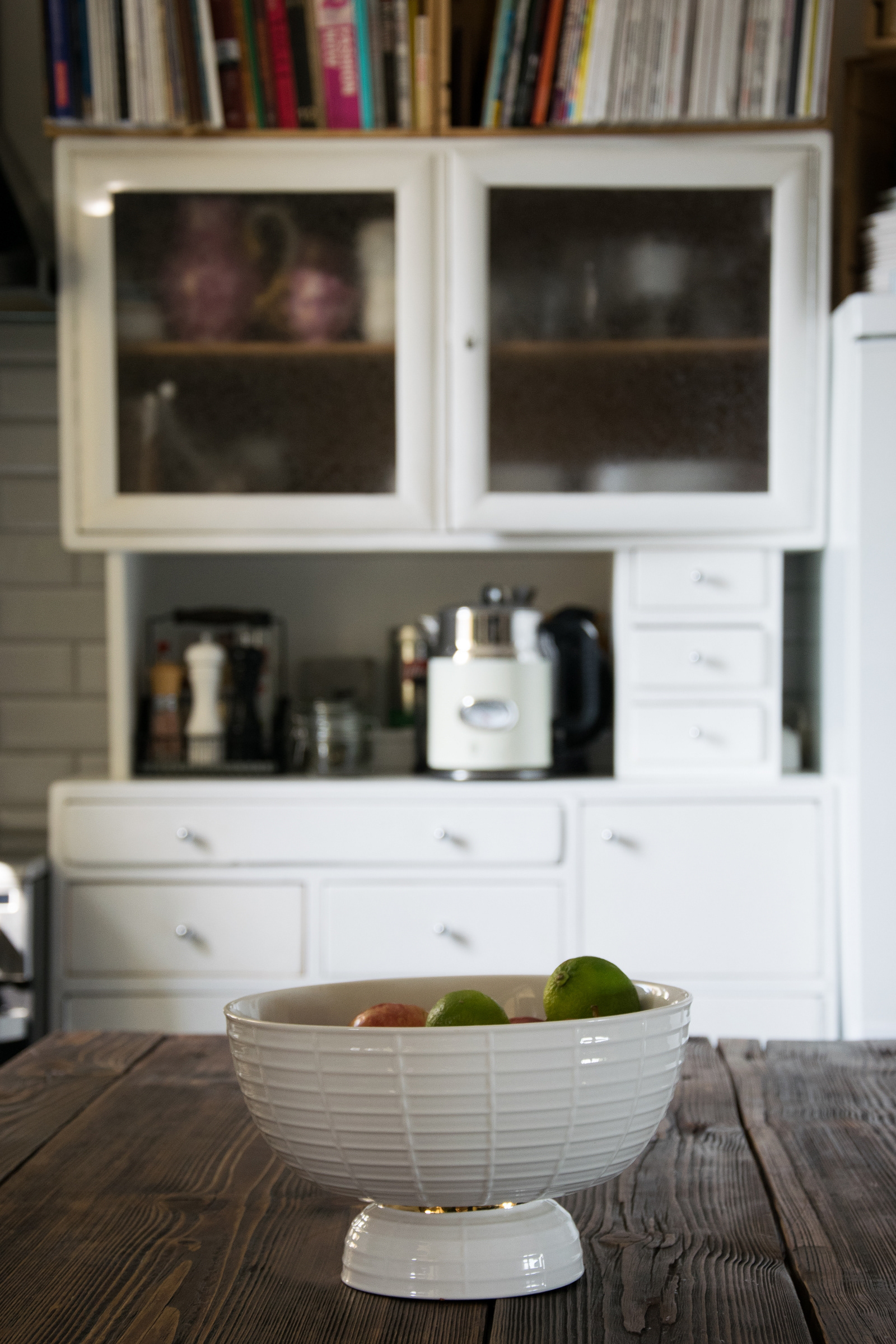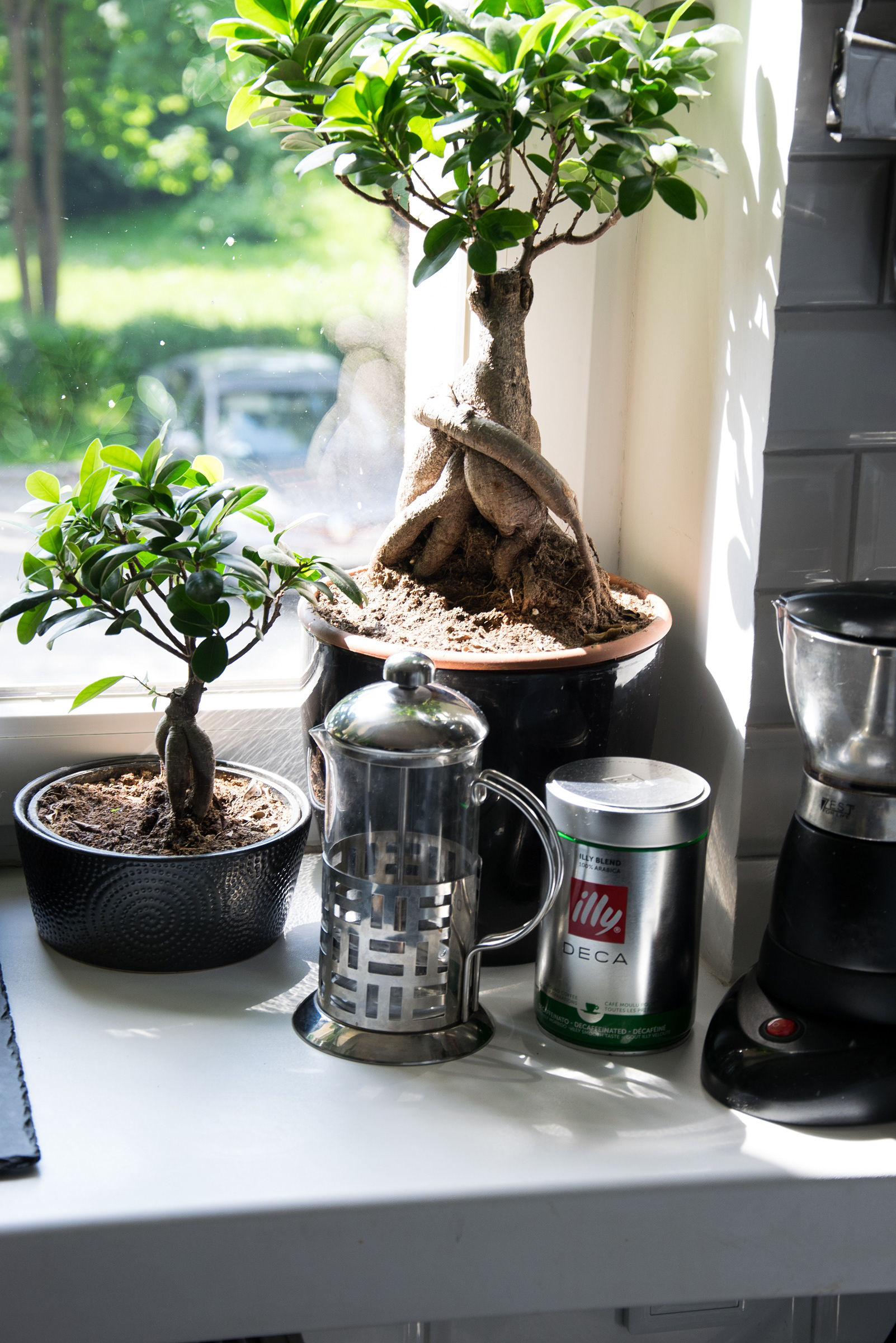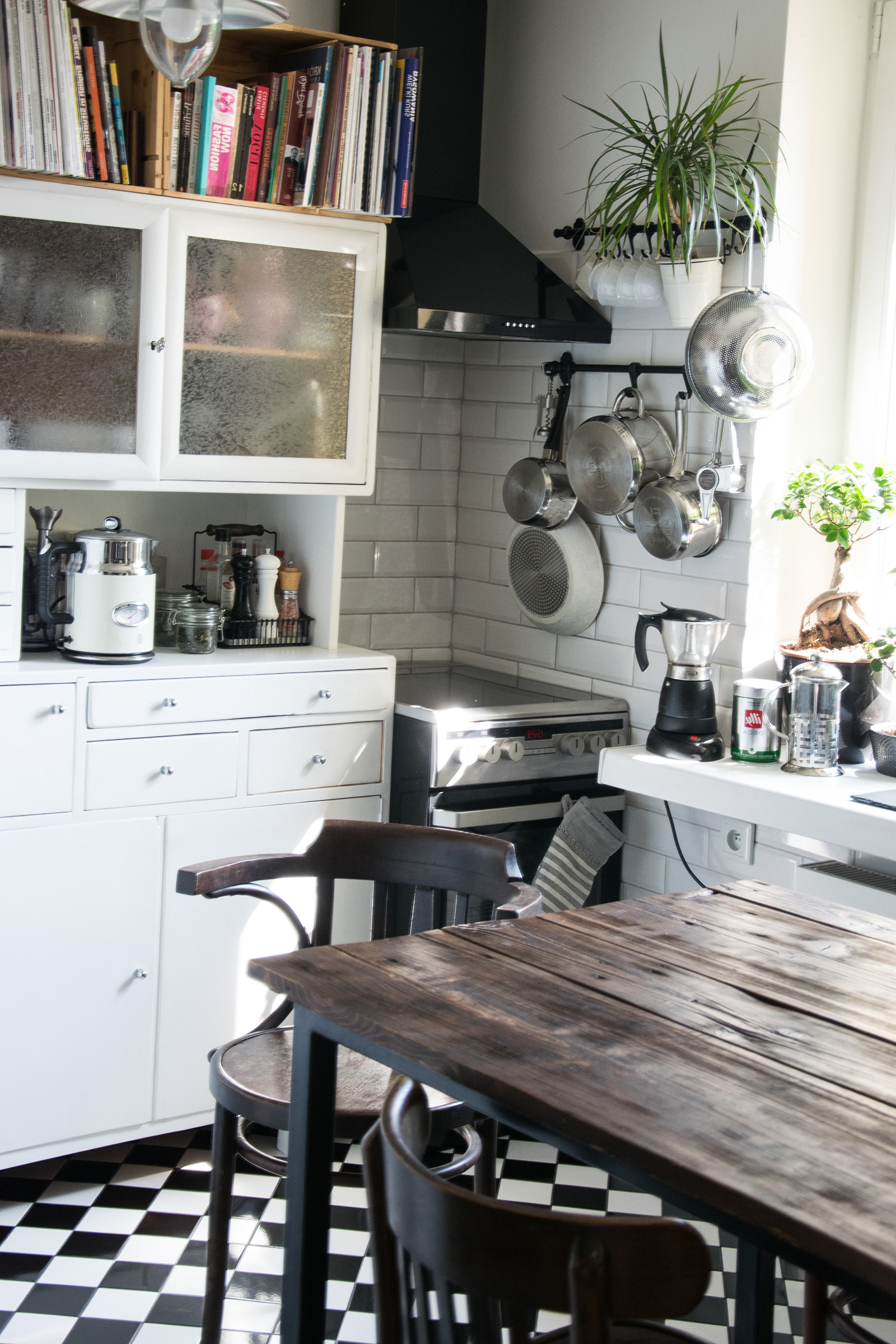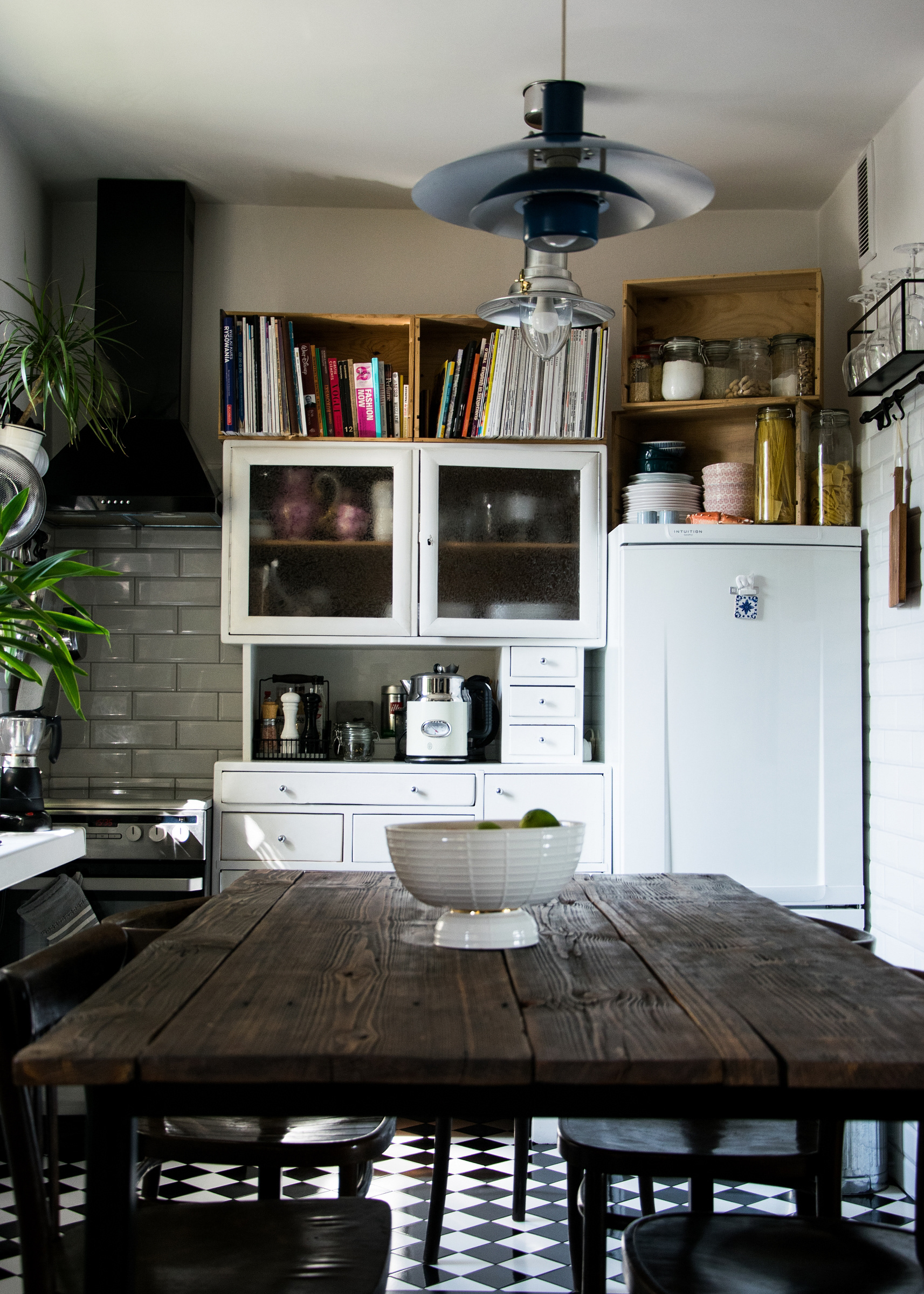 Under the vintage styled faucet and sink (IKEA) there is a tiny dishwasher.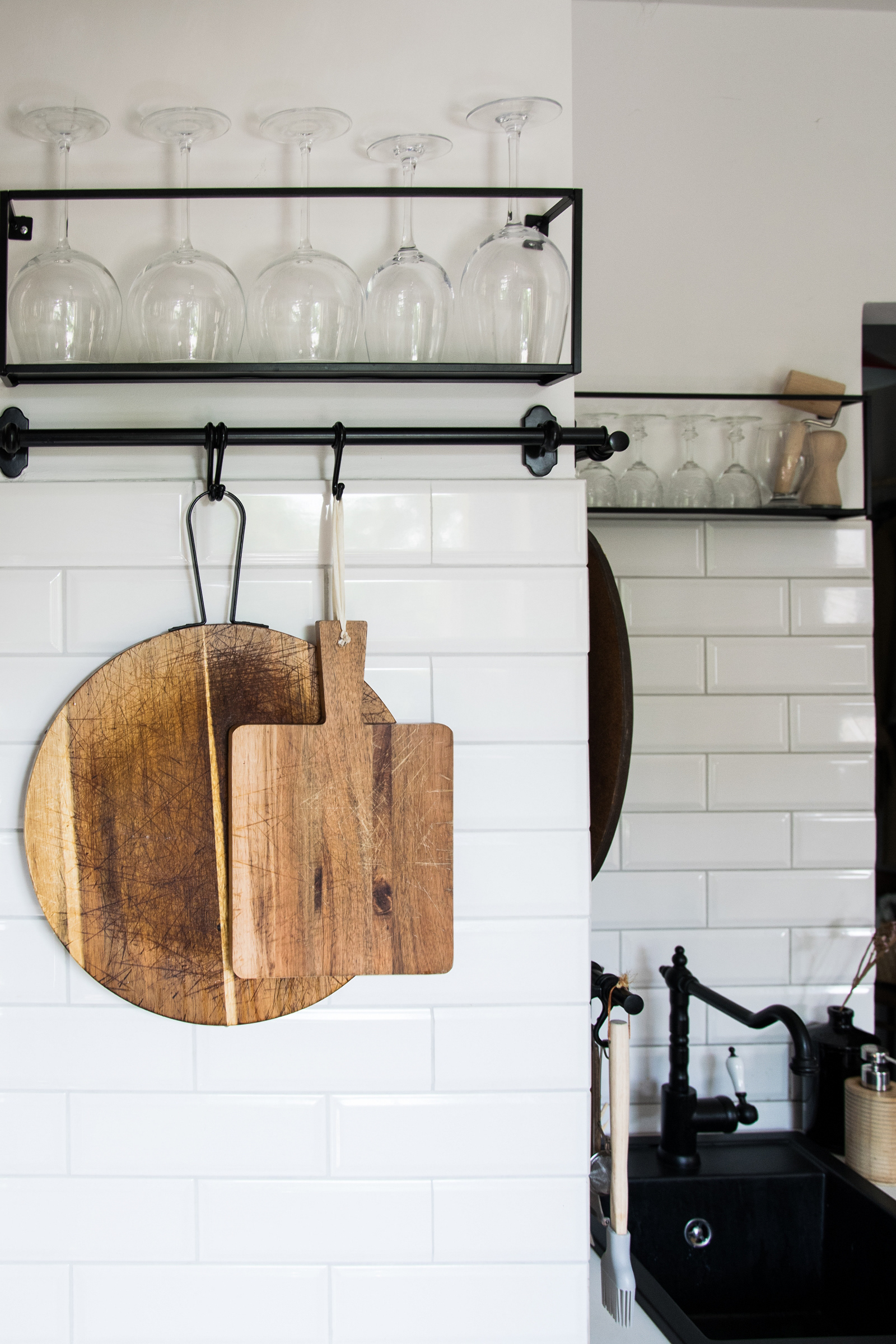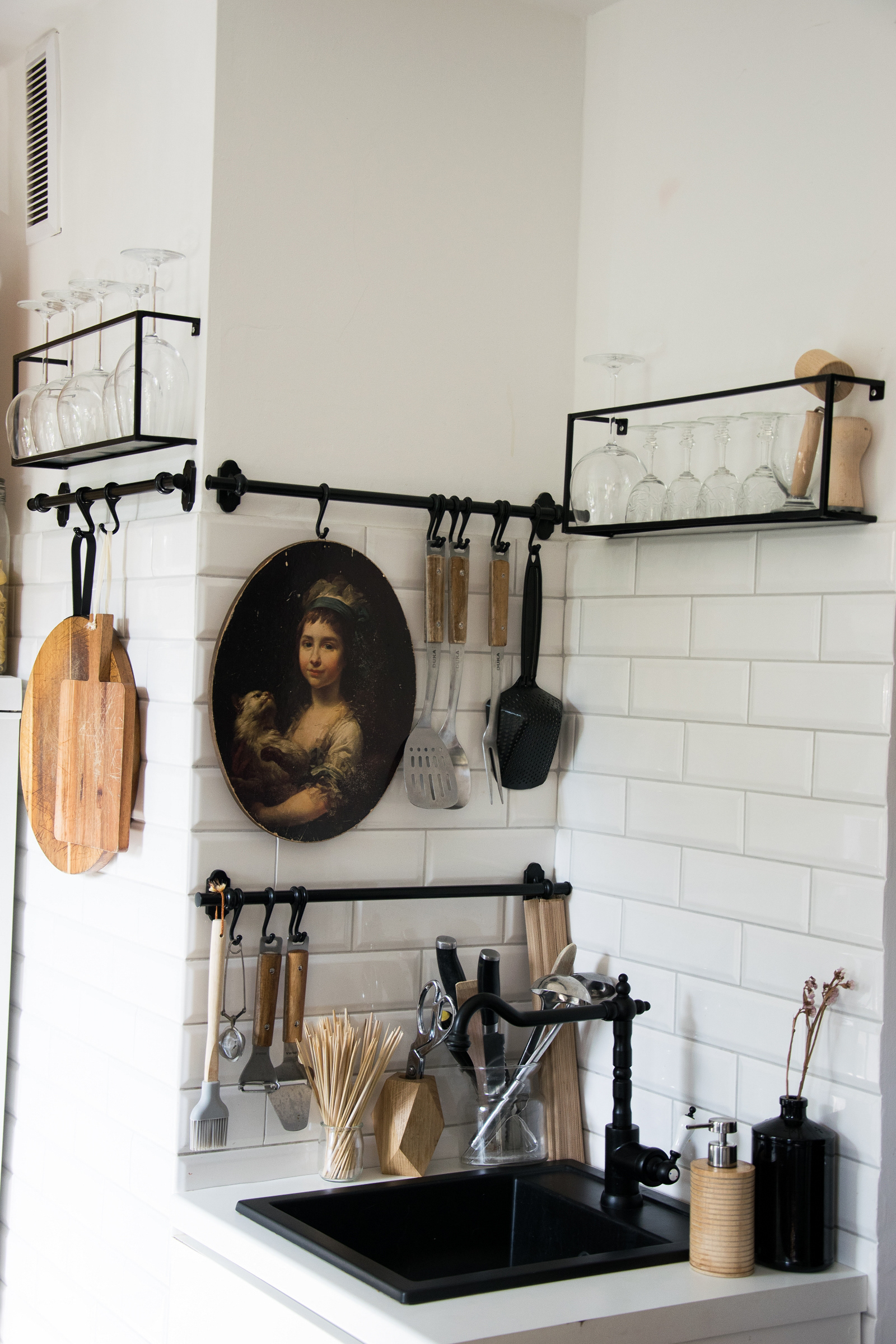 Now we are entering the tiny hall with made to measure wooden wardrobe, which even if might look small actually it fits a lot of clothes bedsheets and shoes! The main doors was old and super ugly and since it is quite expensive to buy new ones, we covered the door with stick on matte black poster.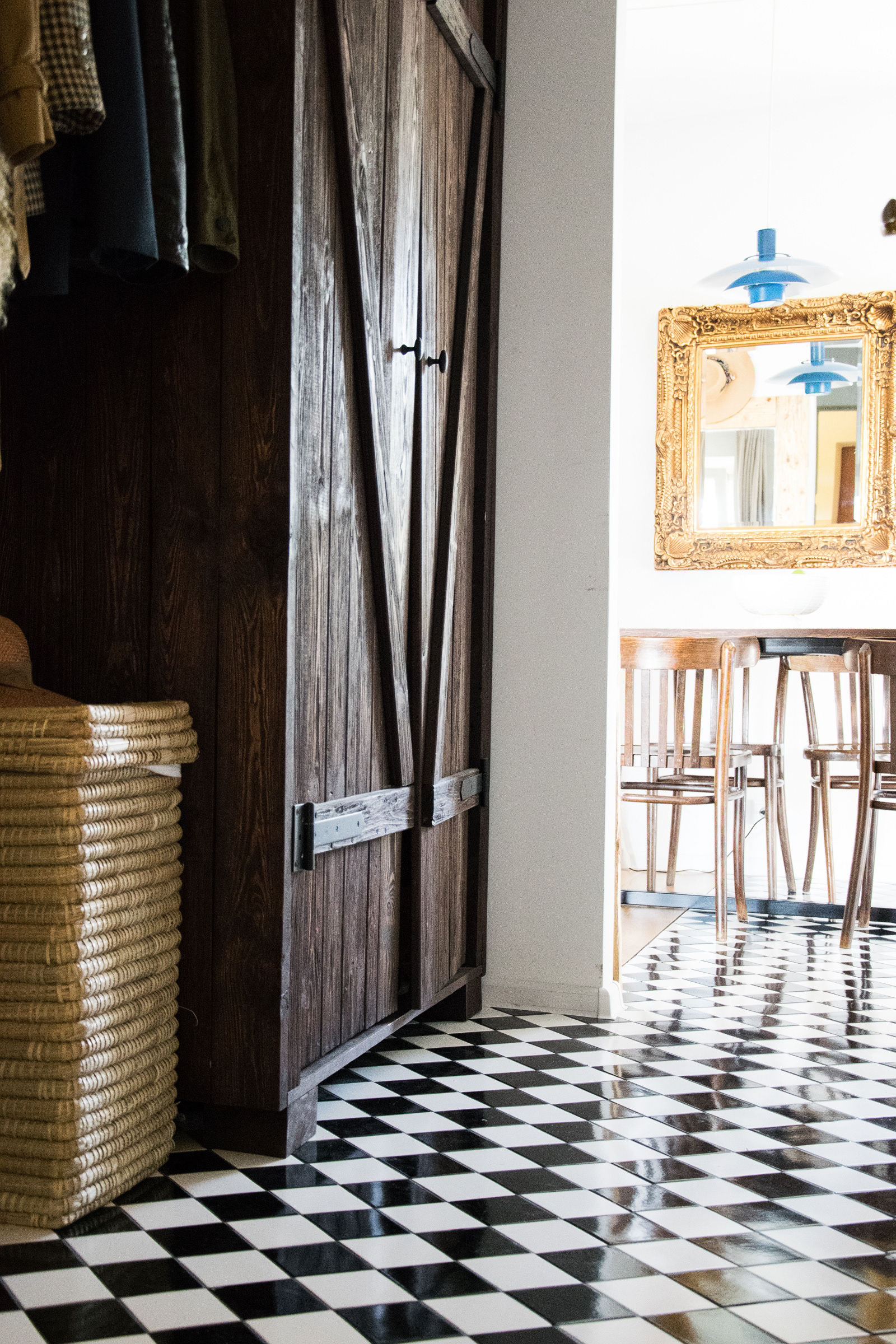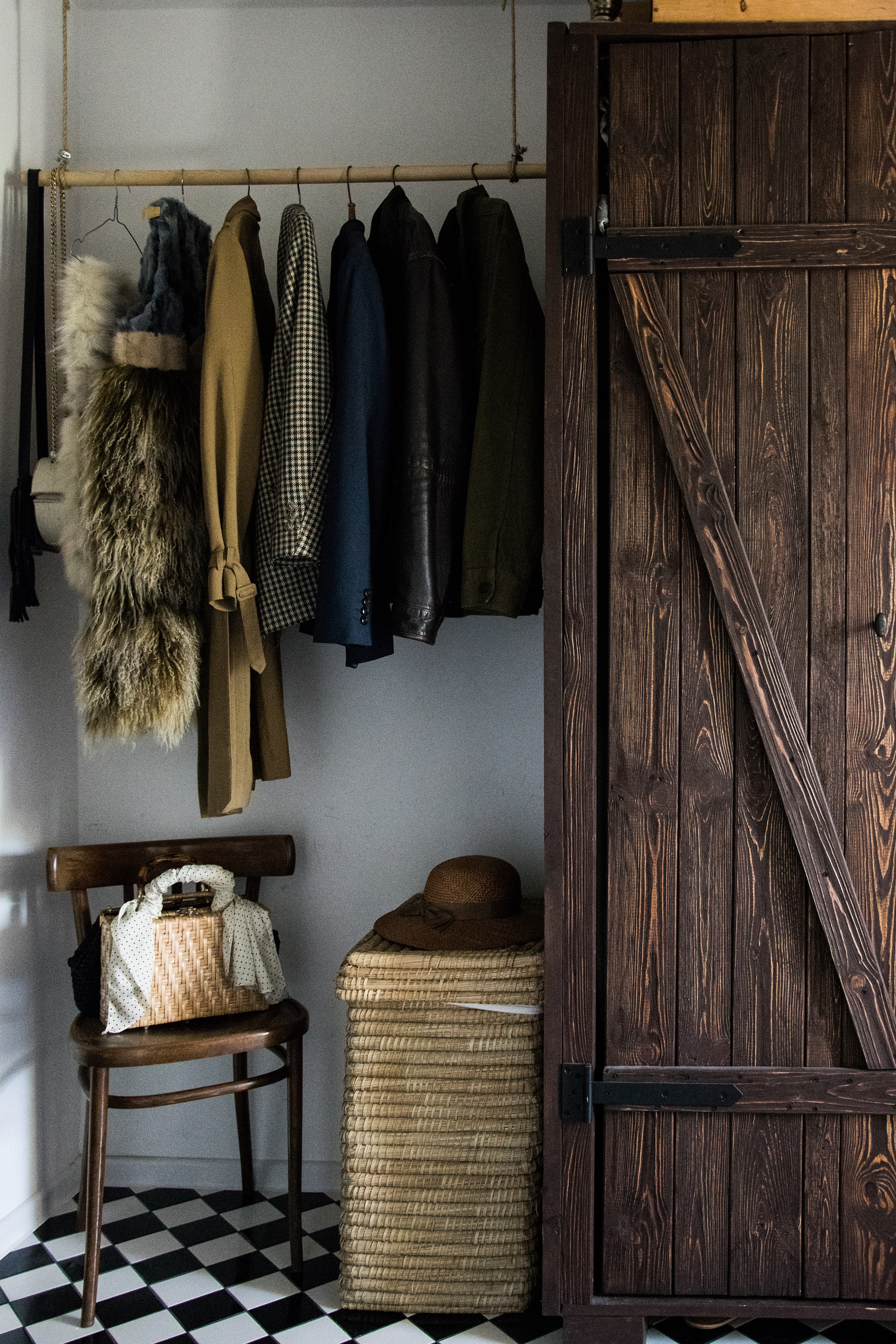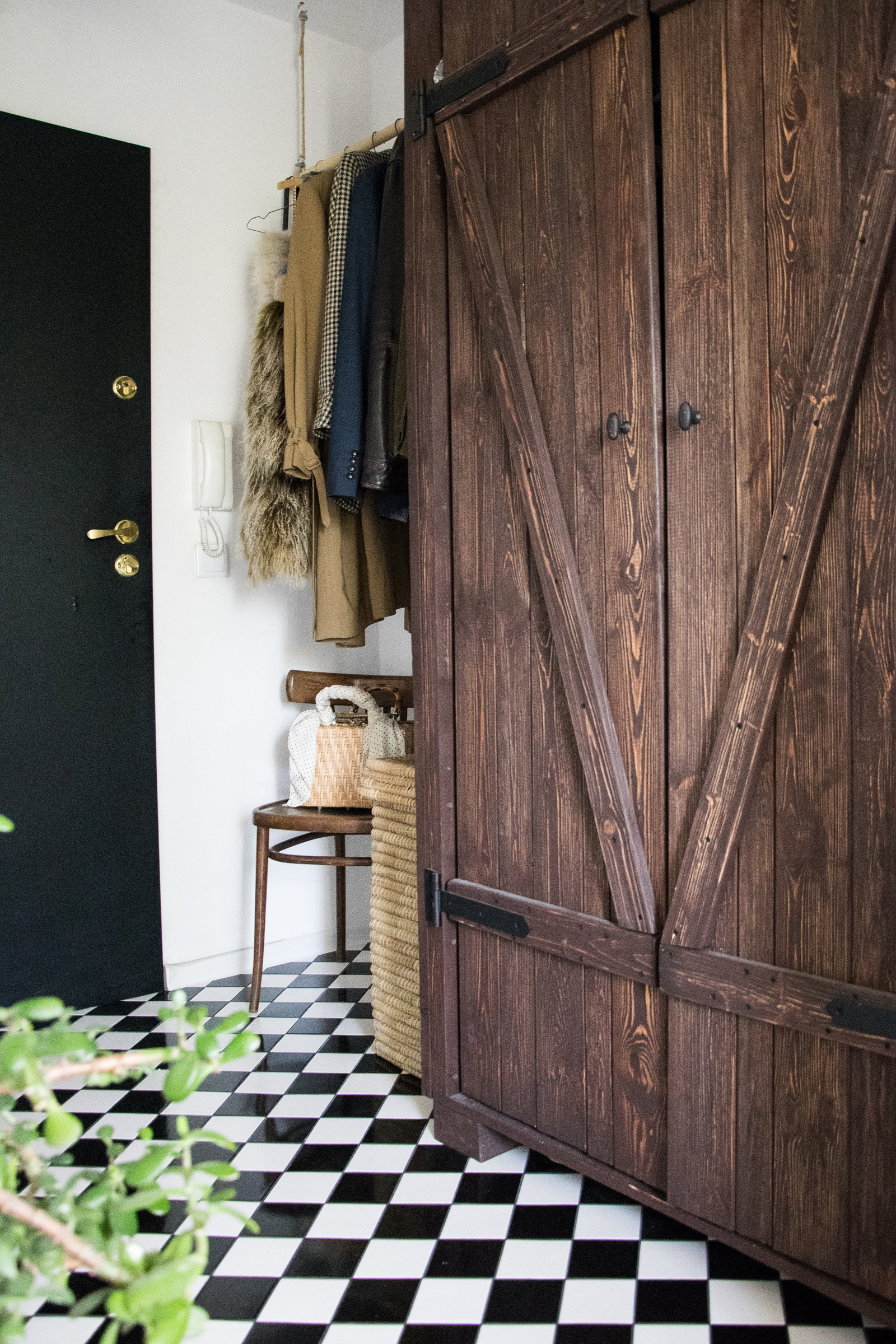 The last area is the bathroom. Even though it´s very small I put there freestanding bathtub from Polish brand Massi, because I love taking baths! On the floor there are ceramic hand painted maroccan tiles, and walls ale covered in pretty cheap grey matte tiles styled as concrete. The white mirror from zara home I hung on the chains, and on the side you see vintage golden wooden frame brought from the rubbish :)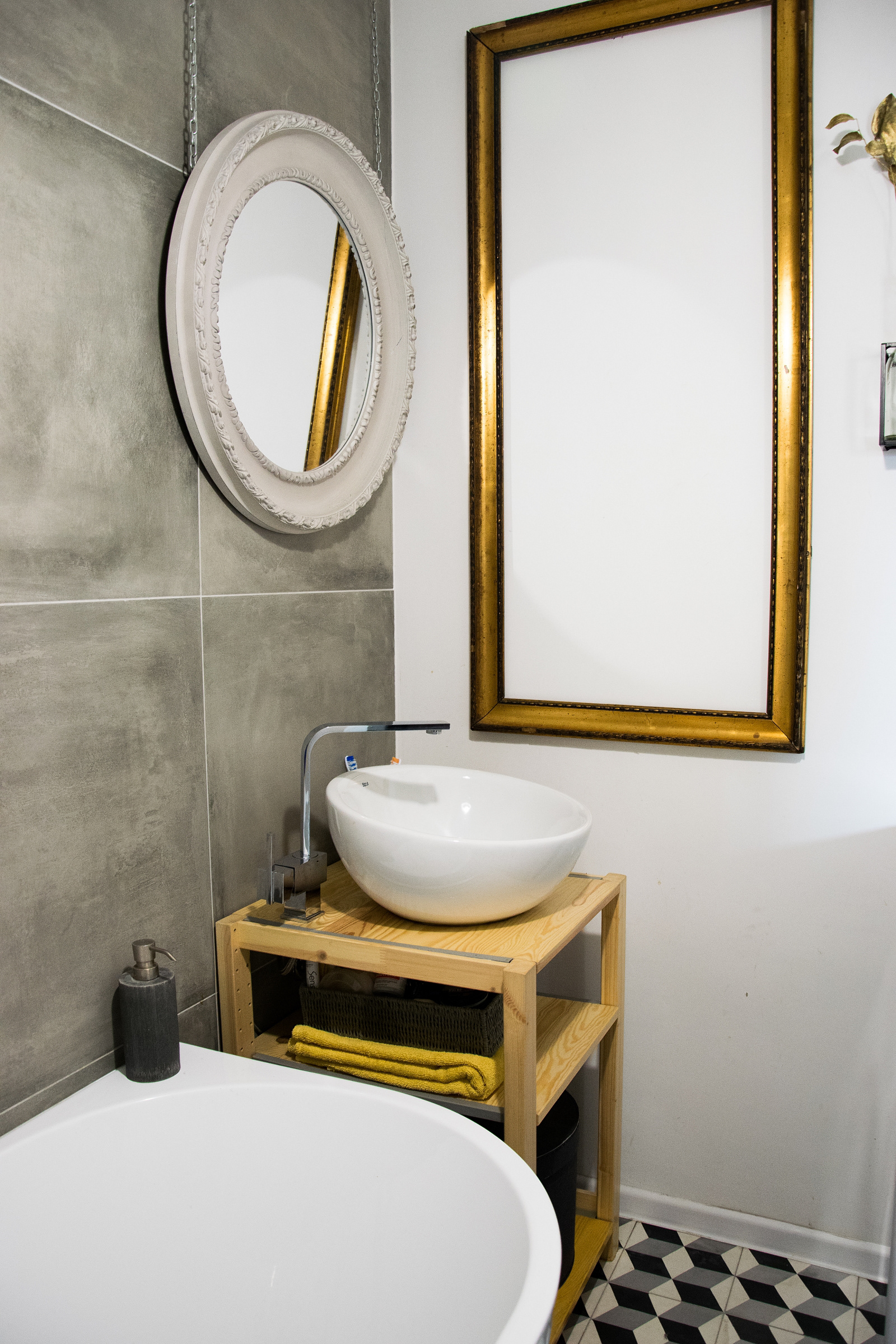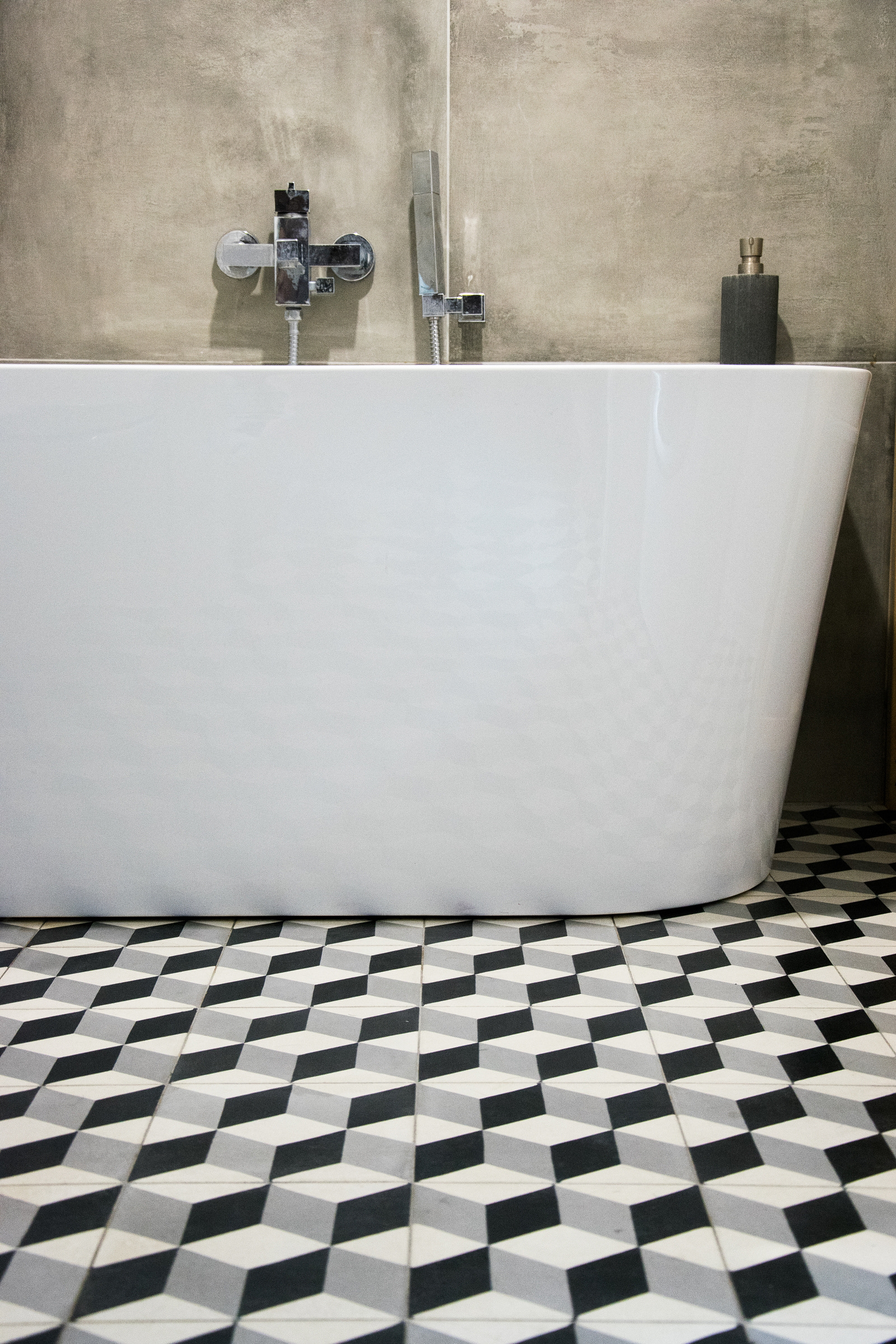 There are many mirrors in my flat, and it is no secret in interior design that hanging mirrors in the small flats make it look more spacious and gives light!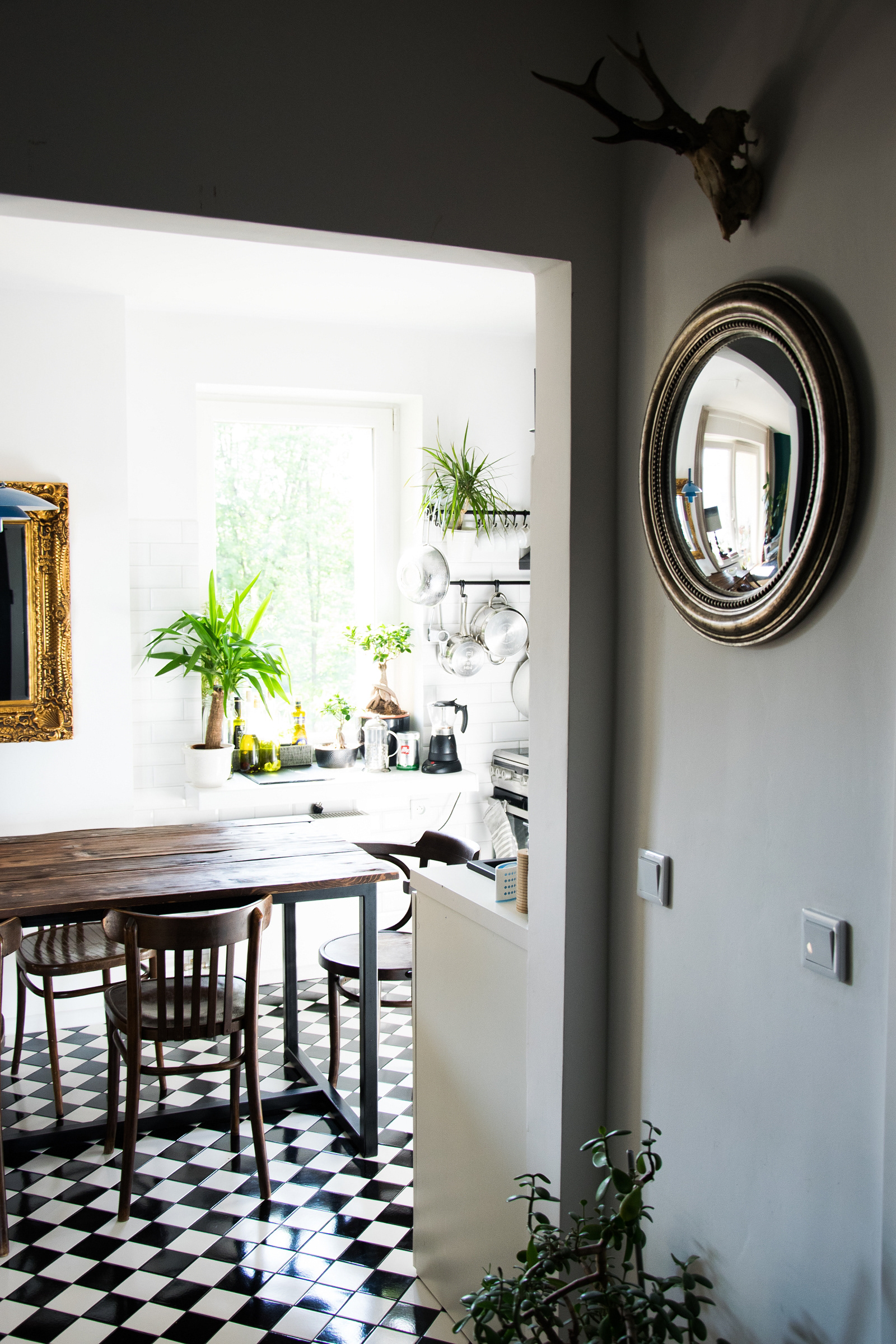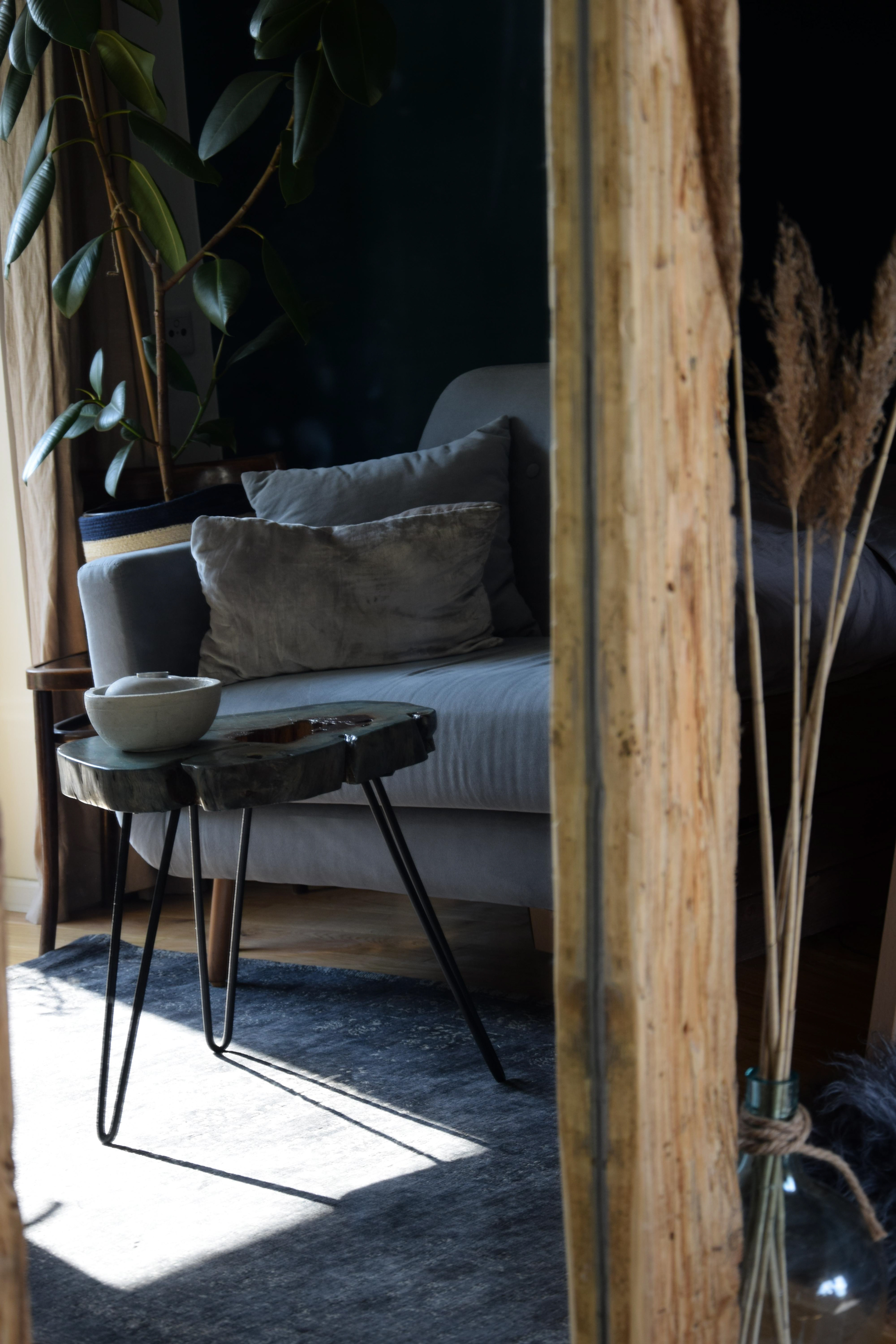 Below you can see the floorplan before the refurbishment.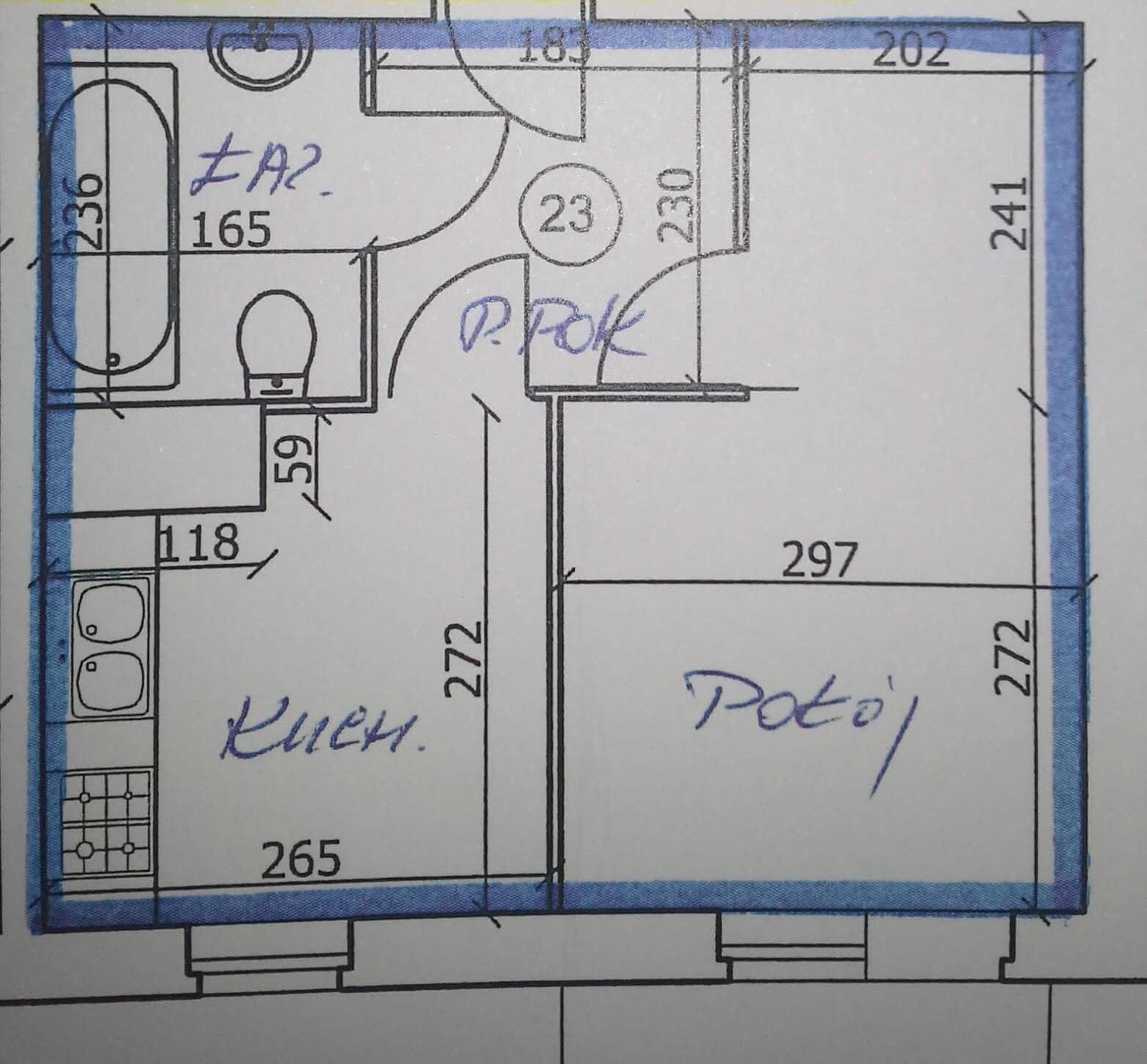 So that would be it! Hope you enjoyed and find it inspirational that even with low budget and tiny space you can create something cozy and cool!