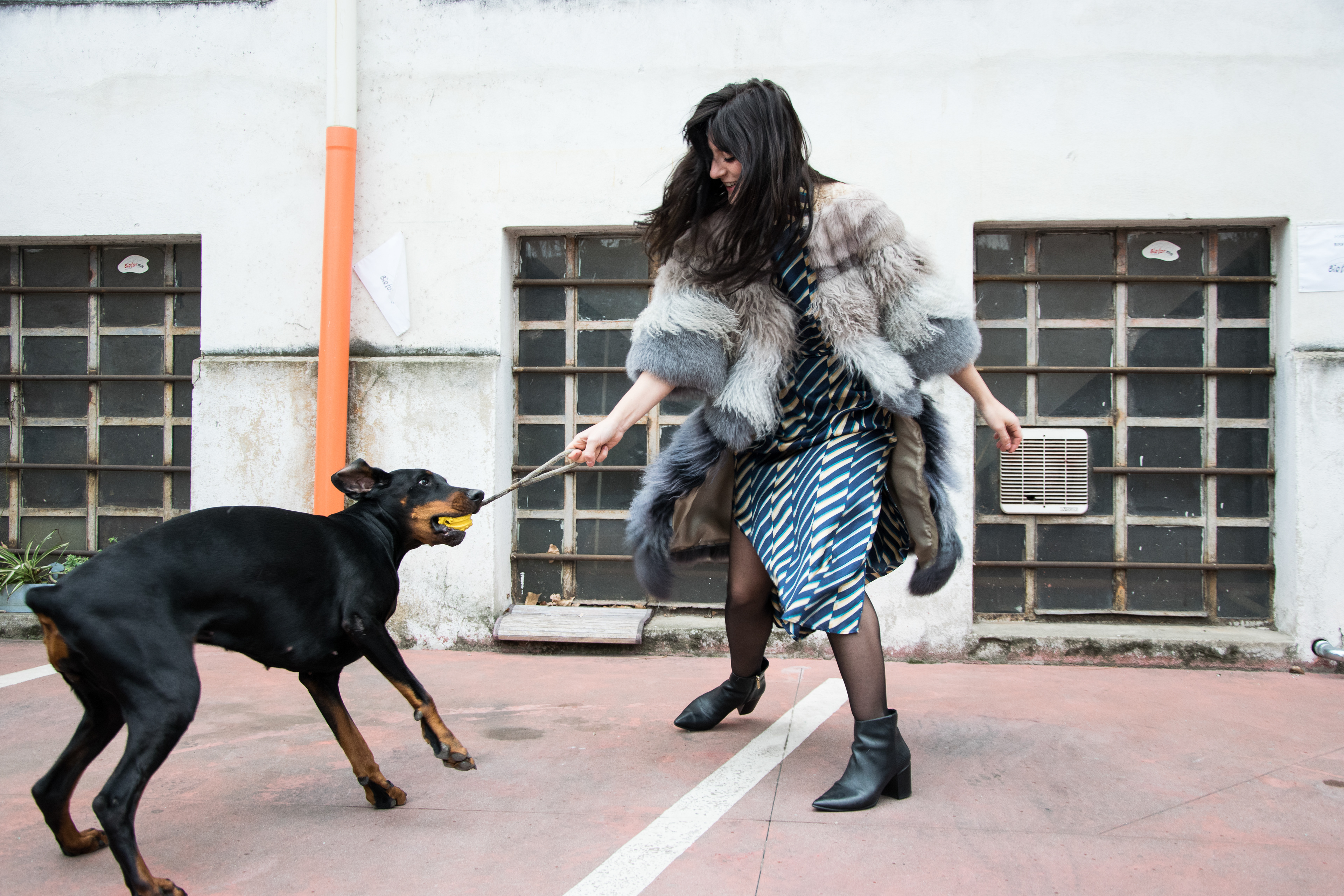 THANKS TO...
Well the biggest thanks is going to my Italian friend Greta and her amazing super kawaii parents Claudia and Dario (who have 30years of experience as fur artisans but about them later) who hosted us in Milan and treated us as a family, who fed us with the best Italian delicatessen and the pasta with artichoke and shrimps (which I cannot forget...) or straciatella cheese (omg!) and wine (dolcetto, nebbiolo, chianti, prosseco and so on) and everything they did for us during our stay so we can visit the biggest fur fairs ¨The one milano¨. ¨Besides, thanks to Fur Europe and Polish Fur Federation who organized our tickets and invitations to the event. 
WHY WE WENT THERE DURING THE FAShION WEEK WHILE I HAD ZERO INVITATIONS FOR THE FASHION SHOWS ?
Some people might think I was at the fashion week in Milan :D but for the record... you know to get the invitation for the catwalk like lets say Gucci, Fendi, Marni... they dont give it away at the streets, you need to be reallllllllly important in this world to have a seat at the front row or even in the furtherest row. Ive got invtiations for zero rows :D I wasnt there because of the mfw.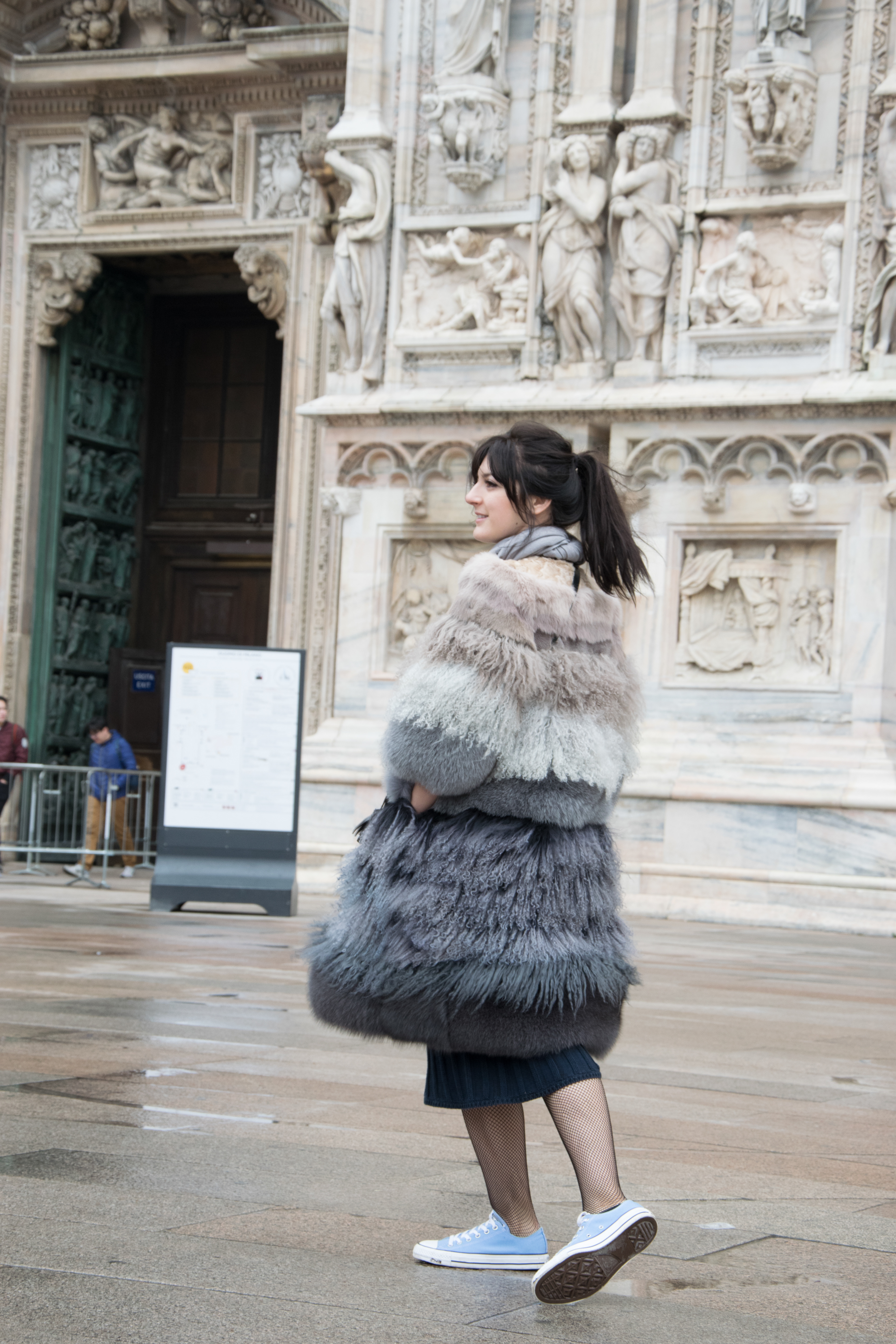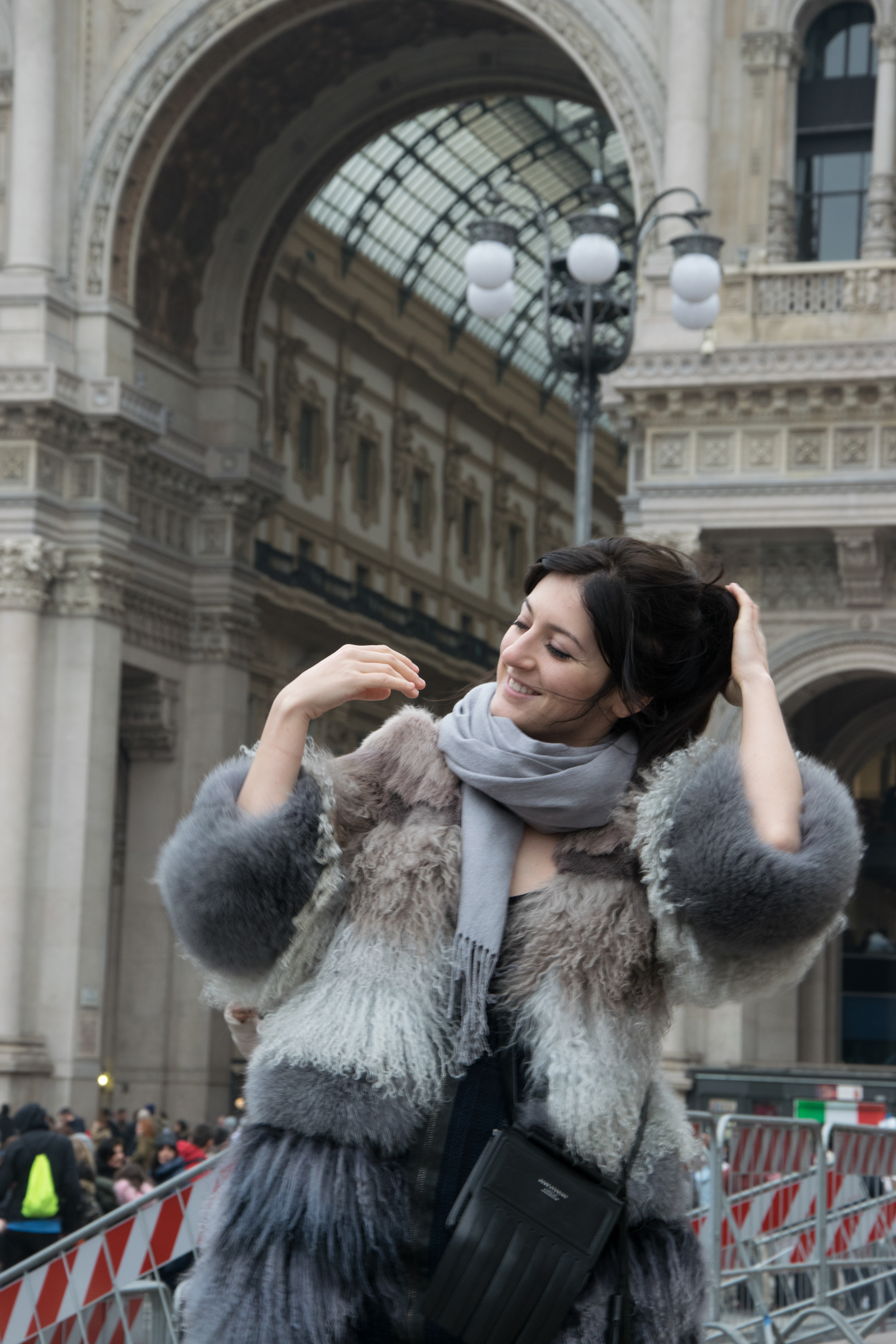 We went to Milan for the fur fashion fairs not for all those catwalks, that Ill check in the internet very soon. The one milano is the biggest fur fashion event that takes place each year in February in Milan, Italy. The event happens to take place usually when the milan fashion week does too, so lots of fashionable ppl are in the city. Though! What impressed me the most that due to the low as for Italy temperatures (-2C!) every minute you could see a regular (not fashionistas and bloggers) person in the street wearing mink or fox or shearling or lambskin or sheep and WE WERE LIKE OMG THIS IS UNBELIEVEABLE! Imagine country like Poland when -2 C is pretty much a standard temperature and I don´t think during whole winter (October-February) I have seen so many women in real furcoats as in Milan during 4 days precisely 22-26th Feb 2018 :D Most of them (I mean fur coats not ladies) look pretty much vintage 80s, 90s style mink coats, but there were many many others varations and also fur parkas were pretty much a STANDARD both on girls and boys. :D It just feels cool to be around ppl who understand your fashion choices :)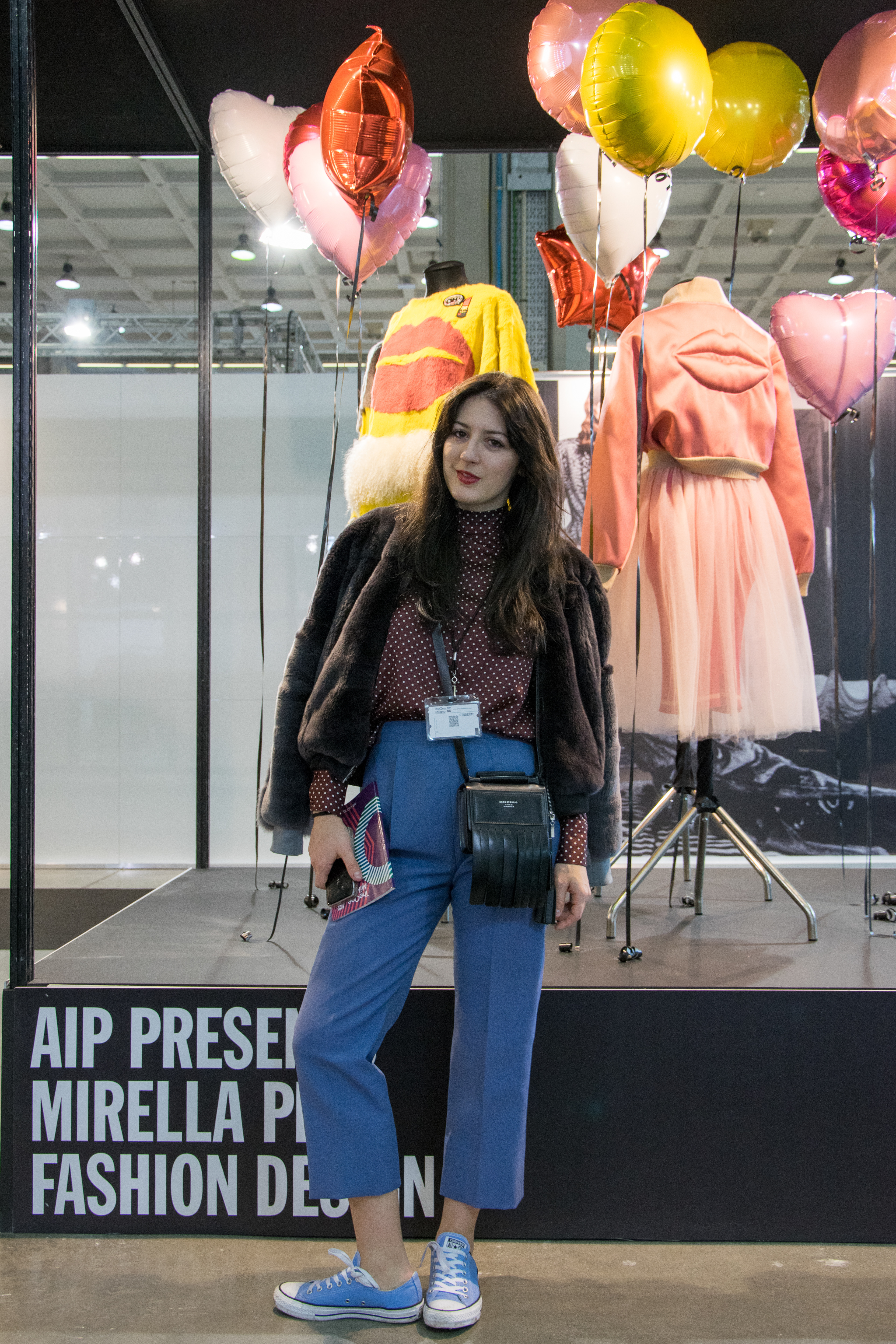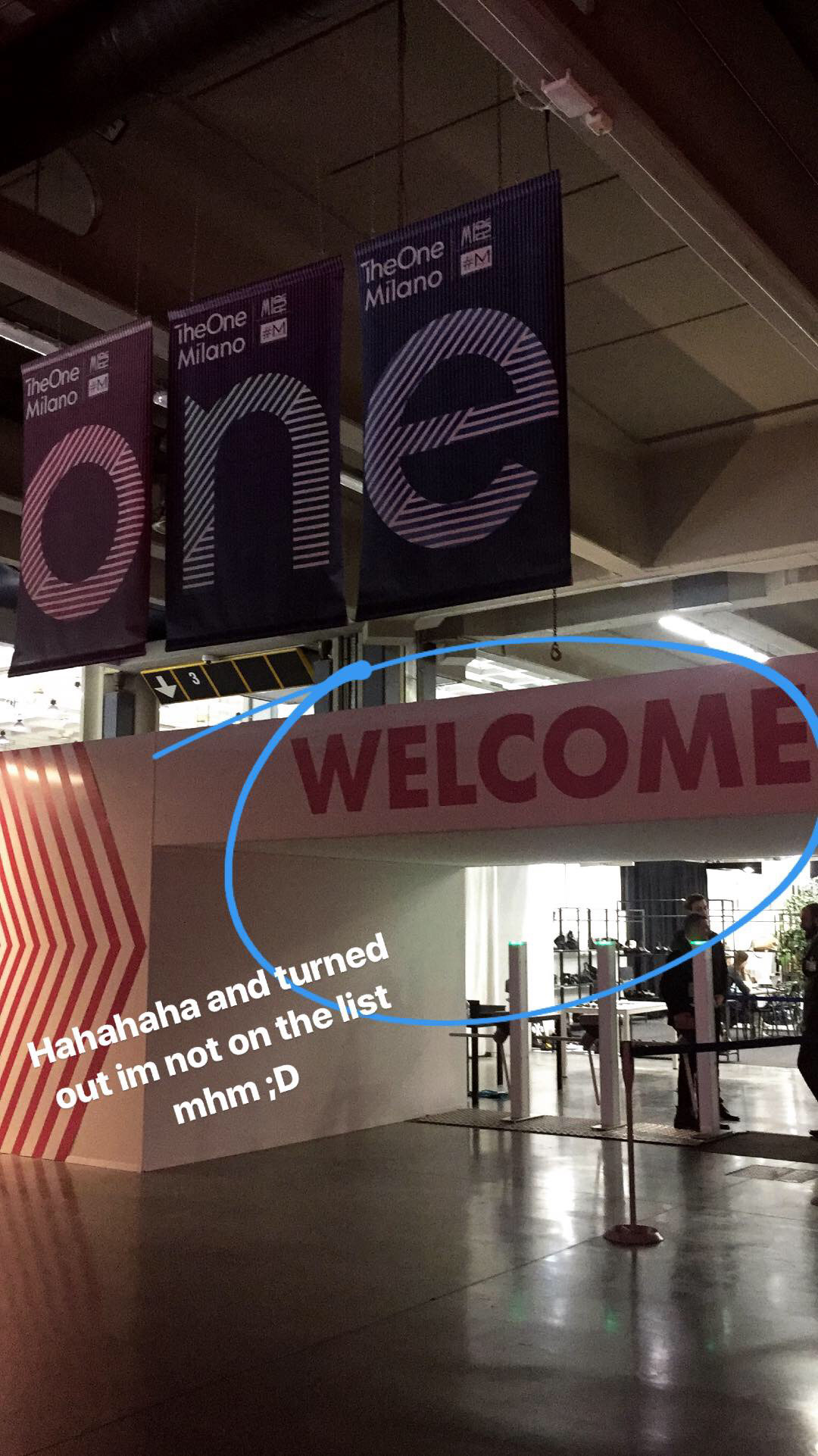 MOST INTERESTING AT THE FAIRS...
The brand that impressed me the most with their design, quality and colors combo was the turkish brand PUNTO, which collections you can see
here
 ! 
Also an interesting approach in design, has the company of my other dear Italian friend Vittoria whose dad is working 46 years as a furrier! It is indeed an amazing moment for me to show for the expertise and judgement the fur jackets (using my still little experienced hands) to somebody of THIS MUCH craftsmanship! and he told me indeed Brava brava :D! Vittoria, her dad and their employees are doing super funky pinkish, blueish, reddish colorful jackets with stars and flowers interasia applique and super funky colorful geometrical pattern silk linings! Just beautiful and crazy garments!
We have seen also cool shearling and sheepskin brands with the very cozy and minimalistic modern design line, which I would wear every day, but I would have to read thru the event book to give you names!
Most of the fur jackets though that I have seen in the fairs were pretty much classic and somehow repeating, seems like it sells the most? while the more avantgarde and unique pieces, are not everyday choice for common people :D
I also had a chance to meet my another Italian friend Giulia from Fur Summer School in Kastoria, who is now a head designer for a fur brand, so we have seen her work in the shows too!  Zero photos allowed though!
Besides, I got in contact with some leather, fur skins and fur plates providers, who not necessarily sell 10 plates minimum of one kind to make me bunkrupt, but also they can sell to individuals such as me, emerging designers and furriers, which was a great experience (now I know the guys, if i would like to buy some skins to add it to the remodeled vintage designs, because I did not change my mind about recycling!)
Below me and Michael warming up in front of Duomo :D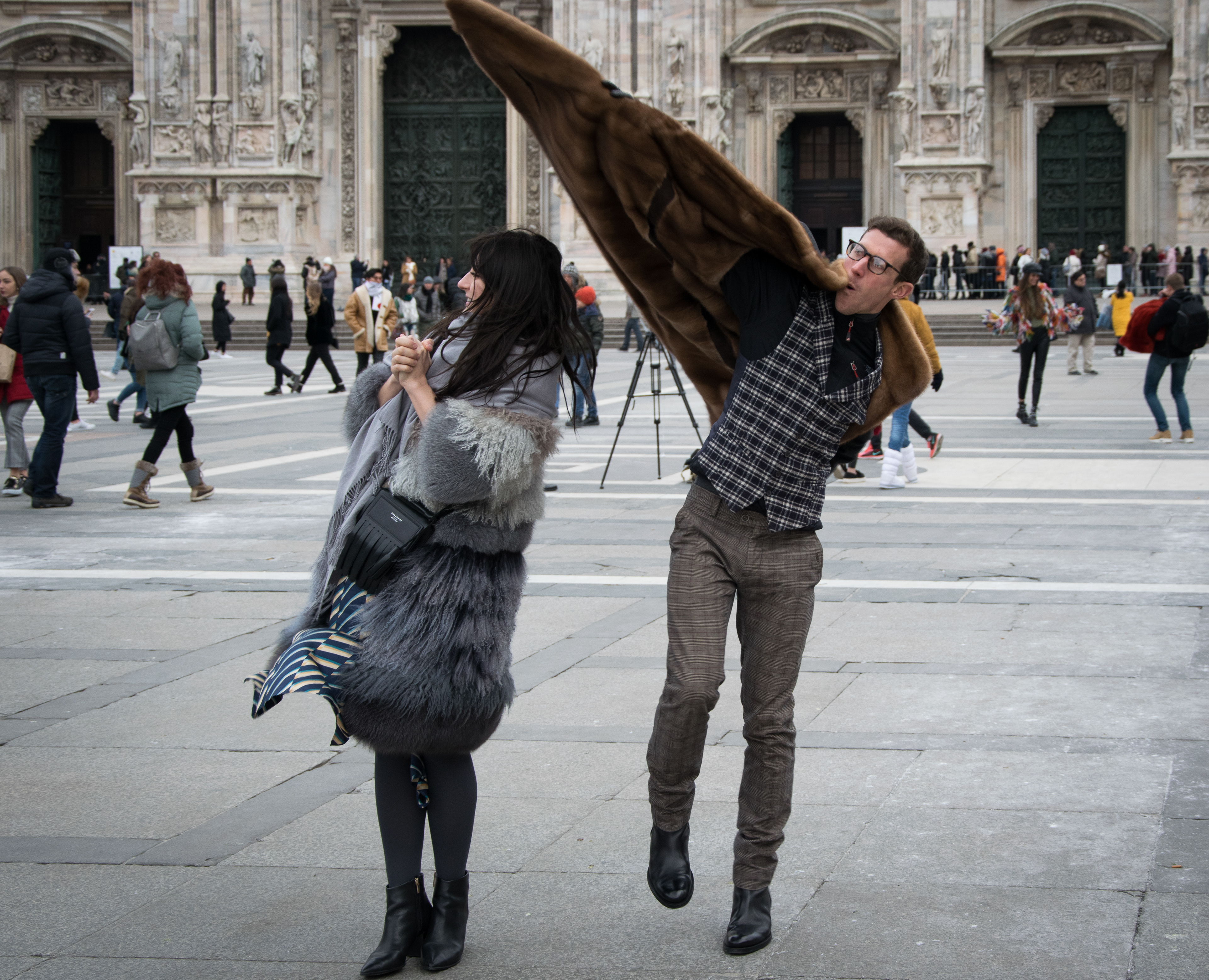 The fairs itself was basically the place where exhibitors such as fur brands, fur designers, fur manufacturers and fur skin providers met with buyers. Since we were not buyers :D we had some difficulties to get in, but Fur Europe resolved the issue and we could explore the BIG ! ENORMOUS! AND LUXURY TOTAL FUR WORLD.  Almost no photos were allowed to take, which I didnt expect since the only fairs I´ve been to so far were basically the small independent fashion fairs in Cracow, with rather zero luxury level, but more basic and slow fashion stuff. 
So literally almost everytime I tried to photograph something really impressive at the one milano there were immediate response from the exhibitor that we have to delete the photo and show the phone! So well not much content Ive got to present it to you over here! All I could take was Kopenhagen Fur and Saga Furs fur techniques samples plus photos of me in the competition coat I did for remix and also the final remix show, which really includes some amazing pieces!
Below a couple of Kopenhagen Fur fur samples. Kopenhagen Fur is the same like Saga Furs the Auction house that sells skins, but also they have a design centre that developes amazingly creative fur techniques and textile samples that include fur.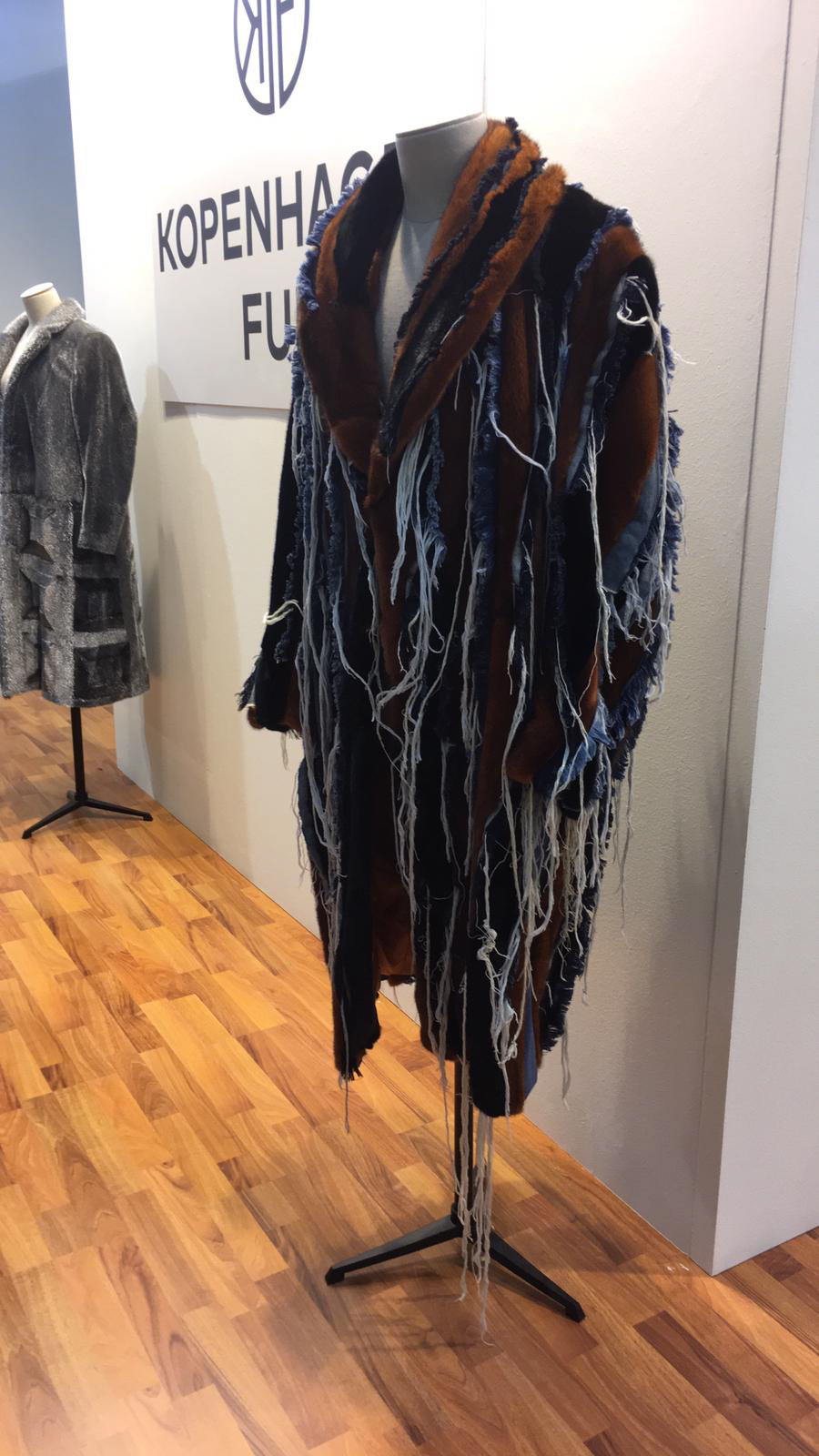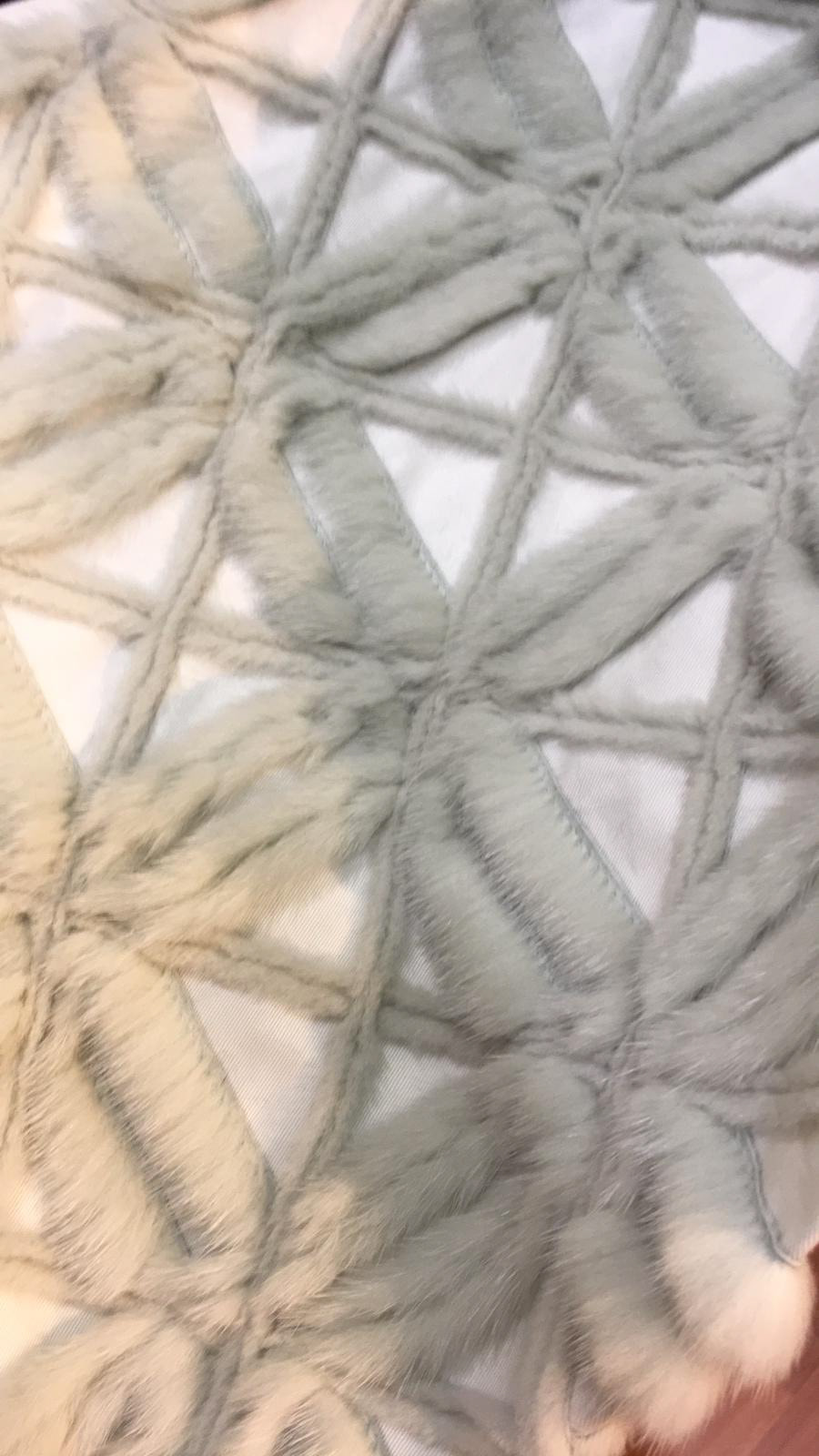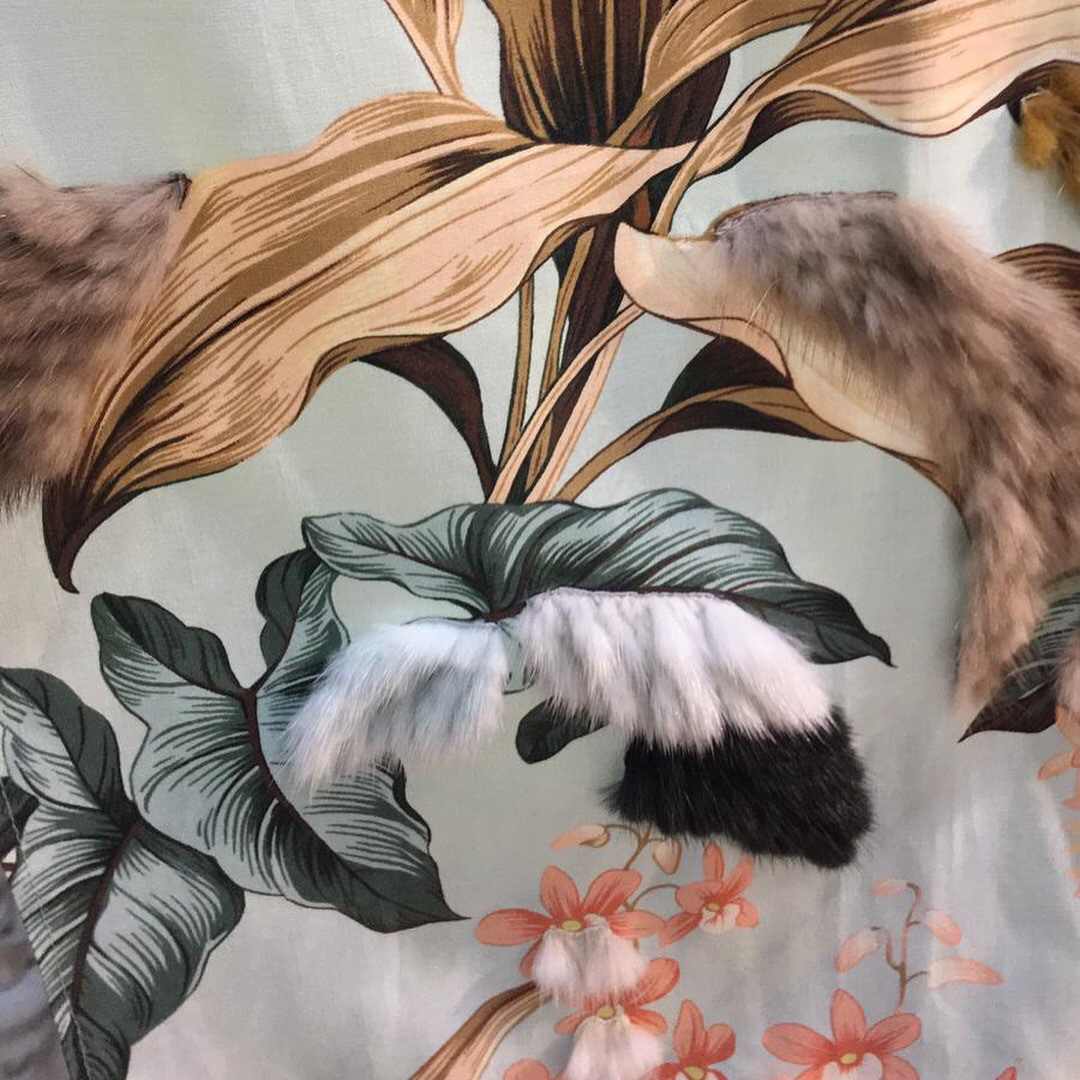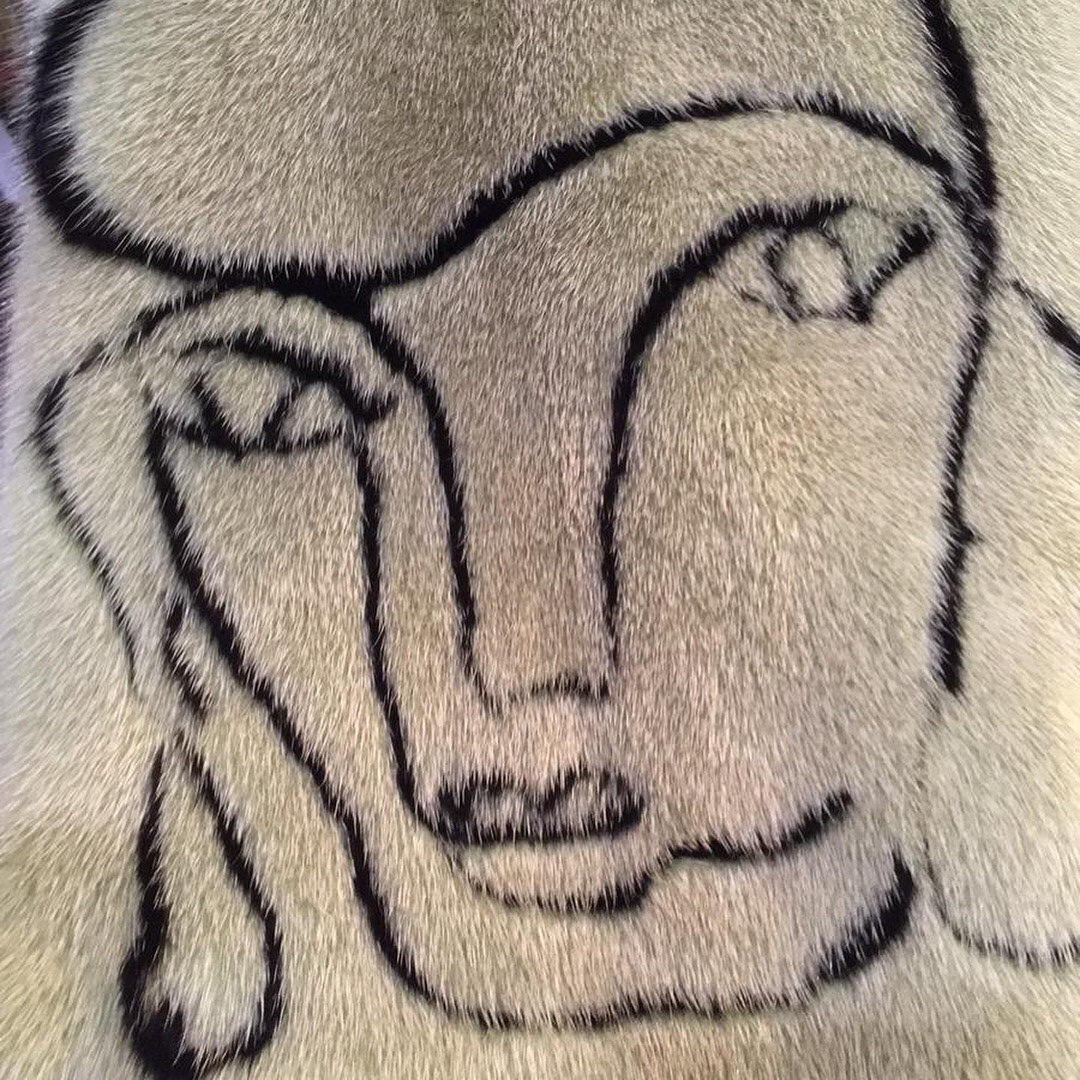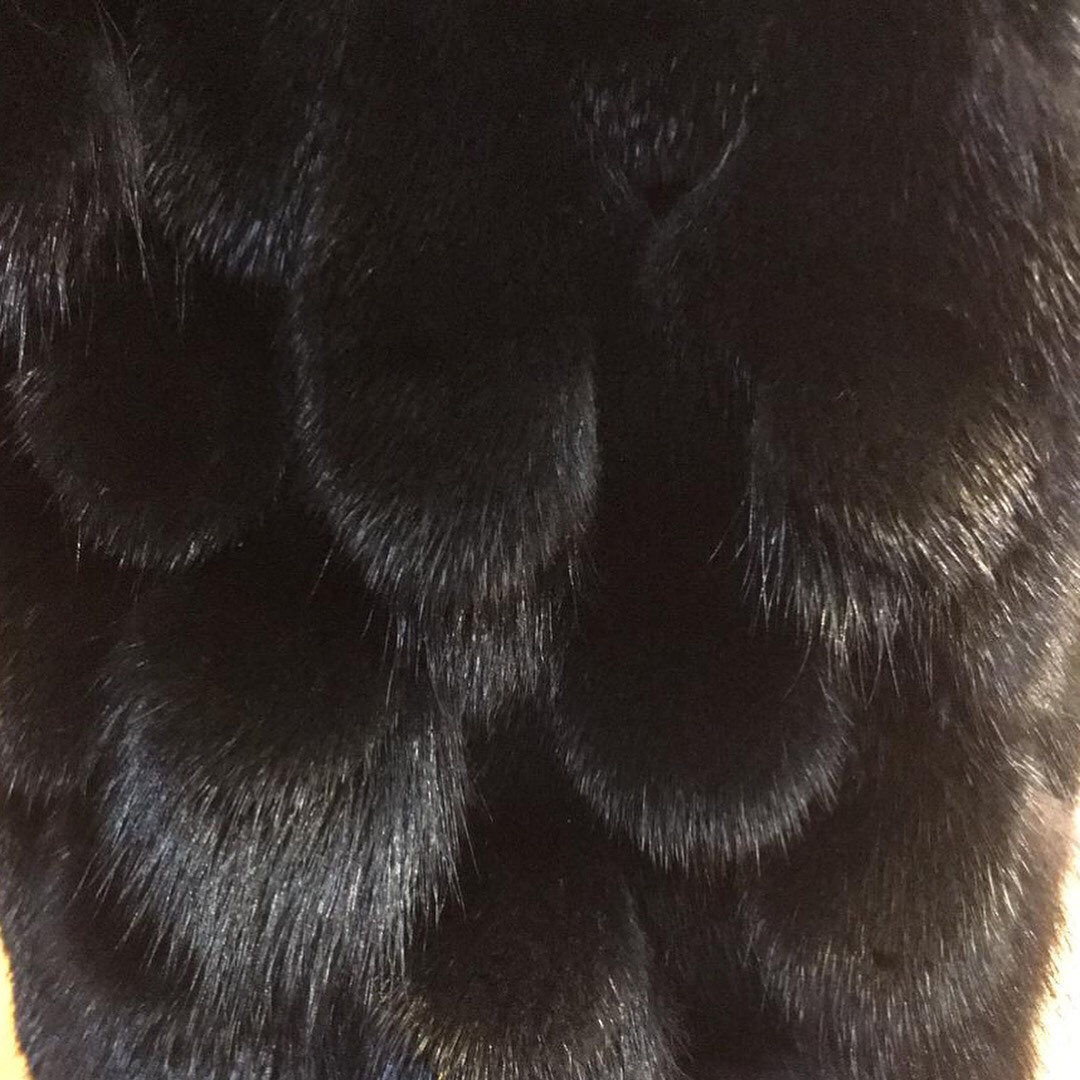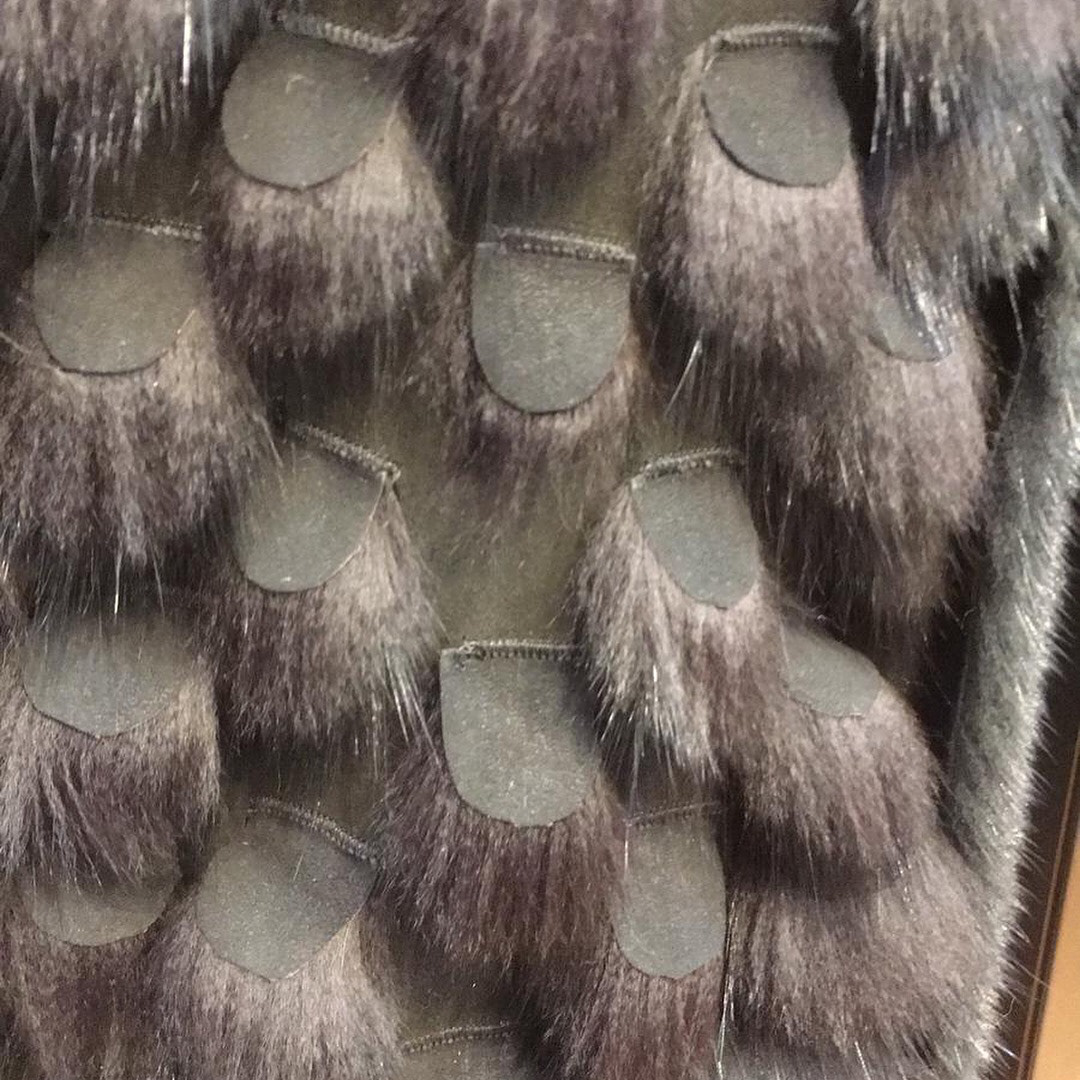 Saga Furs impressive fur ball and their romantic fur samples below...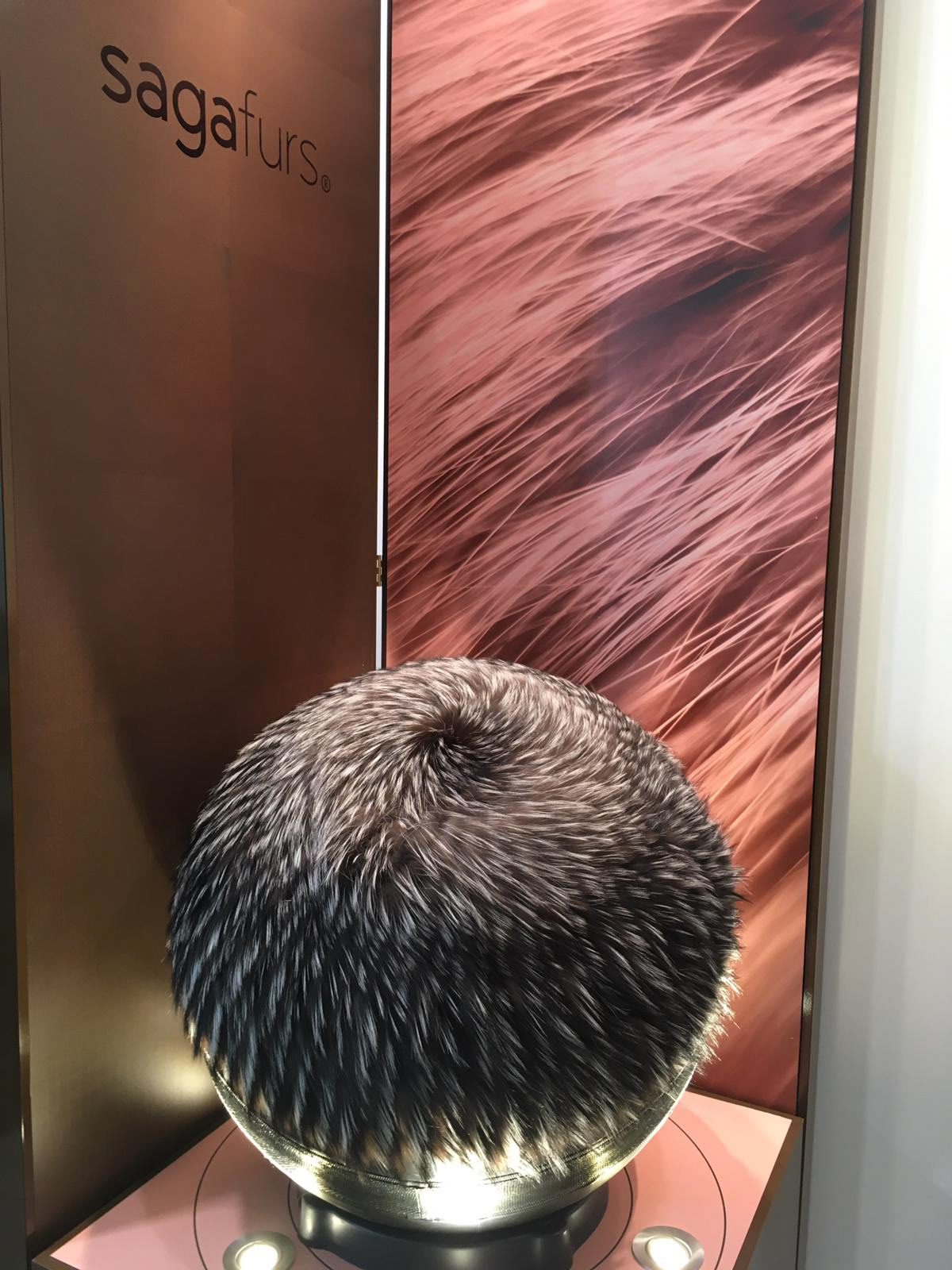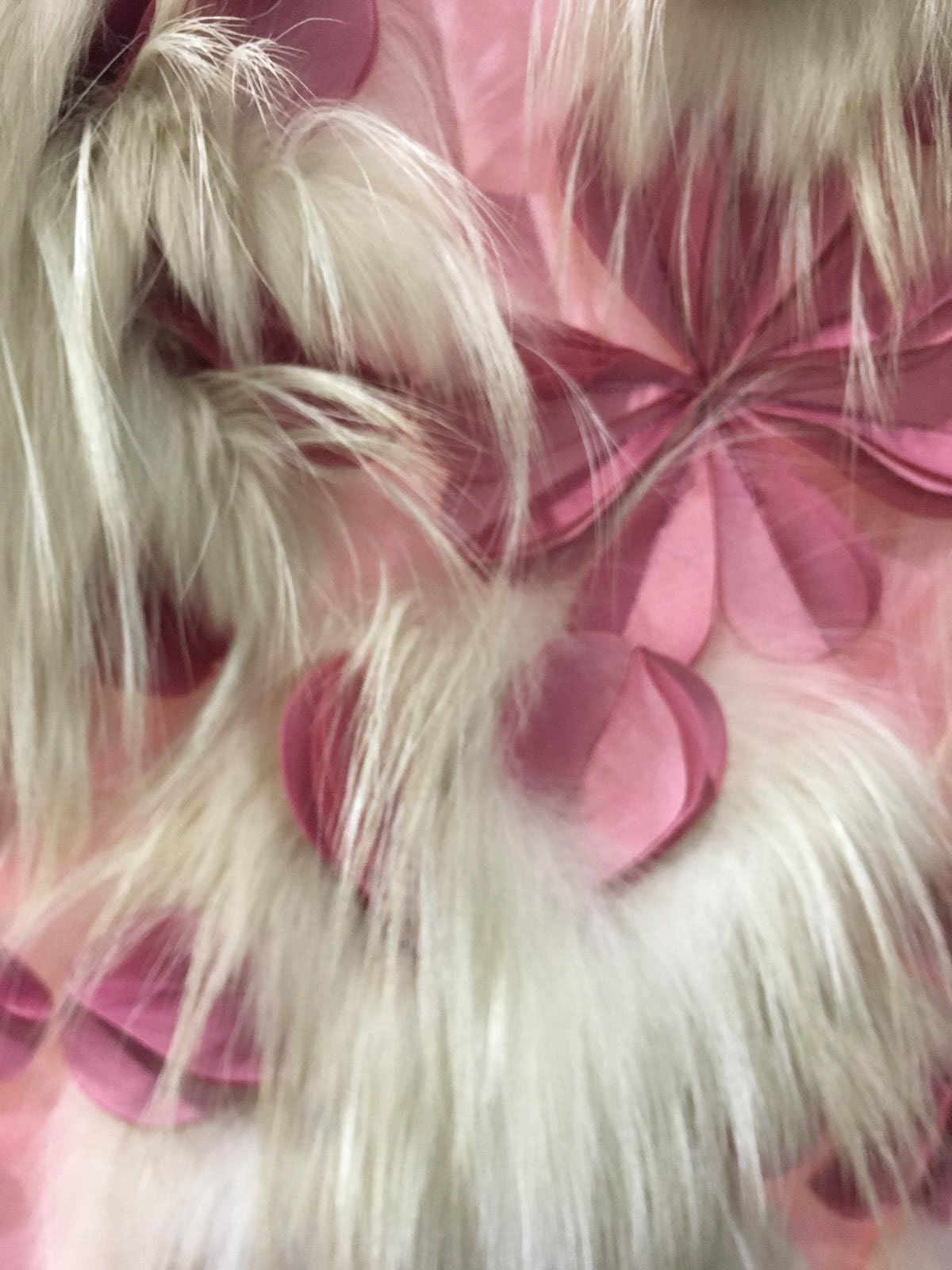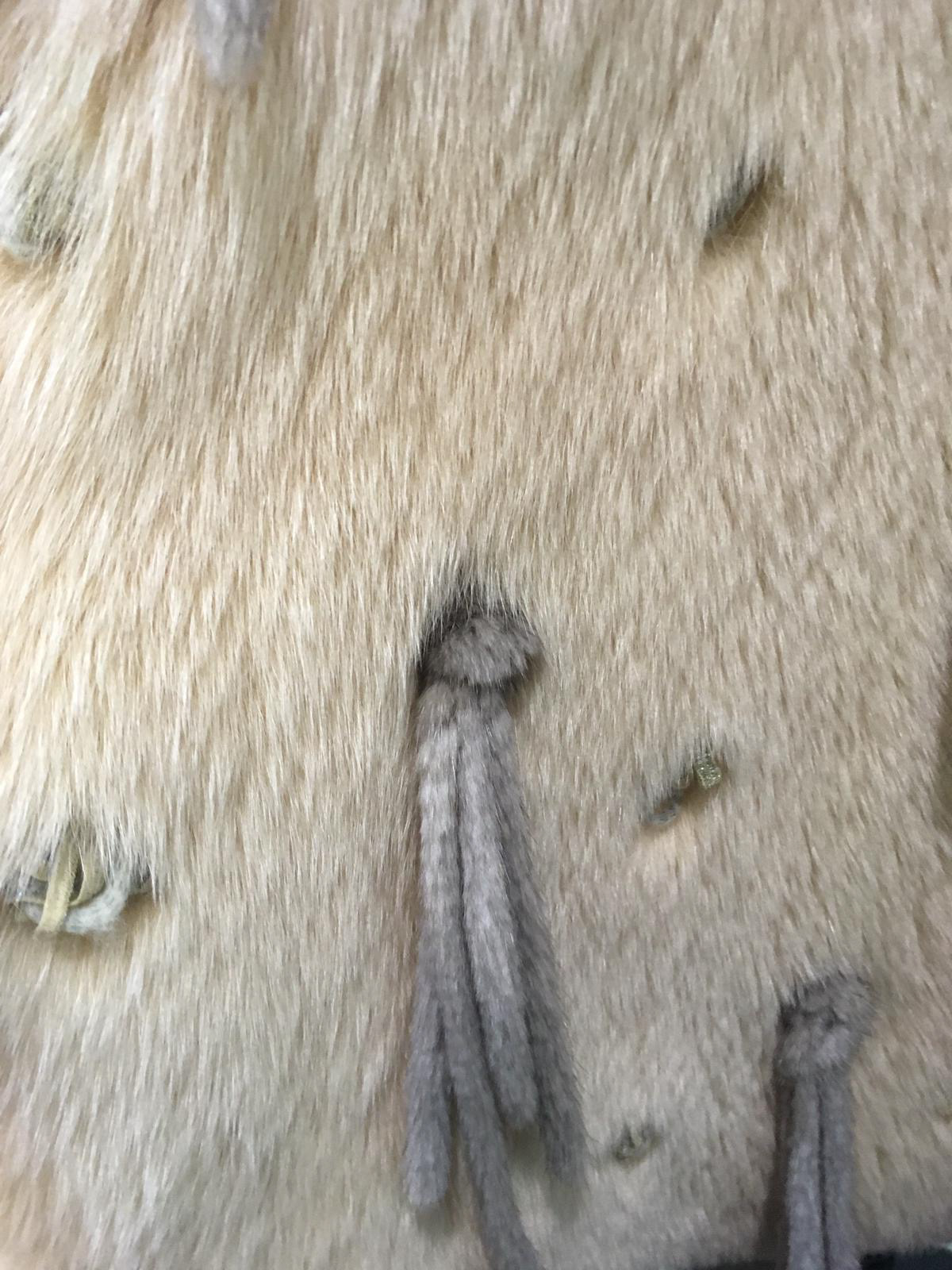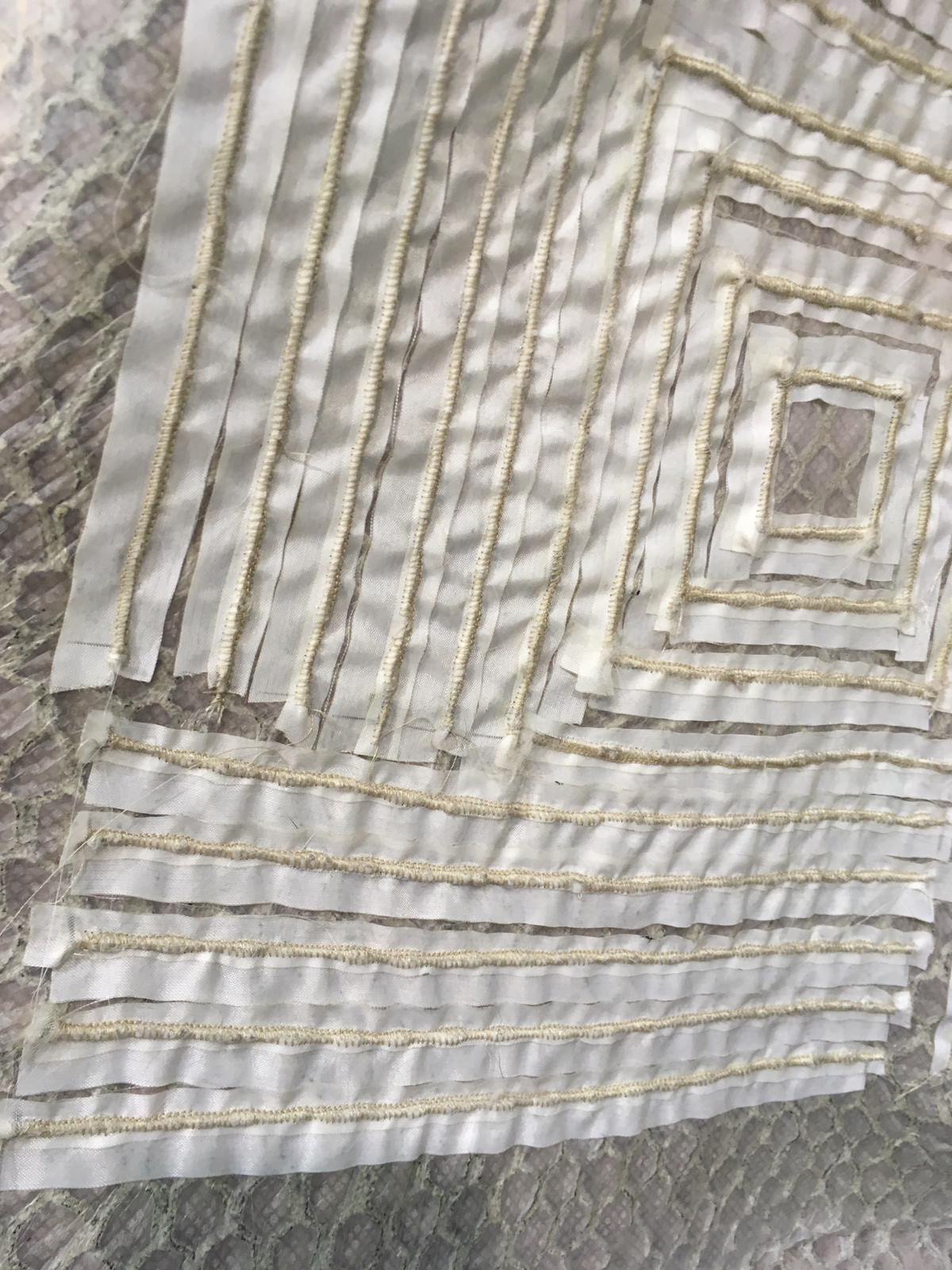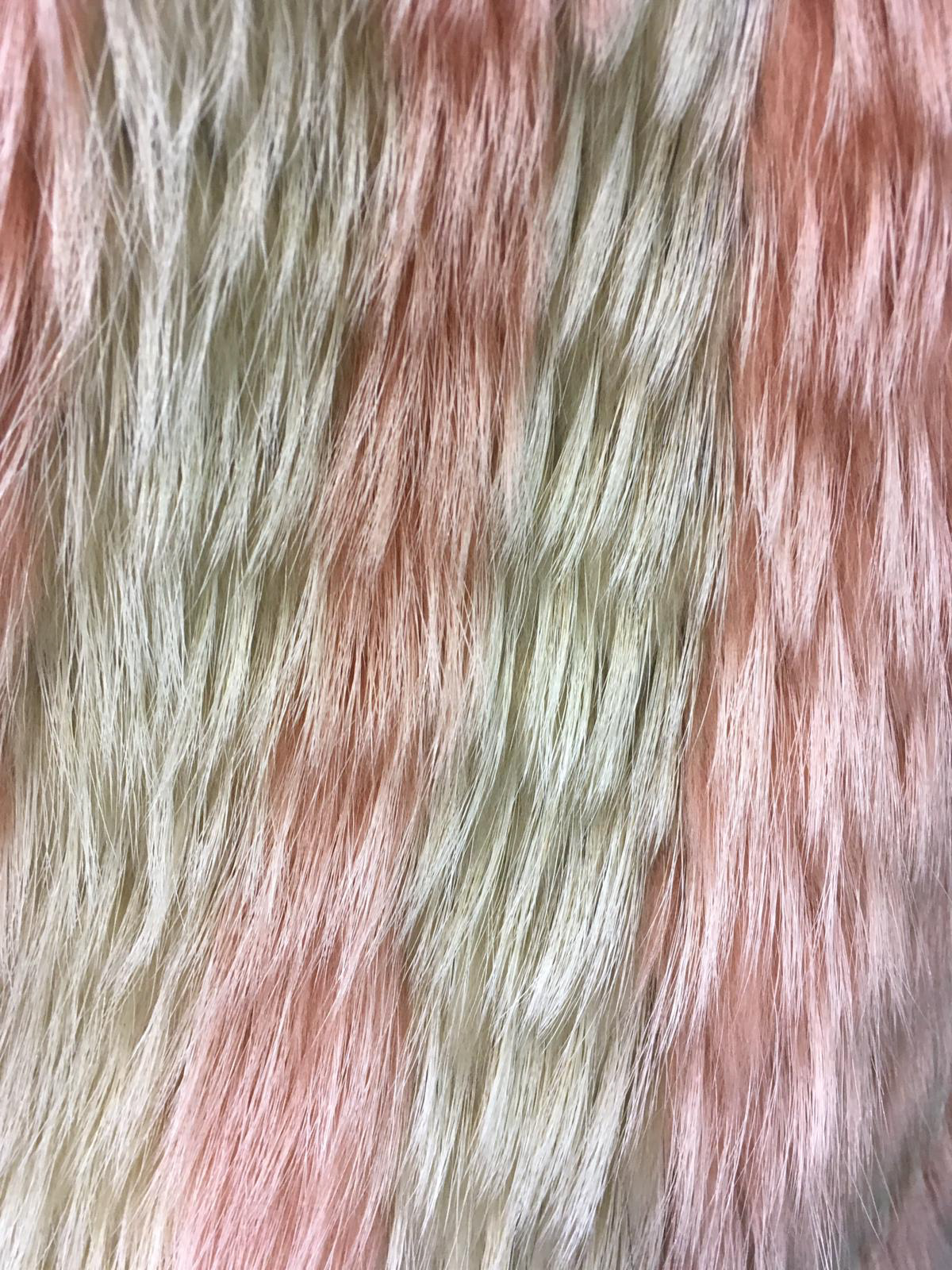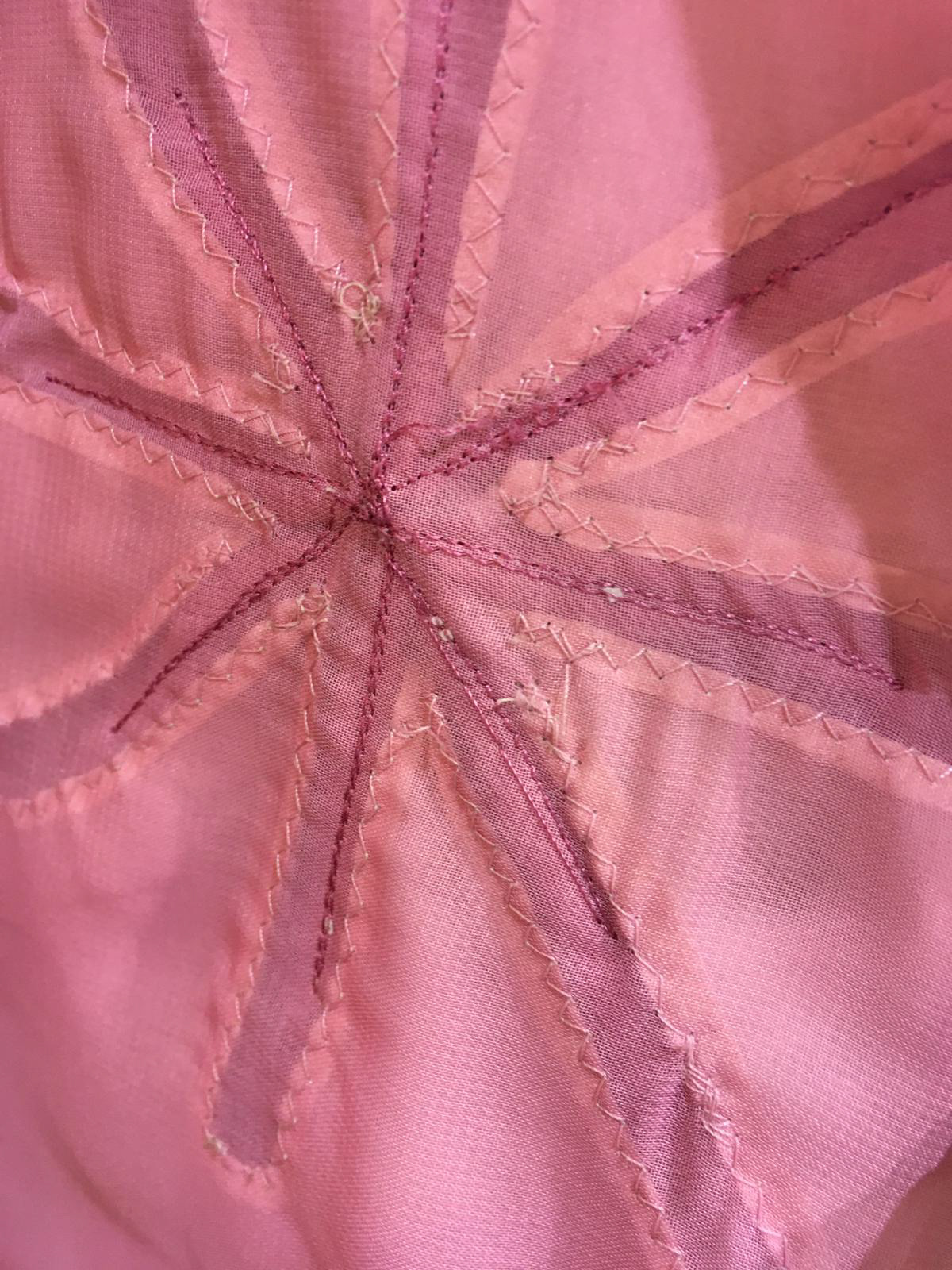 ¨the backstage¨ of the furrier work... 
look how manyyyy threads!! this is the masterpiece job!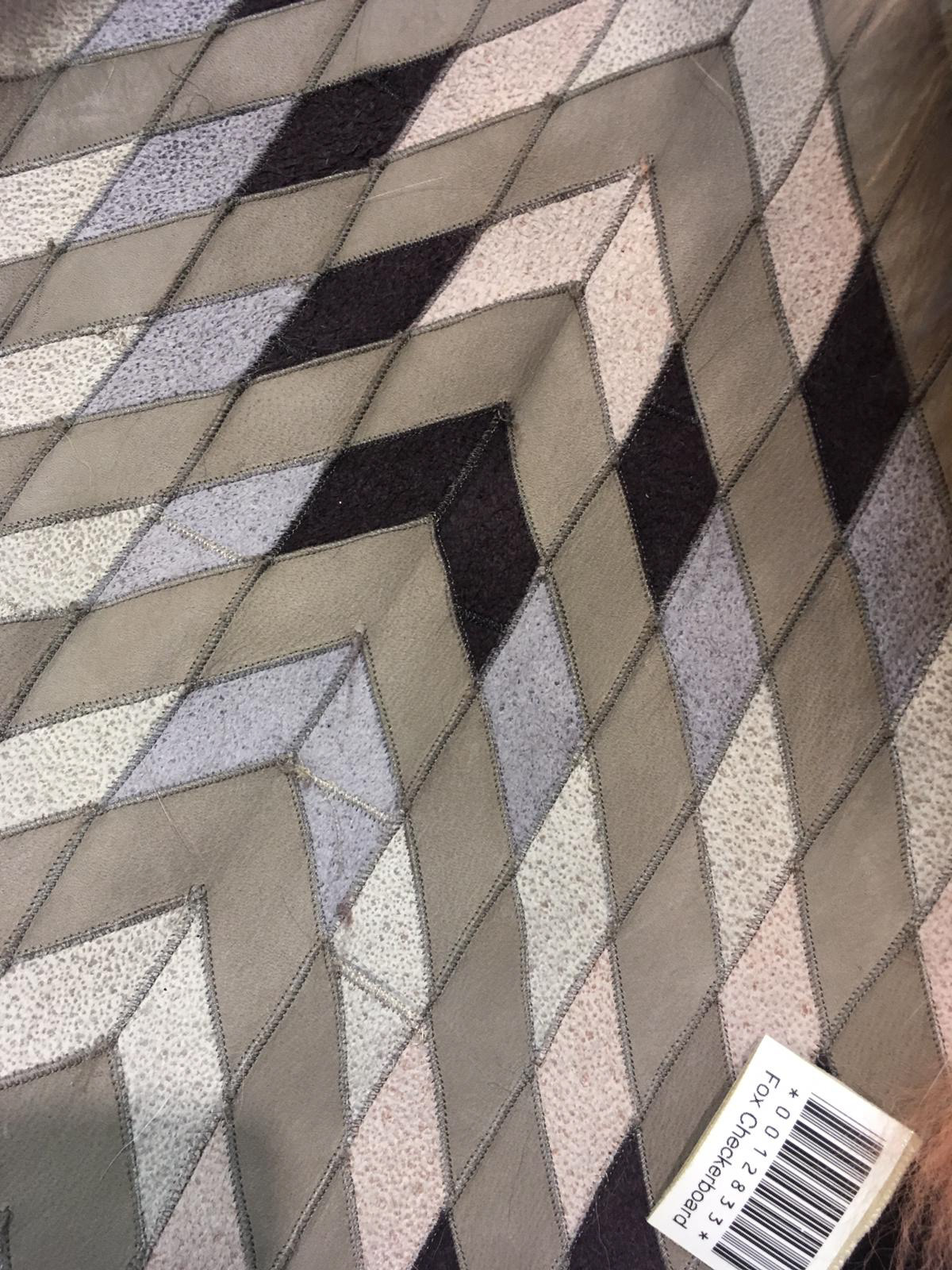 Anty-fur protest in front of the fieramilano building...
There has been one protest during 3 days, the performance of anti fur animal activists, which well look a bit ridiculous when in front of huge building full of fur and fur industry people, like thousands of people there has been literally 10 guys outside screaming out loud ¨murderers, murderers¨. Pretty much agressive behaviours they had, but there has been police officers in order to keep peace and the sides not to get involved with each other. 
We also did some sightseeing though, the weather as you can see was terrible, rainy gray and zero celcius! and me a selfie antymaster. Selfie academy anyone ;D? Just kidding Ive got two jobs, no time for practising selfie game :D.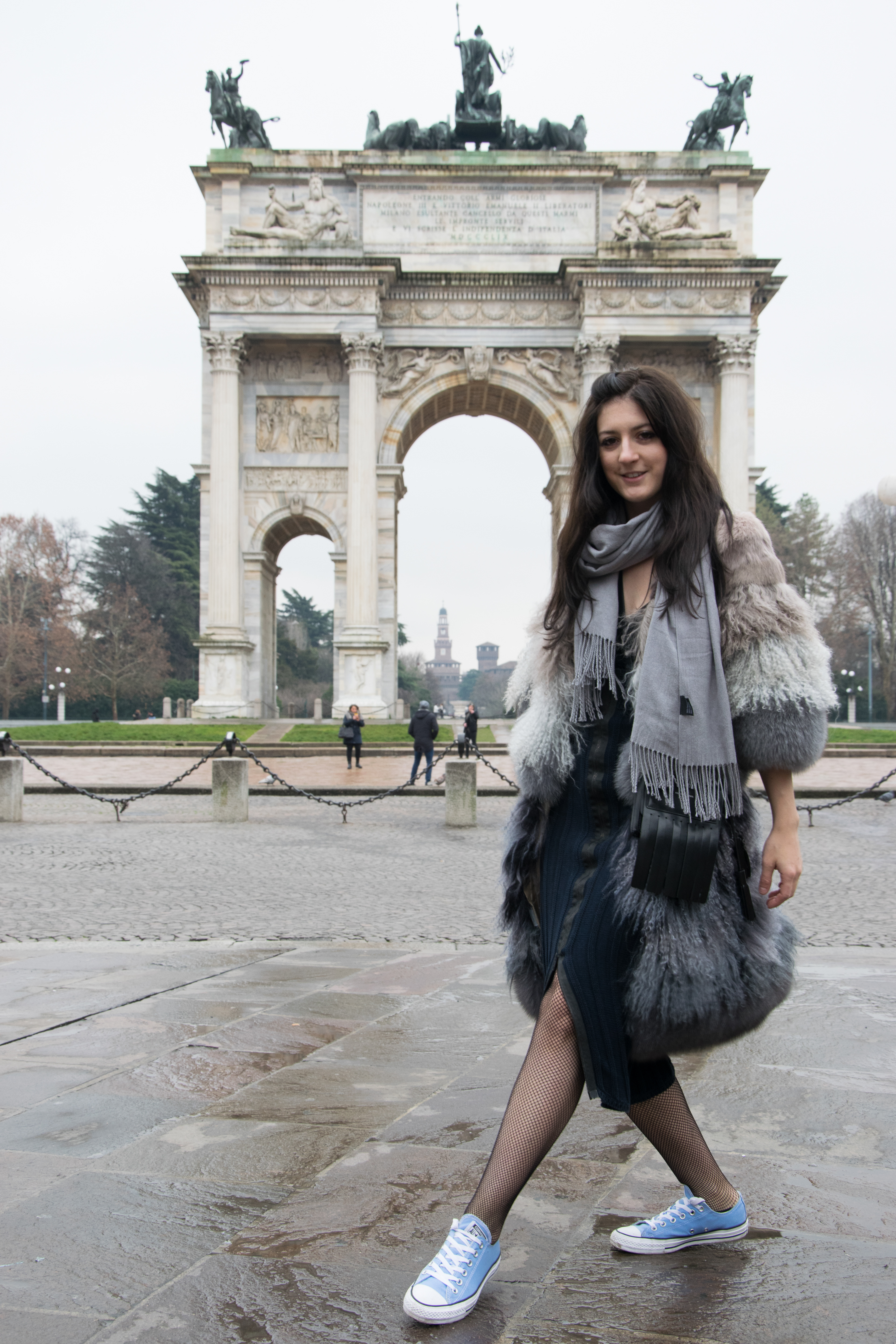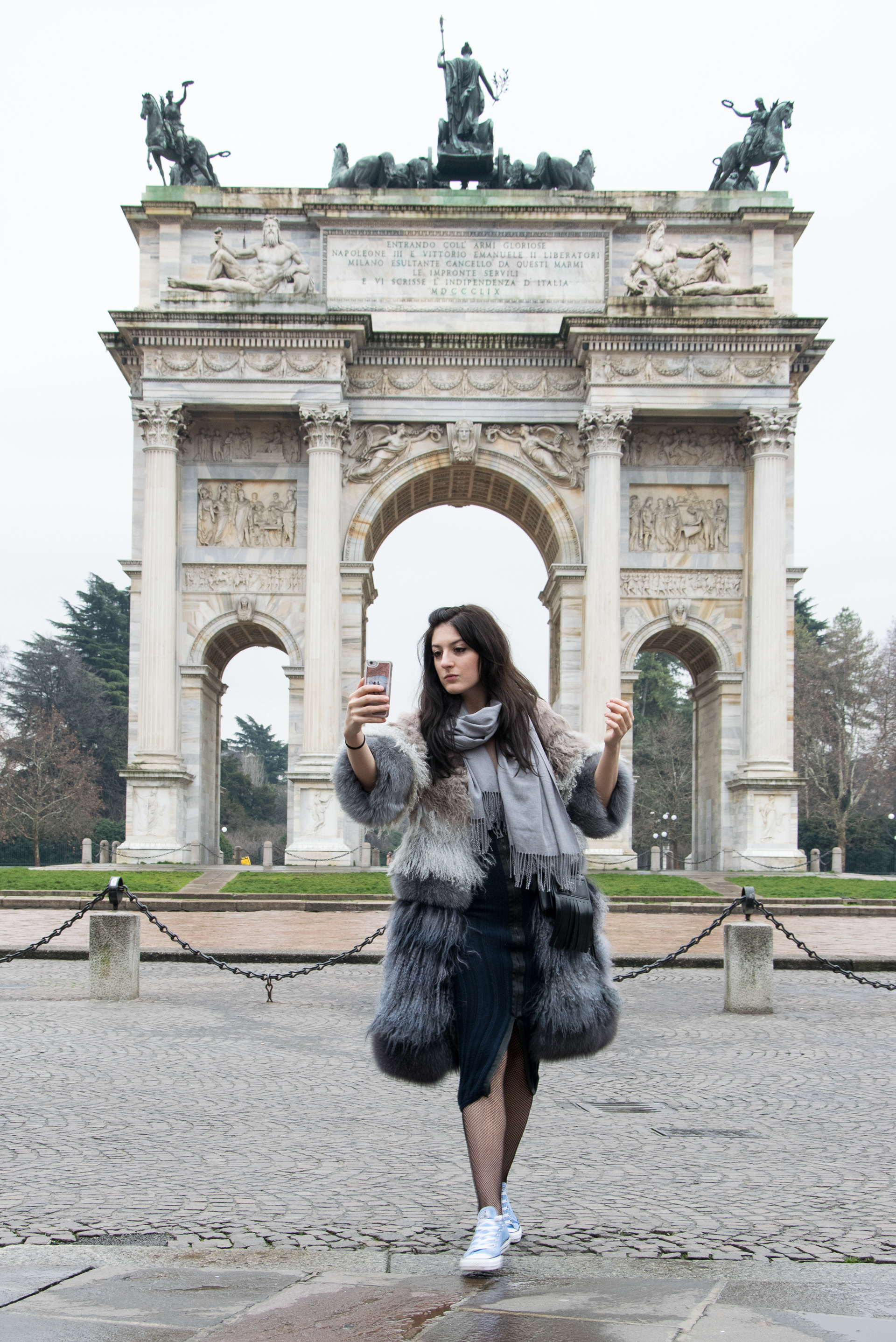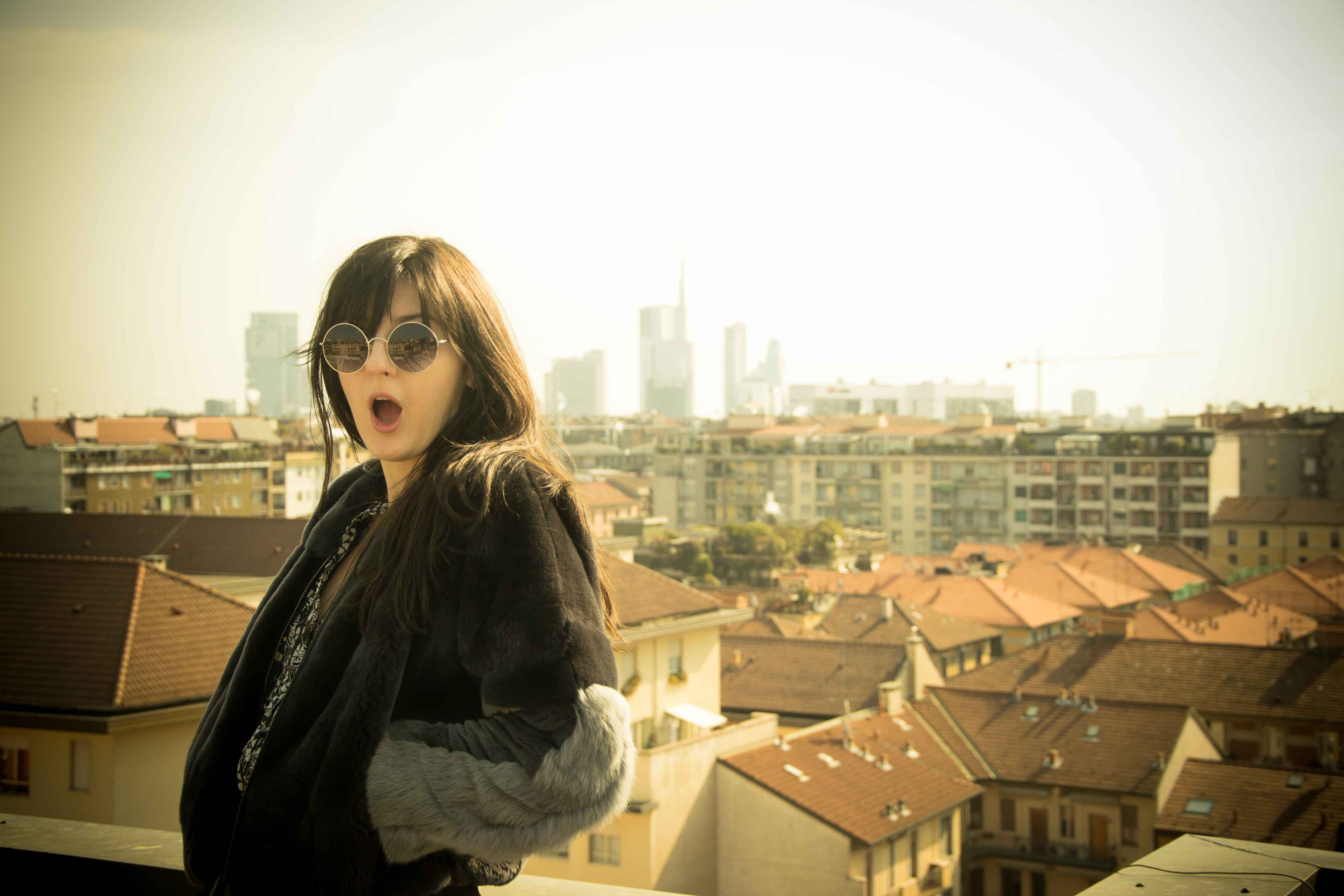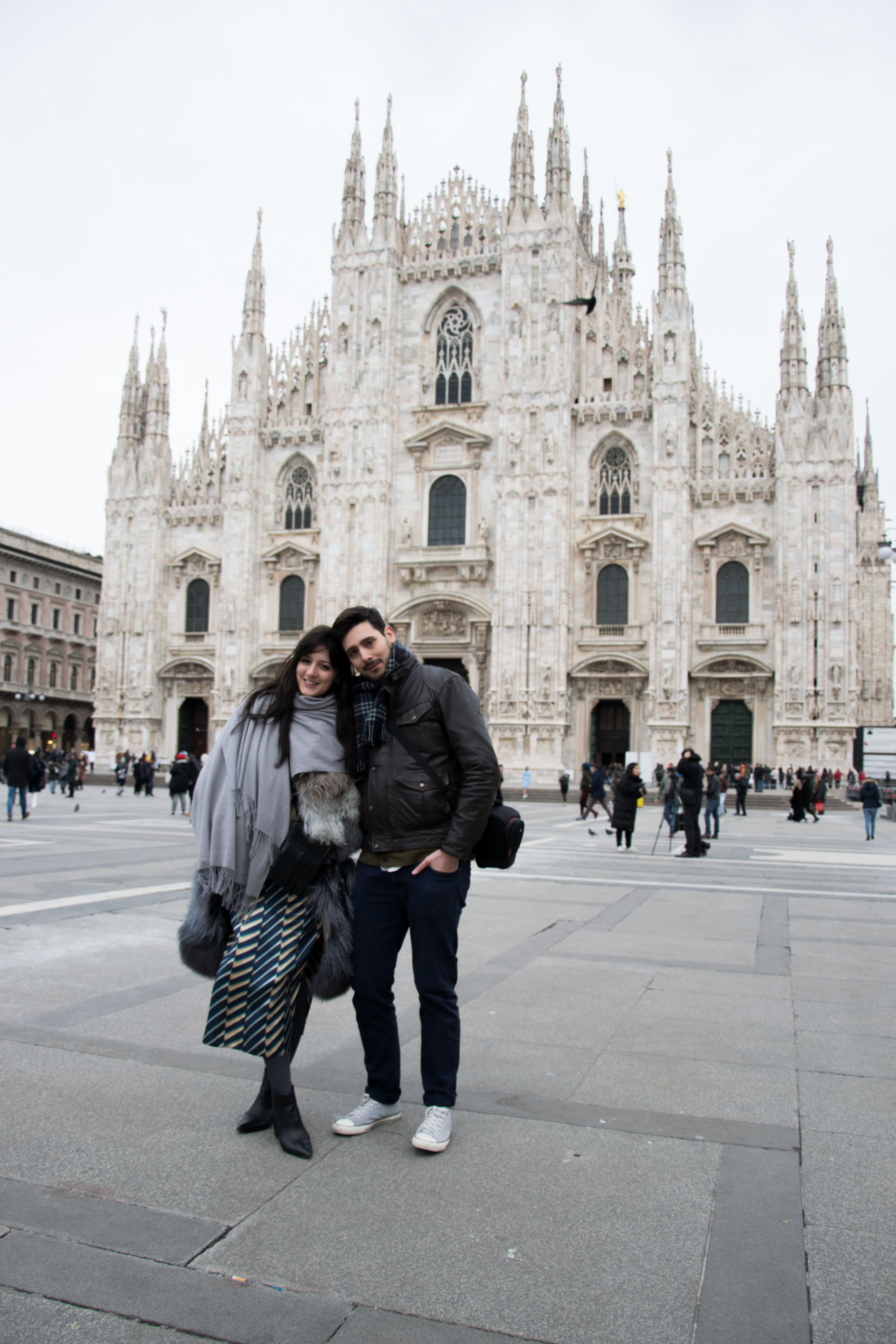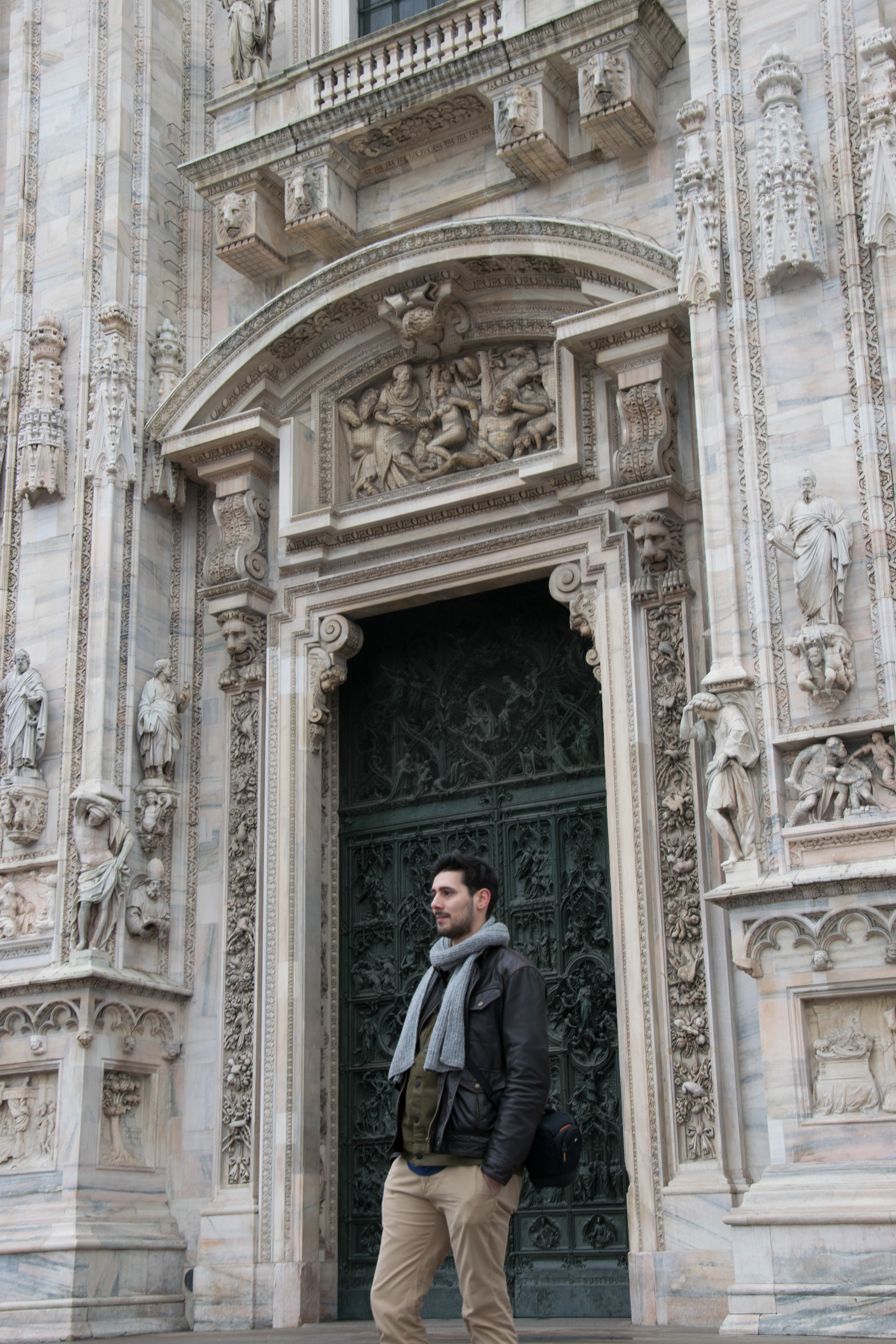 THE MOST IMPORTANT AND EXCITING ABOUT THE TRIP TO MILAN...
The best experience was actual these people! Greta and her parents, 3 amazingly talented, professional furriers in their family business who besides producing luxury handmade fur coats for brands such as Valentino, they also serve Italian customers with remodeling vintage furcoats (with a lot of cool interasia upgrades!), sewing bespoke, made to measure garments, serving as cold storage and so on!
Below with Dario and Claudia Borghi masters in fur craft! 
For the record Dario Borghi has a degree from Instituto Marangoni and these who has some knowledge in fashion know that this is the best fashion school in universe :) and also currently ridiculously expensive!!! (15k euro per semester or something xD)
As much as my Italian sucks we understand each other thru the work that we both love! and I can imagine them complaining about how some vintage furs can be destroyed and pissing us off and when the old 30yo fur neeeeeds soooo much upgrade to look fresh and awesome meaning sooo much work, but hey we do it for the sake of clients happiness and environment! #Remodeling  #Recycling #Second life to clothes #ZERO WASTE etc! :D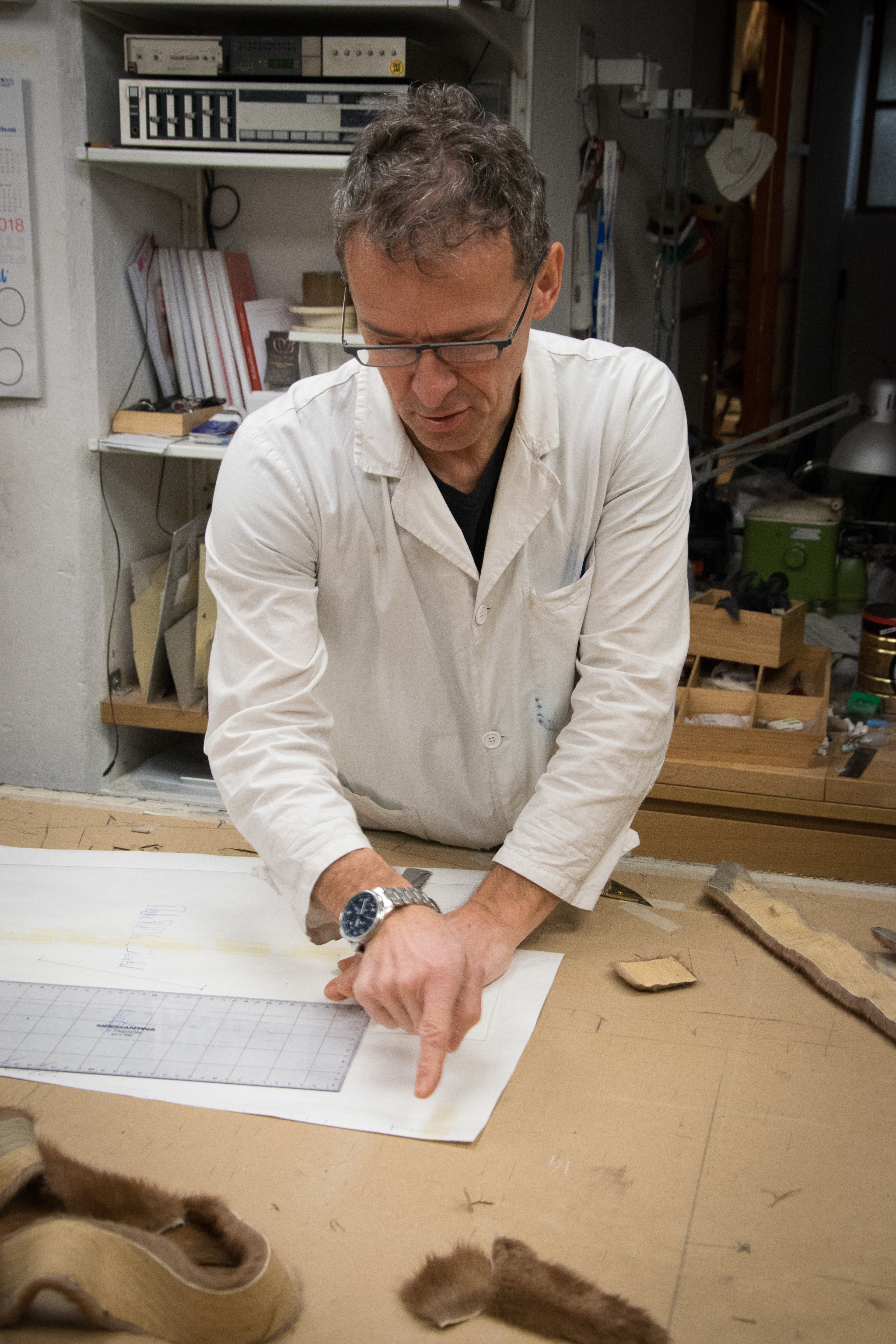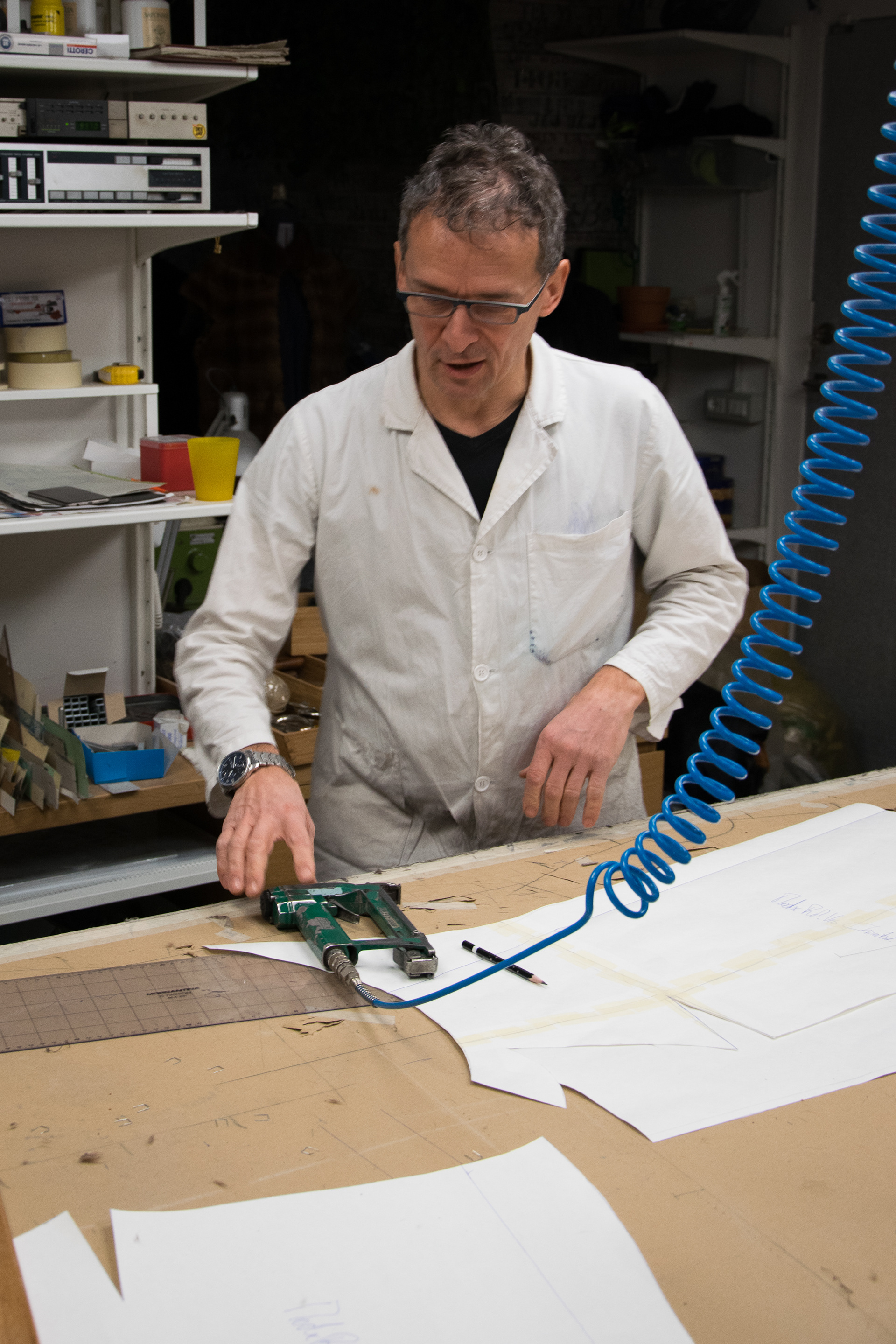 I also found out that without ¨la pistola¨my life cannot be harder as a furrier wannabe:D I need 250 euros and SPACE, which might be the biggest problem to set the ¨pistol¨that would nail the fur skins, to stretch them and flatter the threads and so on! Using the hammer is hard life my hands look terrible like zero bella ragazza!! I need the pistol if I want to become pro!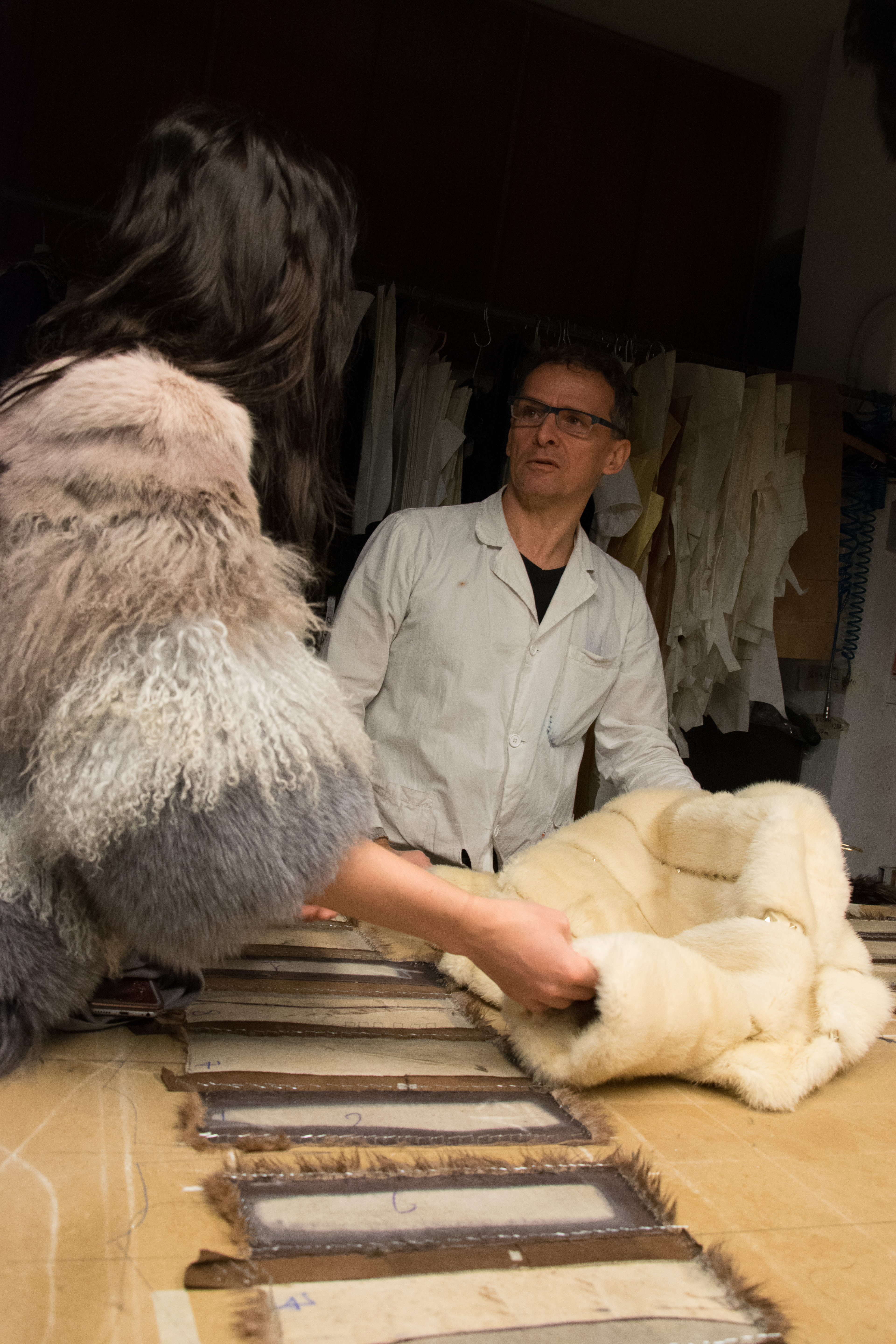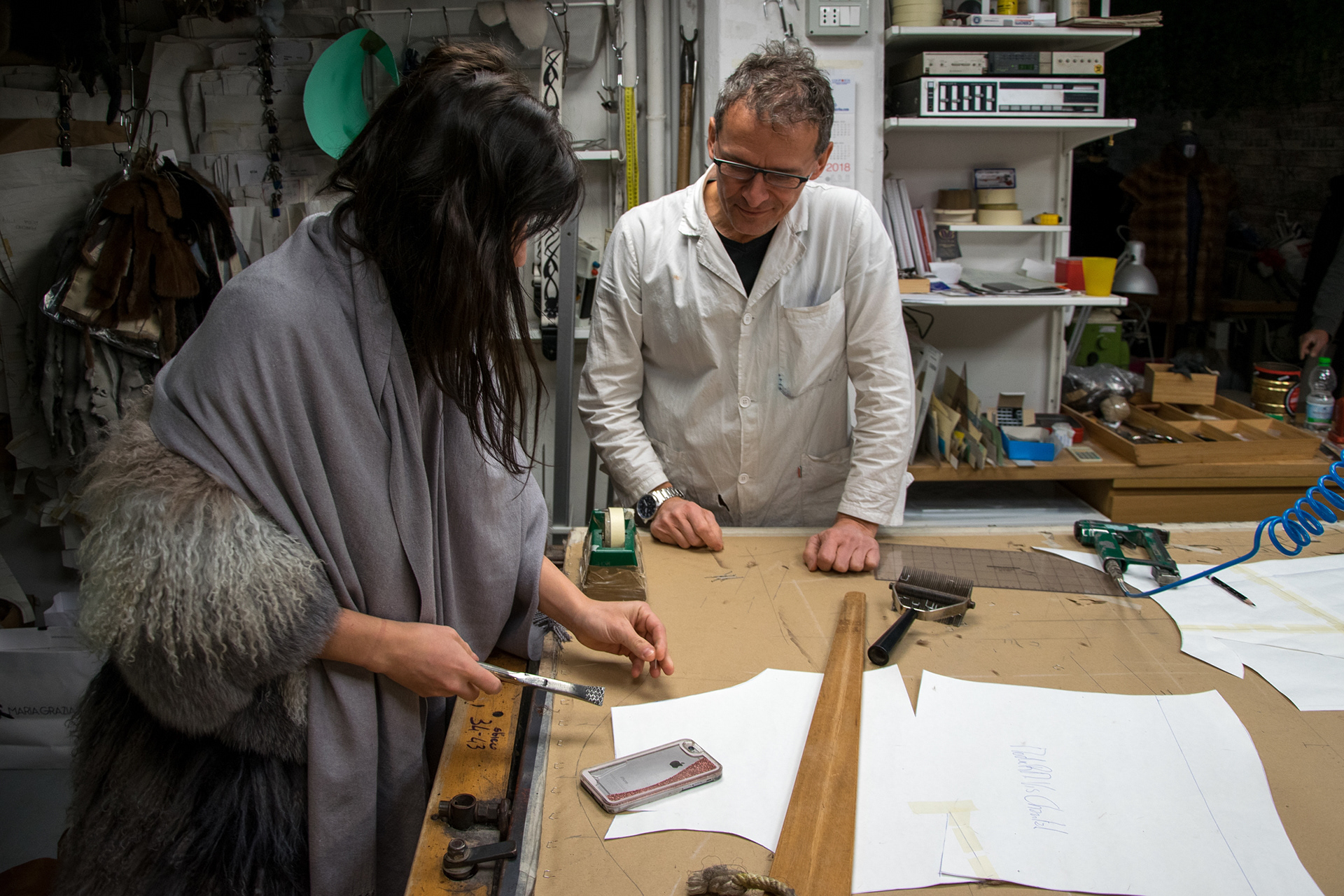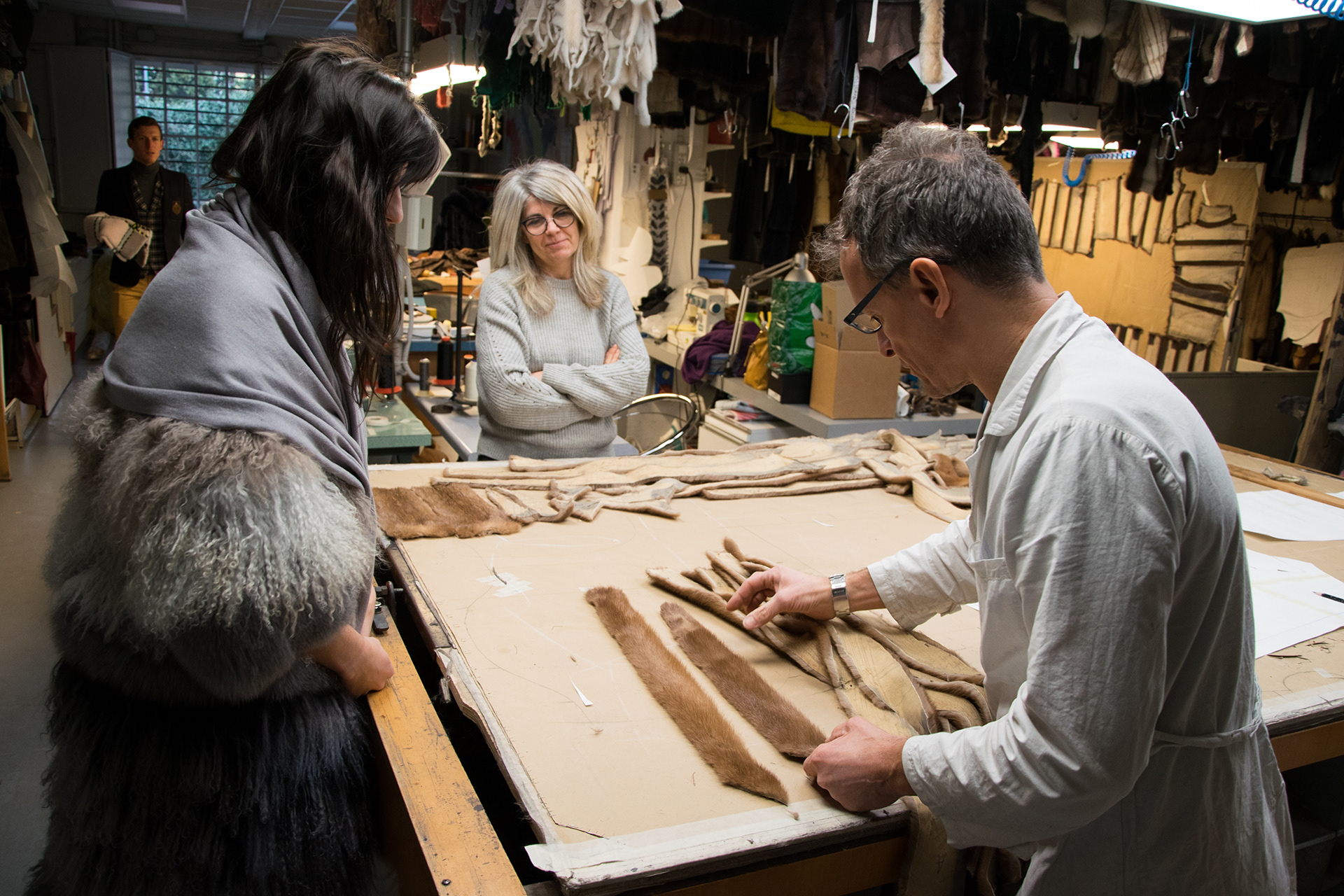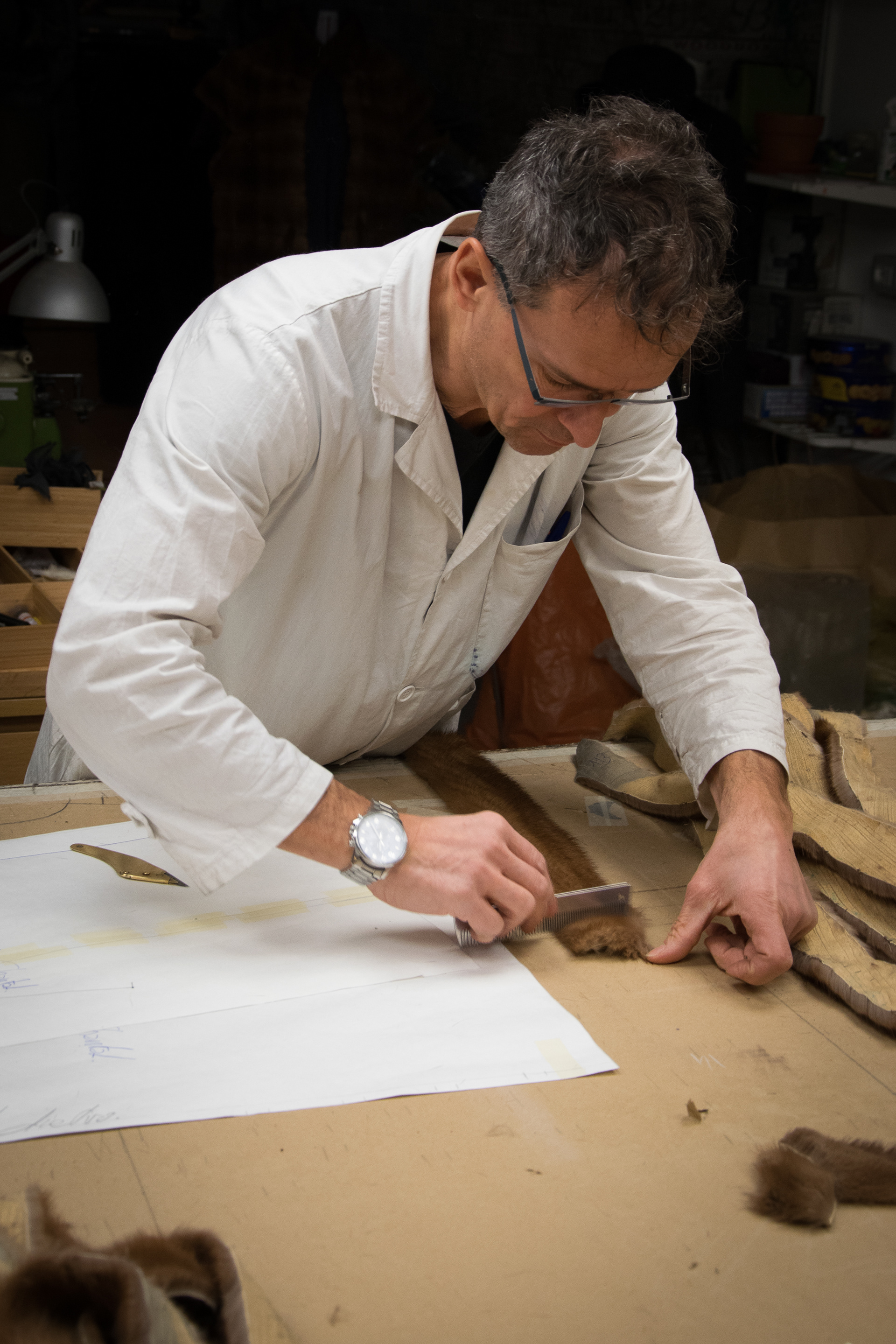 ...and Greta the furrier and the CHEFA! 
Follow Greta and her fur master parents at instagram @greta_milano_furs <3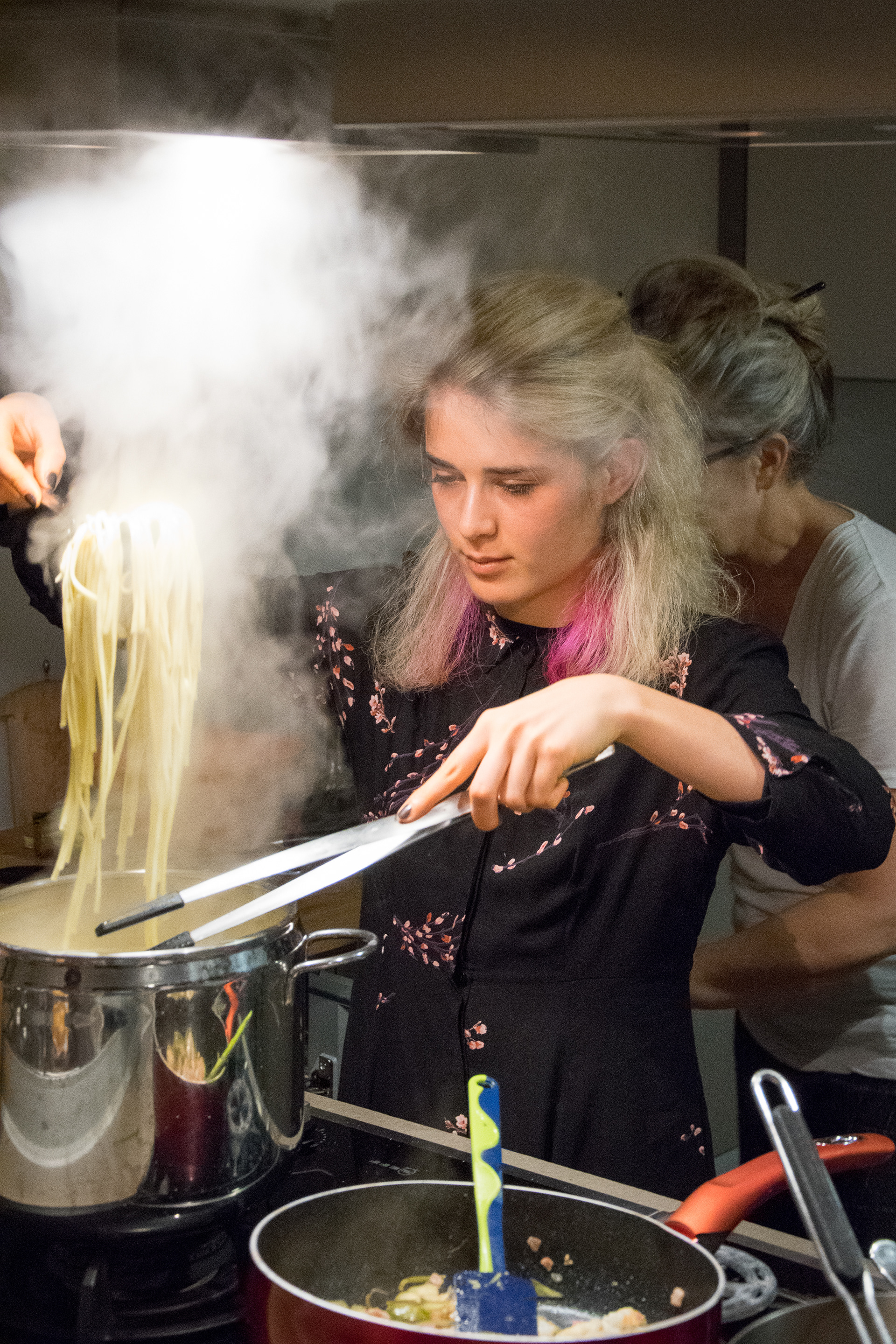 Some of the furs of Dario Borghi Milano atelier below. Love the ombre to the max.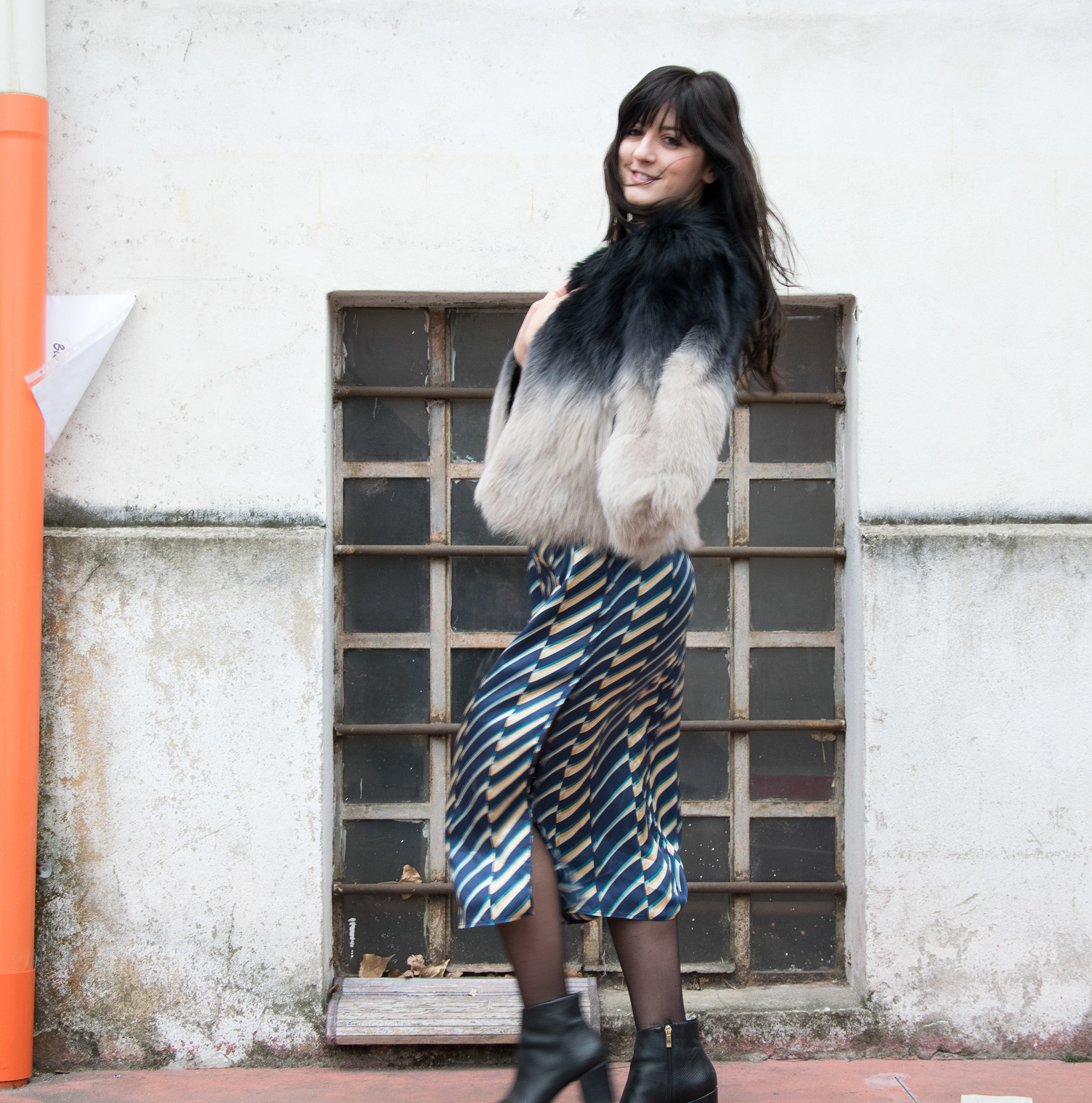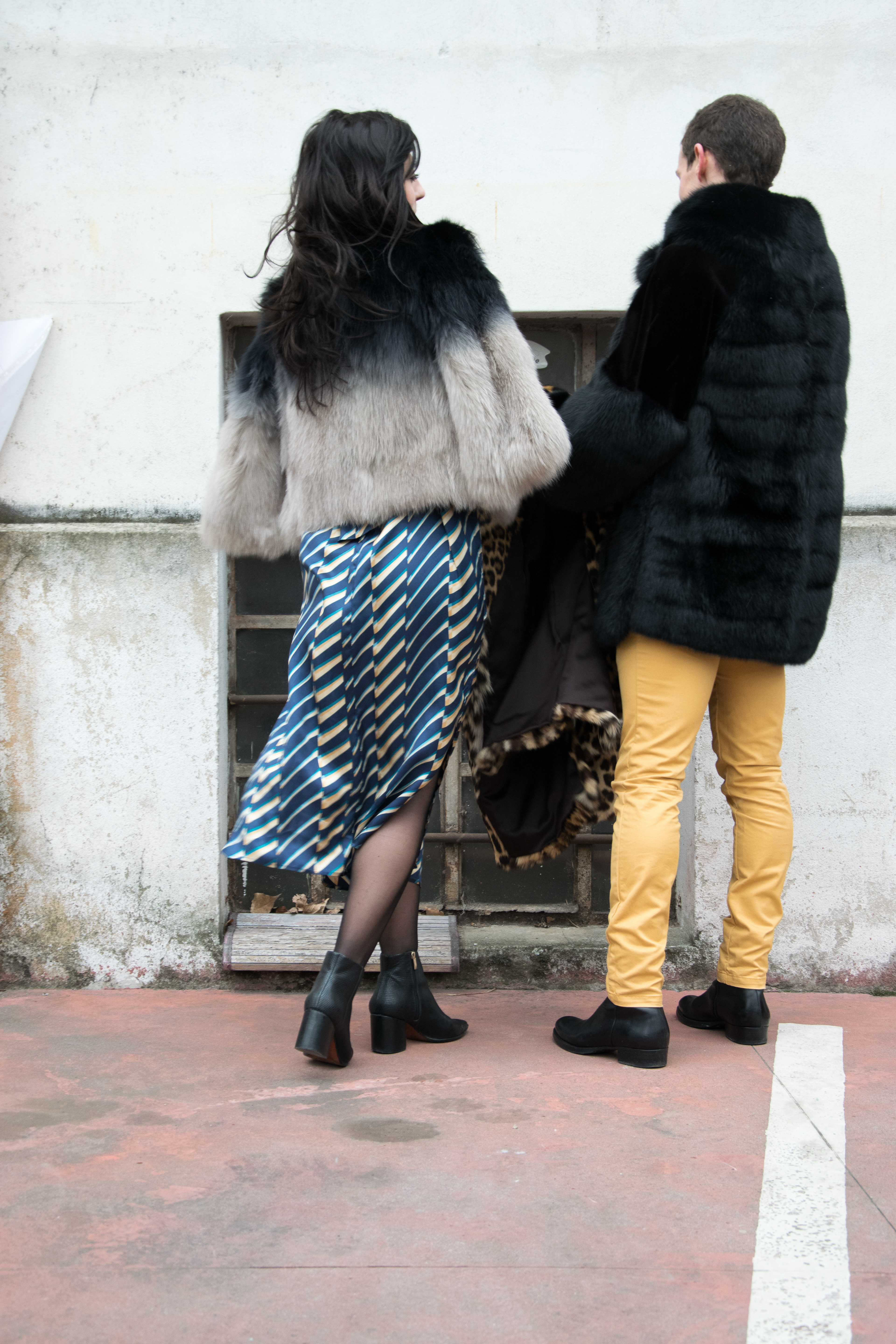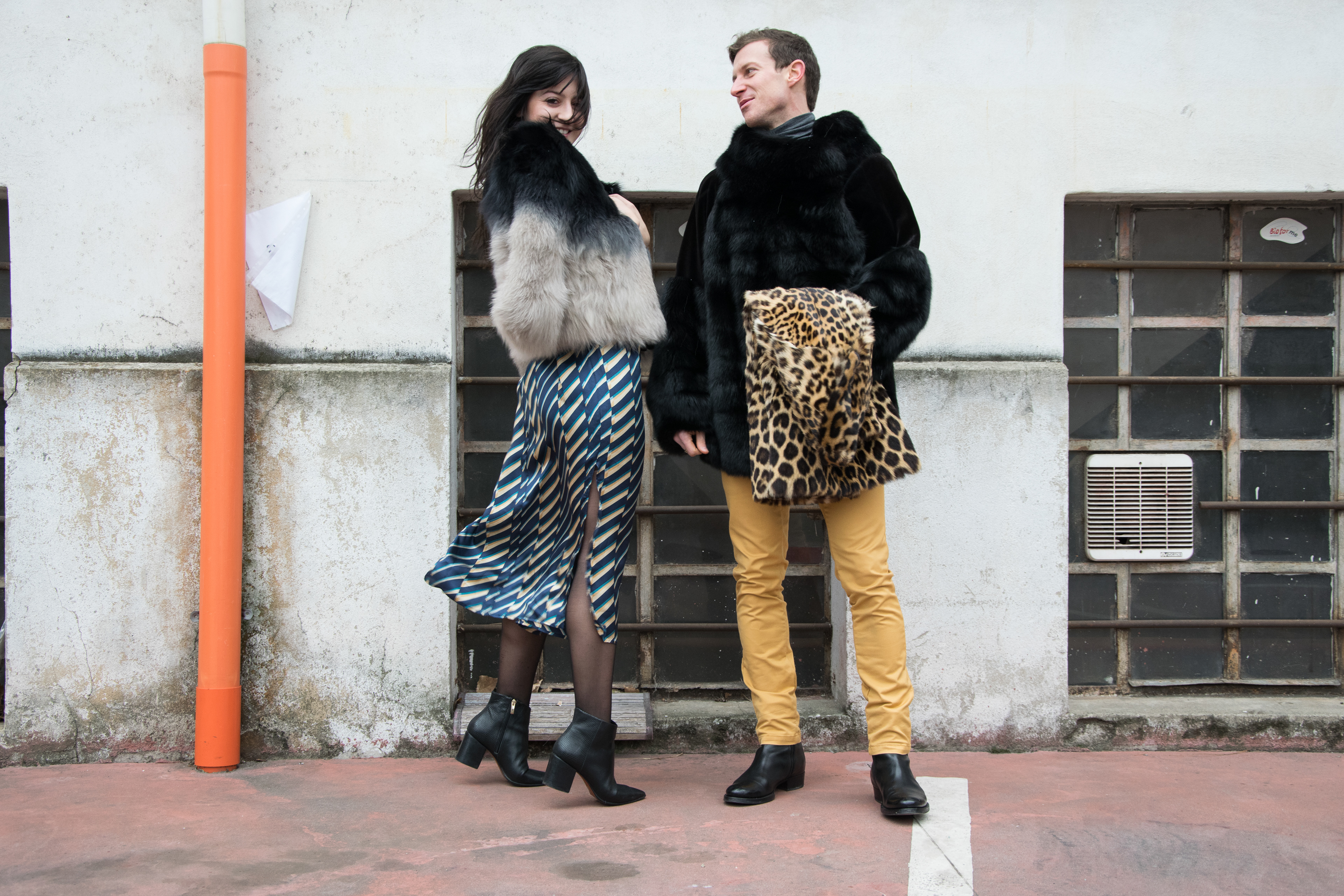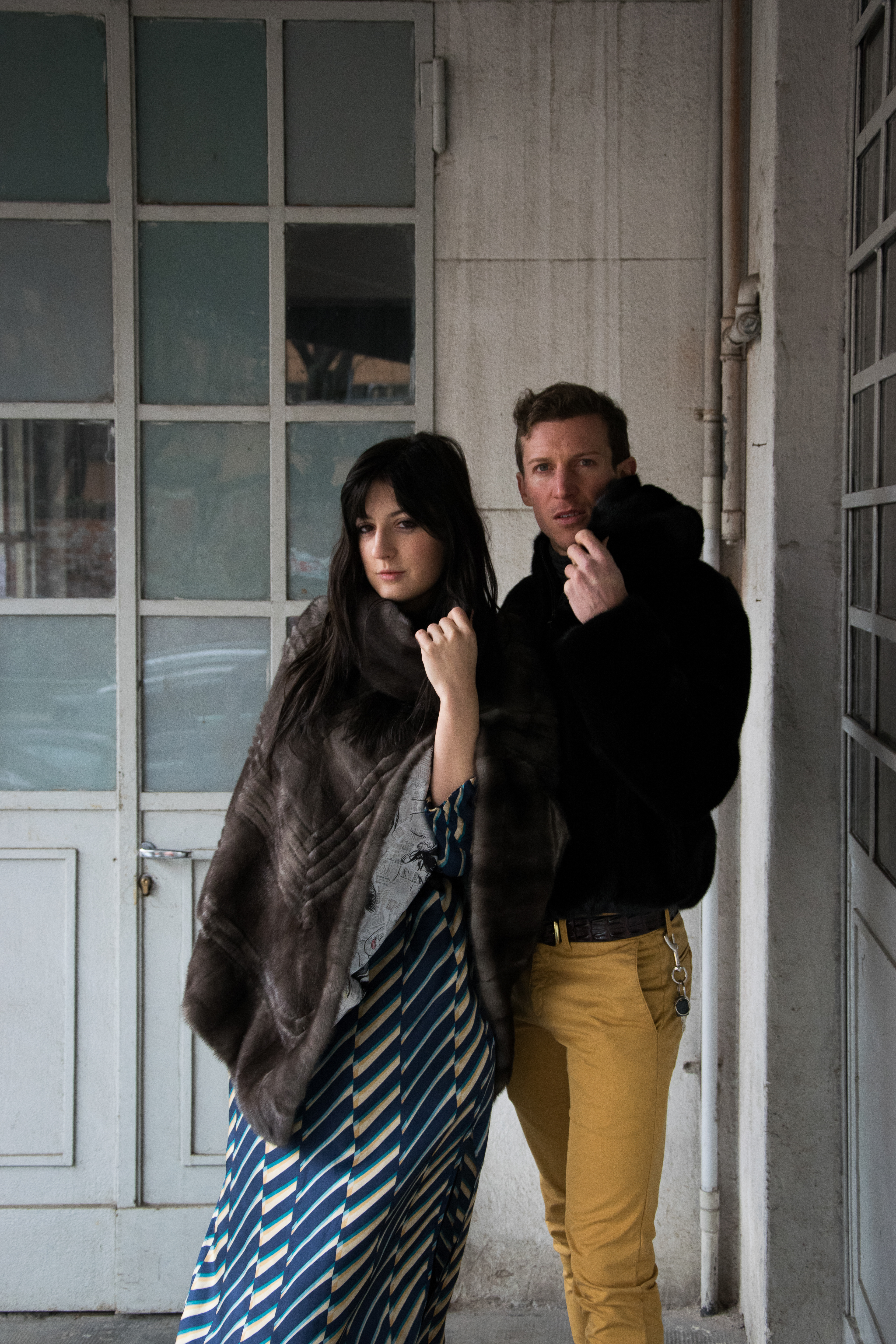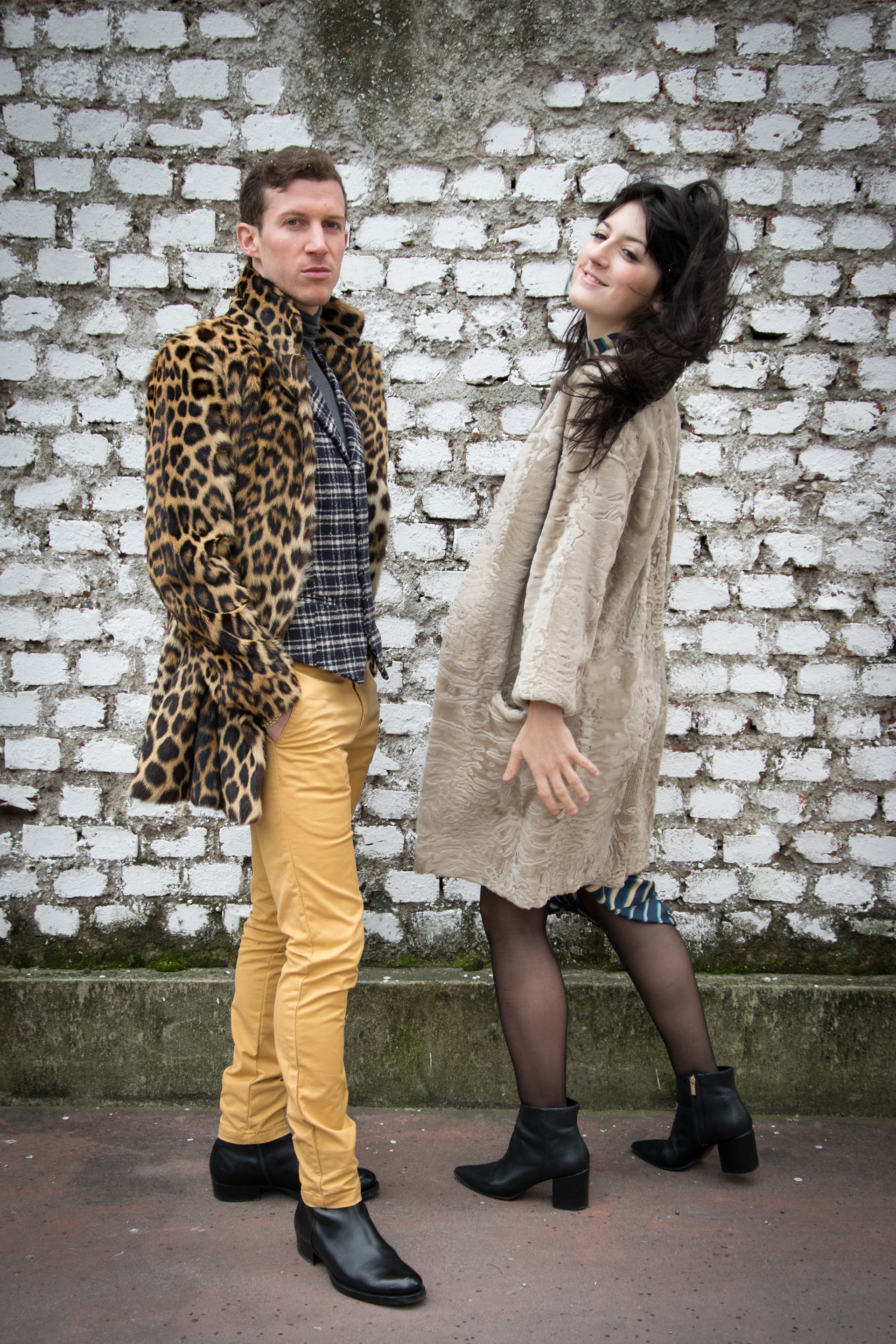 If you are still here reading or checking photos below the top ten finalist of REMIX - the international fashion and fur competition organised by the International Fur Federation (IFF) and supported by Vogue Talents named its winning designers.
This year, IFF has asked the contestants to create fur designs that has an entire sustainable entity an Chunchen Liu from Japan was awarded with the Gold prize. To check all the designers from above go follow @wearefur at insta they posted a lot of photos and tagged all of that guys :)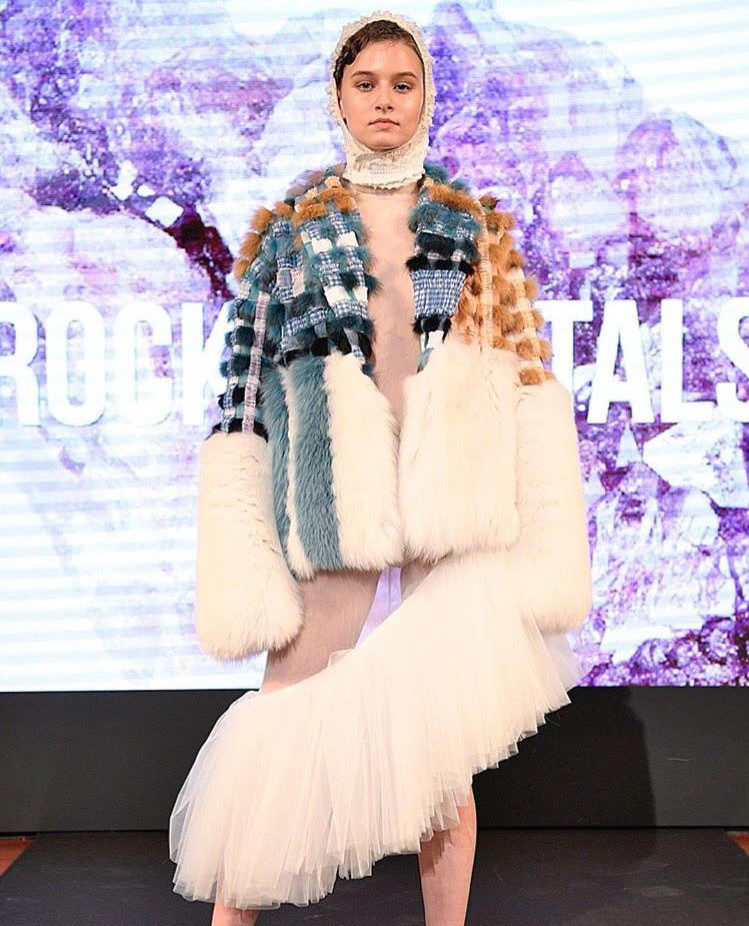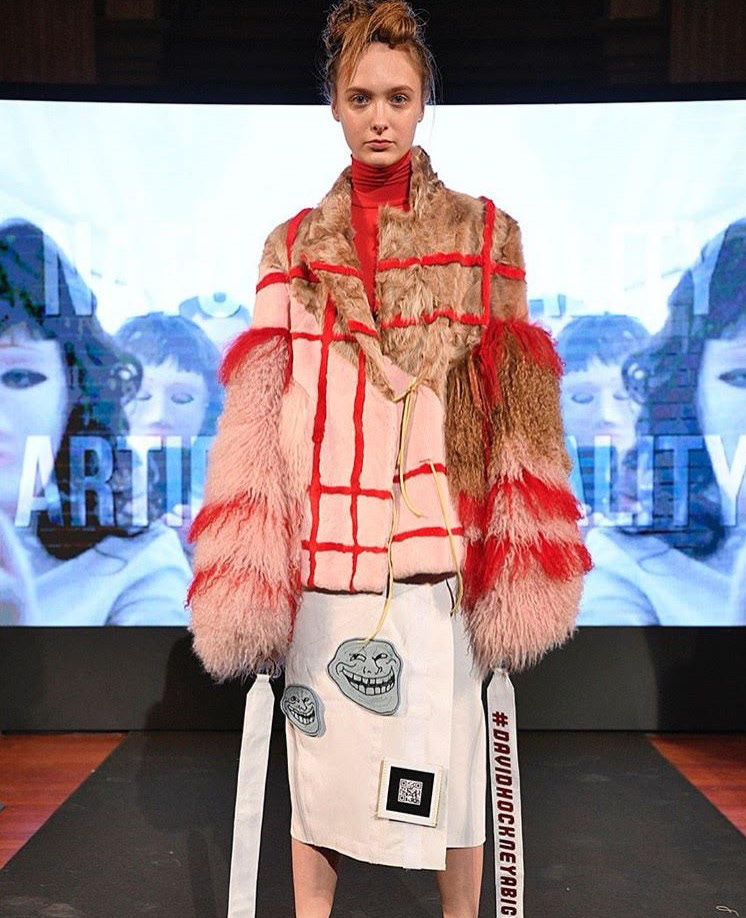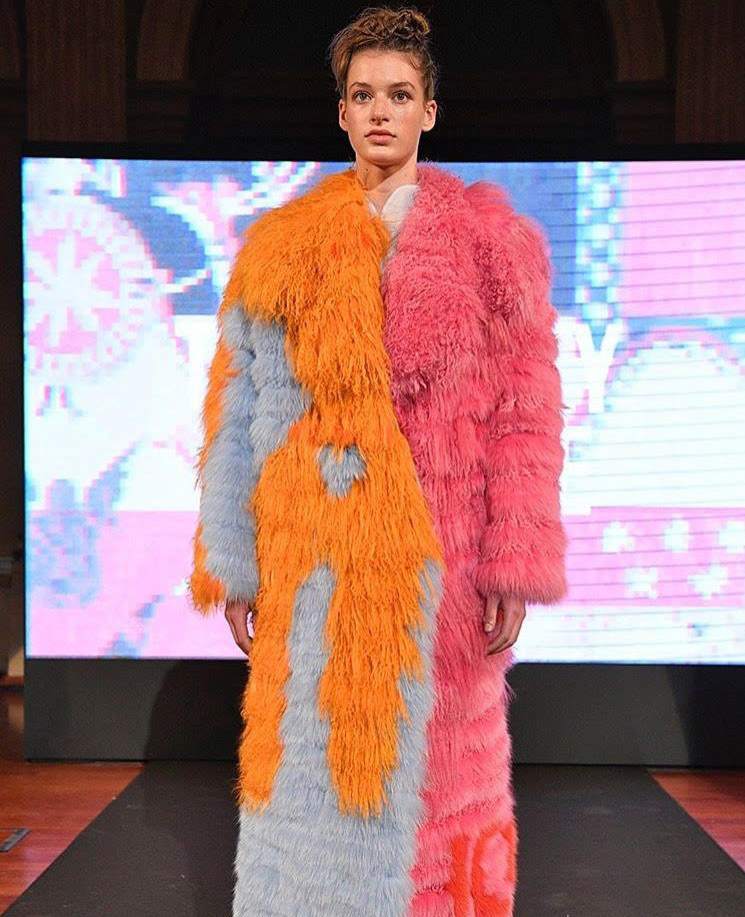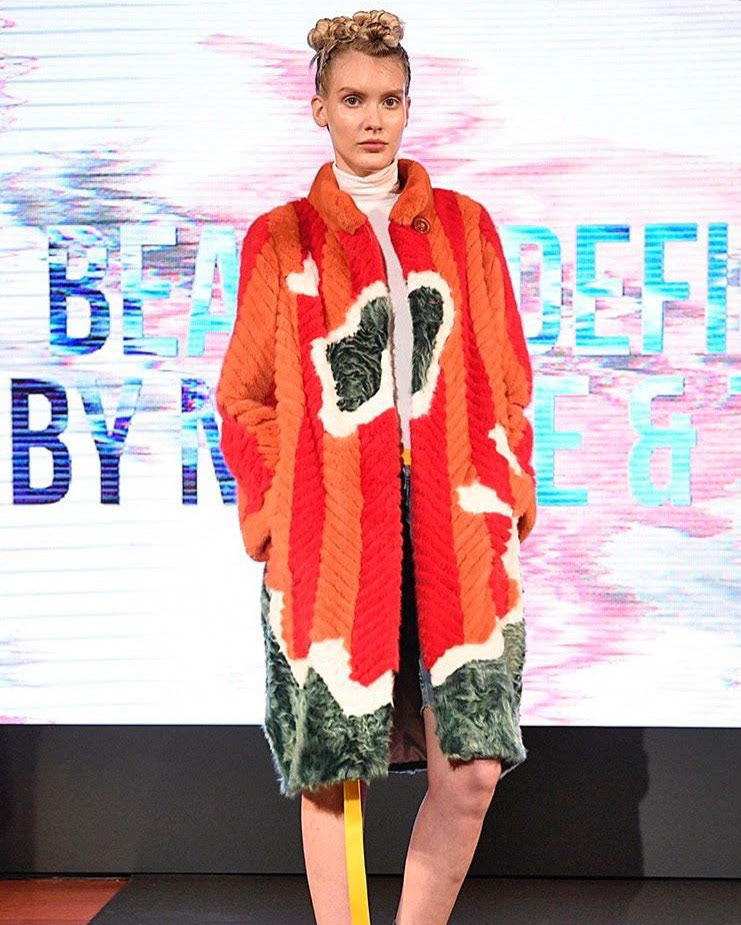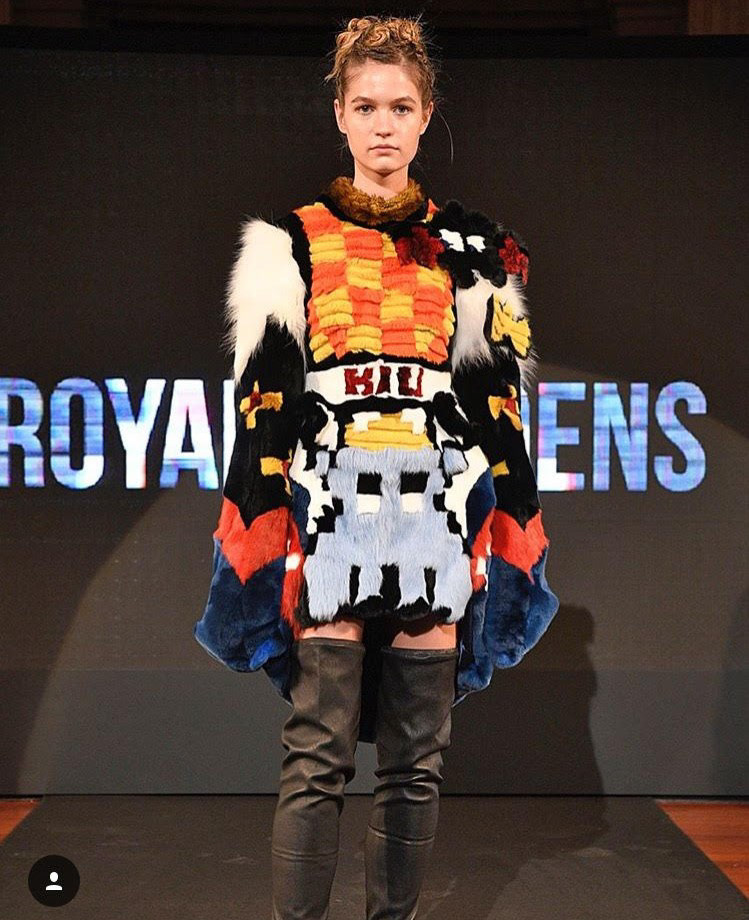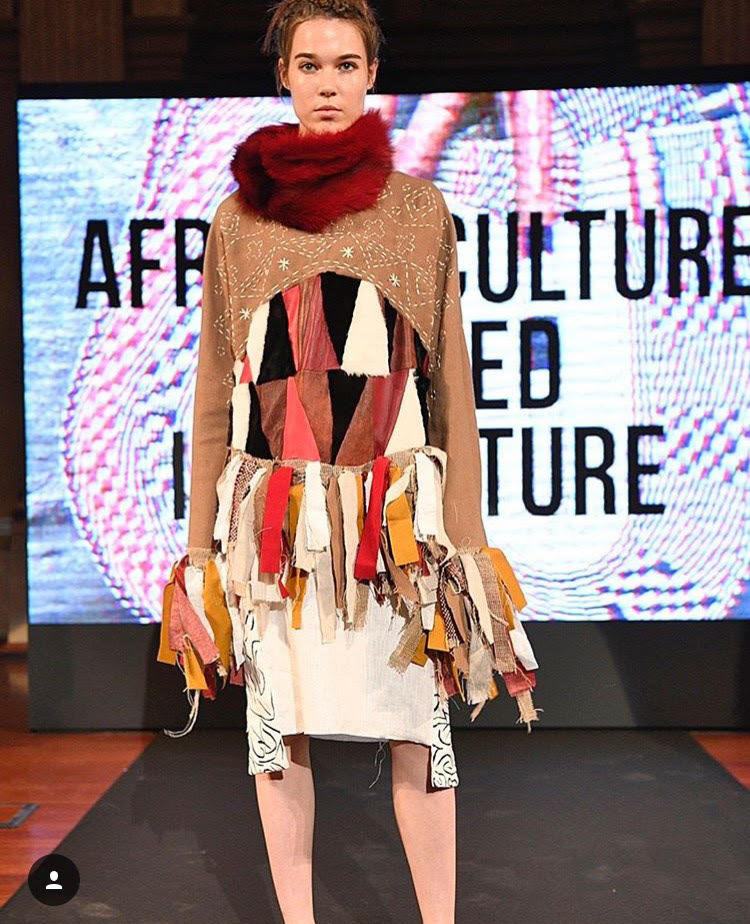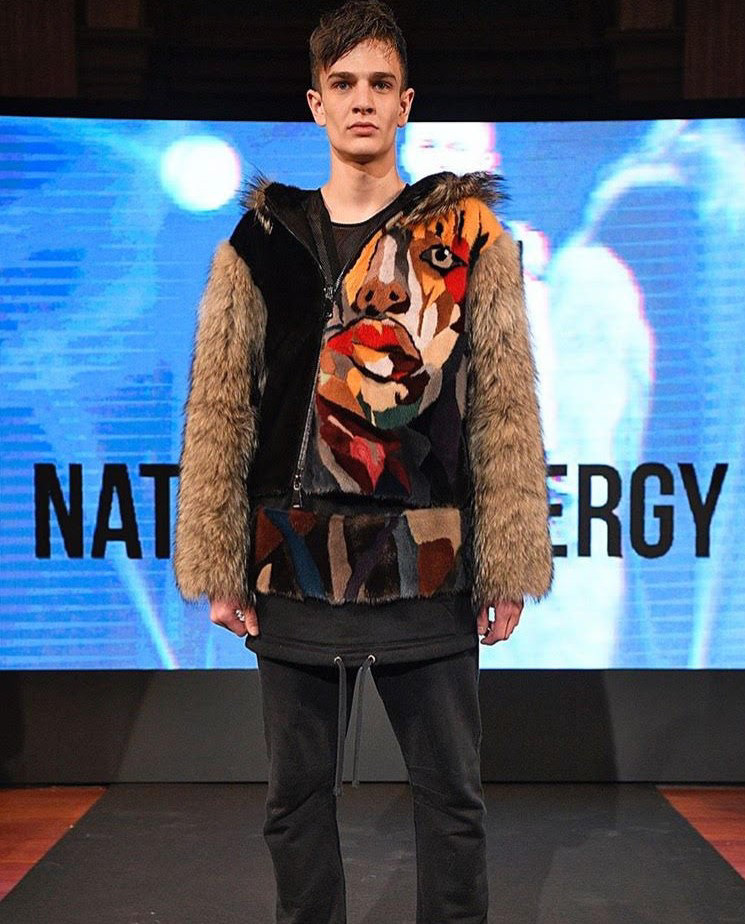 Ok thats it! CIAO MILANO 
SEE YOU SOON <3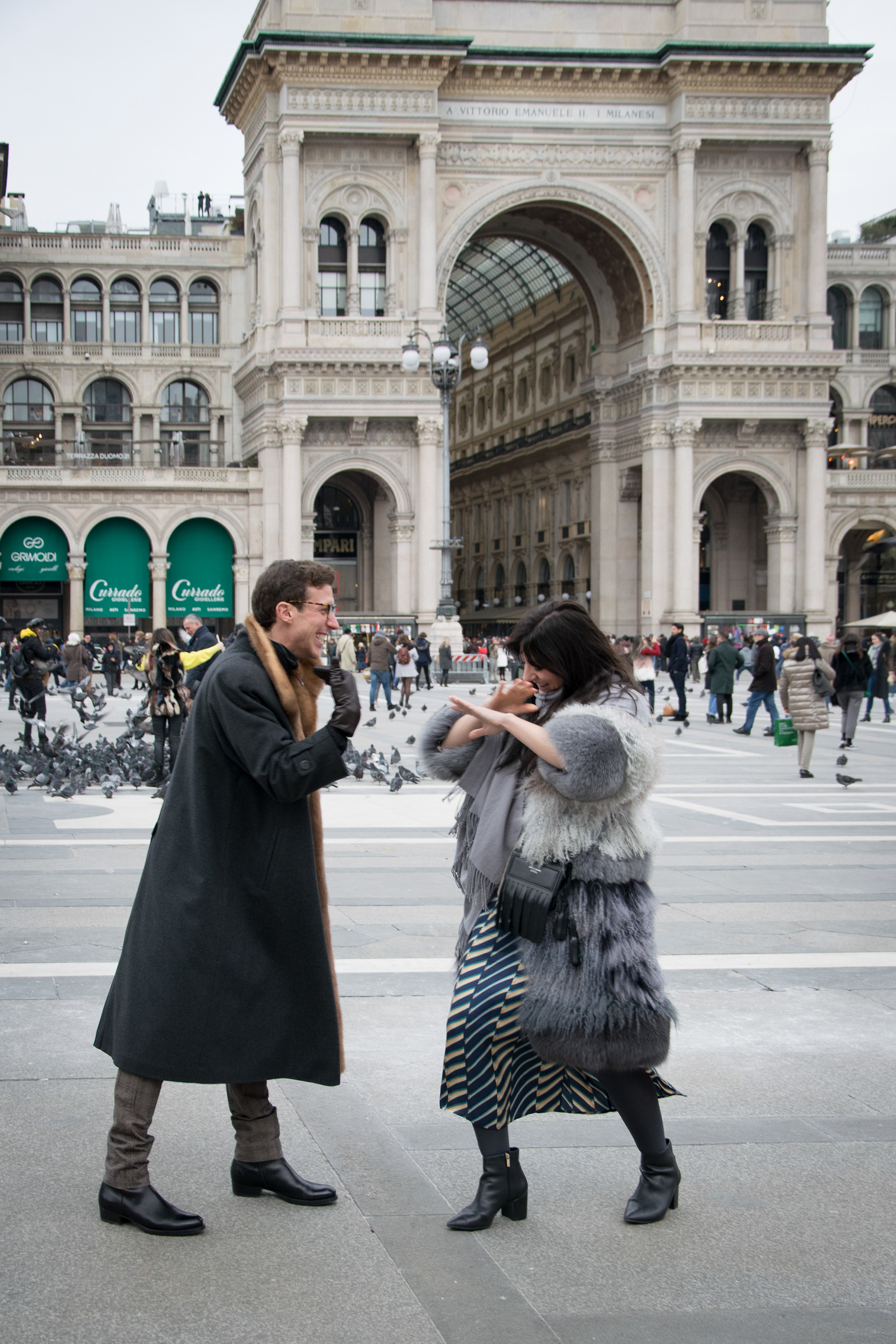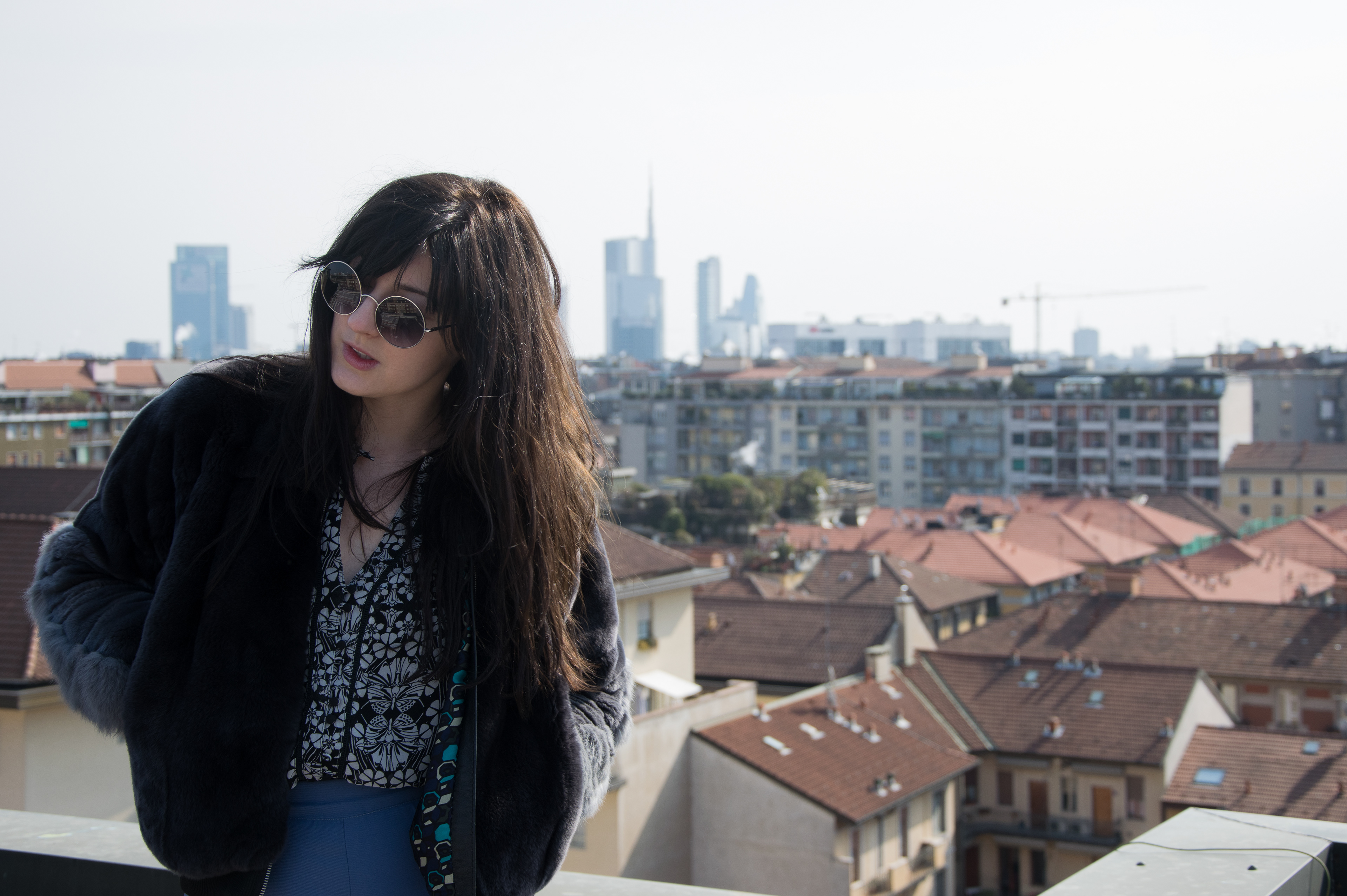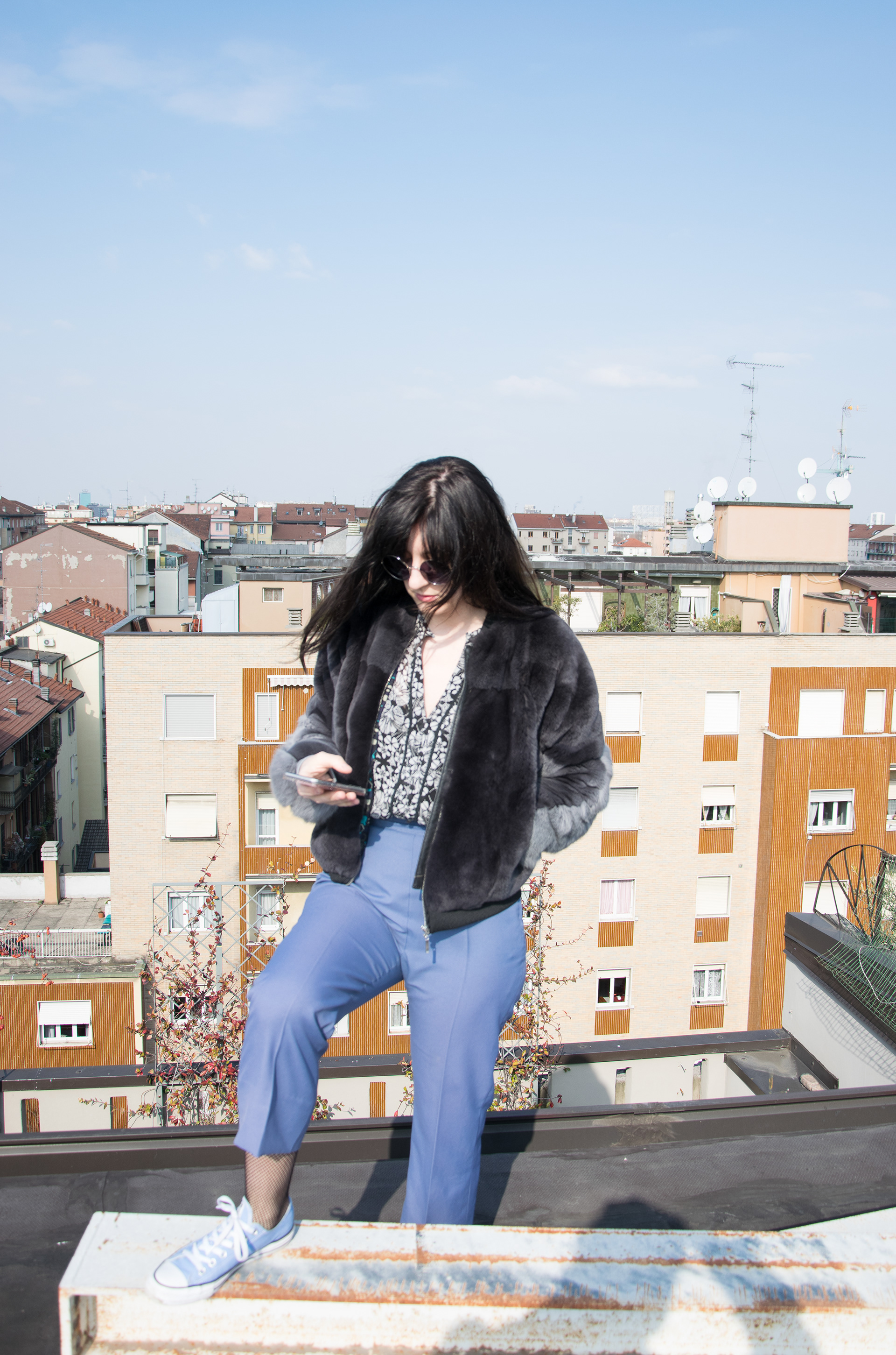 Photos courtesy of my awsm boyfriend who is zero interested in furs fashion and whatsoever but he came with me to Milano taking photos and being the company.
Photos credit: Hugo Pinto.